Patricia Wan

Biography
Patricia moved to town with Cleo to find a great story, not love. Will the love she found with Gabe last, or will his daughter cause them problems?
Name
Patricia Wan
Gender
Female
Age
Adult
Life state
Sim
| | |
| --- | --- |
| Zodiac sign |  Aries |
| Aspiration |  Popularity |
Appearance
Hair color
 Black
Skin color
 Tan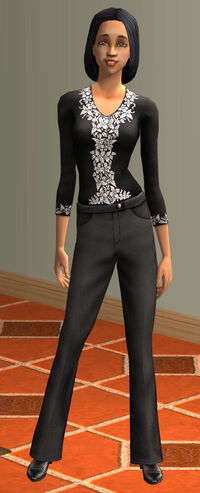 Patricia Wan lives with her best friend Cleo Shikibu in the house Cleo inherited from her aunt, Catherine Viejo. She loves Gabe O'Mackey, a feeling he returns, but his daughter Jules doesn't like her. Can they learn to get along?
Patricia has Chinese ancestry, as her last name, ancestors' names (Tianrong, Xiaotien, Mengnuan) and appearance shows. She may also have Japanese ancestry, as Kayami, Yuu, Hana and Mori seem more like Japanese names than Chinese names.
Like most of her family, she has the Popularity aspiration.
She may be related to Pauline Wan from Sunset Valley.
Bugs
Because of a bug addressed in the Seasons patch, she may be shown as the father of the twins in the Ottomas family.