For the expansion pack of a similar name, see The Sims: House Party.
For the aspiration in The Sims 2 DS, see Party (aspiration).
A party is an event that a Sim can throw, either for fun or to commemorate a special event.
Even though Sims could throw parties in The Sims and The Sims: Livin' Large, it was only when The Sims: House Party appeared that Sims could throw huge parties, with many party-related items being included in that expansion pack. Throwing parties allows Sims to interact with neighbors they never knew they had.
It's possible to increase the size of a party by using the "Throw Party" action more than once, and it's generally up to the player to keep it within his/her computer's limits. When using the "Throw Party" option on a phone, the player has no control over who is invited. However, another feature of House Party is that any sufficiently large gathering on a residential lot is considered to be a party. Therefore, a Sim could throw a party by inviting a sufficient number of other Sims to come over.
Some of the most prominent party-related items are mentioned below:
Bounce My Booty' Dance Floor: This dance floor can be created by dragging tiles over the floor to make a dance floor of any size. It if it placed near a radio or DJ booth, Sims will dance to their favorite tunes. Not only that, but the entire floor will light up in different patterns based on the type of music that is playing.
Spazmatronic Plasmatronic Go-Go Cage: If this cage is present near a dance floor and a source of music, Sims will clamber into it and start dancing. It raises their fun meter, and it usually attracts a crowd to watch and dance along.
ToroTee Mechanical Bull: The Mechanical Bull is a very popular item that Sims can ride to raise their fun levels or increase their body skill. There are three settings: easy, medium and hard, and Sims are often thrown off if their body skill is not on par. Other Sims will watch the action, but if they don't like the Sim riding the bull, they will boo him or her.
Turntablitz DJ Booth: If the DJ Booth is placed next to the dance floor, Sims can try their luck at being DJs. Otherwise, it can just be turned on and it will play.
Porta-Parody Costume Trunk: Although previously Sims could only dress in formal, PJs, work or swimsuit clothes, with the costume trunk, they can change into a variety of preset clothes. As a bonus, after issuing the command to "Dress in..." followed by a type of clothing, everyone else at the party will come over dressed in that type of costume as well.
Special NPC guests could appear too. If the party was very good, Drew Carey might appear. If the party was bad, a mime might appear. A party crasher may also randomly appear, generally messing up everything the player's Sim could do.
Other special NPC characters include the entertainer, the DJ, and the caterer.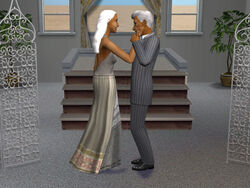 In The Sims 2, parties became timed, scored events. Once a party scenario begins, it lasts five game hours. There does not appear to be a way to end it early; sending all guests home early simply causes a large drop in the party score.
By default, parties can have two to four guests, regardless of the player's system specs. Later expansion packs allow for more guests, but a good party is generally easier to accomplish with a small number of guests. The player can decide which Sims to invite, but the likelihood that an invited guest will come depends on his or her relationship with the Sim throwing the party, regardless of his or her relationships with any other household members. Guests may leave early if they are tired, hungry, or bored, but the party score should not suffer greatly unless they all leave before the scenario has ended.
If a party hasn't ended by 11:00 PM, the police will come and break it up, ending it immediately. The final party score will be the score the party was at when the police ended it.
The types of party include:
House Party - The standard party that can be thrown at any time. Common want in some aspirations (popularity, pleasure[

TS2:NL

], etc.).
Birthday Party - Party that can be celebrated on the day that a Sim will change to the next life stage.
Wedding Party - The party planned when a couple are going to celebrate getting married; don't forget to buy the cake!
Golden Anniversary Party - This party can be thrown anytime after a couple who married/joined as adults both become elders; it's the same as a house party, but all guests show up in formal clothing.
New Year's Bash - Despite its name, this party can be thrown on any day. The party will always start at 8:00 PM. If police don't come to shut down the party at 11:00 PM, Father Time will come to spruce things up.[

TS2:HHS

]
Sports Party - Mostly a normal house party, but everyone watching the sports channel makes it better.[

TS2:U

]
Toga Party - Only members of a Greek house can throw this party. As the name suggests, once the party begins, all of those who live at the residence and those who were invited will dress up in a toga.[

TS2:U

]
Graduation Party - College graduates can throw this party before they leave campus, all college students invited wear graduation clothes.[

TS2:U

]
Apartment Party - On every Saturday, the landlord will throw a party and invite Sims from the different social groups.[

TS2:AL

]
Building Party - Playable Sims in an apartment building can throw building parties. Sims living there can join in, and the player may invite others also.[

TS2:AL

]
In addition, if the party host invites many of his/her family members to the party, the Sim will get a memory of having a family reunion.
Party scores in The Sims 2

| Positive Party Scores | Negative Party Scores |
| --- | --- |
| Roof Raiser | Snoozer |
| Good Time | Real Dud |
| Not Bad | Disaster |
In The Sims 2 for console, parties can have any number of guests. The more times a Sim performs the "Throw Party" action with the phone, the more people will show up. Which guests come when the "Throw Party" action is used is random; if the player wishes to invite specific Sims, they may simply call those Sims with the phone and invite them over normally. The police will come at around 10:00 PM and warn the Sim hosting the party about the consequences of holding a party too late. If the party still hasn't been wrapped up by 11:00 PM, the police will come and fine the Sim for noise disturbance, even if there is no music playing. Also, any attempt to throw a party between 11:00 PM and 8:00 AM will fail.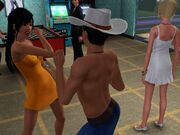 The party system in The Sims 3 is more advanced than in previous games in the series. Party is the main element of Sims with party animal trait. Sims can invite up to 12 Sims to the party, but sometimes the guests may invite their household members too. The party guests may or may not bring along a food platter when they arrive. If the host of the party is a party animal, the chance guests will bring food is increased by 25%.
With the game being expanded to an open world, inactive households may also throw a party. Depending of the relationship, the host may invite an Sim from the active household to come. The invitation is received through a phone call, with the prompt asking the player whether their Sim will be attending it at the noticed time. Sims that hadn't been invited can be directed to crash the party. The house where the party occurs has a map tag of a purple icon with balloons and confetti on it.
Unlike The Sims 2, parties in The Sims 3 don't have a meter or moniker that displays whether the guests are having fun or not. Instead, the party will be evaluated once the guests are leaving the party one by one. Sims will then receive a moodlet depending on how well the party was going. However, having a bad bachelor/bachelorette party will give a worse moodlet.[TS3:G] Also, unlike The Sims 2, guests will actually leave when they are scheduled to do something, such as go to work. So, try throwing parties on weekends, when most Sims have the day off, or later in the evening.
Sims can also call for services to help with the party, such as party DJ, mixologist, or performers. If Late Night is installed, Sims from other households may occasionally throw a party or seasonal party[TS3:S] and a purple map tag will be displayed from map view. If they have a good relationship with the Sims, they might be invited. Otherwise, Sims have the option to crash the party if they're not invited. Occasionally, Sims might get the wish to crash a party or invite a celebrity in a party. Also with Late Night, Sims can convince others to interact with other Sims, e.g. talk, tell joke, or even make out.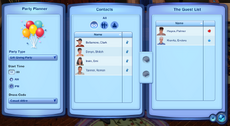 The invite guest interface for planning a party has been revamped. In the left table, the player can choose what kind of party to throw, when it will start, as well as the party attire. Players can set the party to start at time between 8 AM and 10 PM, though the start time has to be at least 1 hour later than the time the party is being planned.
The party attire depends on what kind of party is being held. Generally, Sims can set casual attire for most parties. Other than casual attire, formal and swimsuit attire can also be selected. When throwing a slumber party, sleepwear is the only available attire. Bachelor/bachelorette parties only have "Dress to Impress" as the party attire.
The middle table of the interface is the list of all the household's relationships. If Sims are unavailable to be invited, they will be grayed out. Players can filter the type of Sims to be invited: all, friends, or coworkers. Sims can also sort the list by the name or the relationship, but they will all be mixed with other household members' friends. The right table of the interface is the list of invited Sims.
Once a party is set, players will be notified that the party is about to start 1 hour before the set start time. If the party is going to be on a community lot, Sims will be transported to the venue.
There are various kinds of parties available.
House Party - A typical party.
Destination Party - The typical party when Sims throw a party in a community lot.
Birthday Party - The party when a Sim is about to age up. Sims can throw this party anytime, regardless of Sims' age.
Bachelor/Bachelorette Party[

TS3:G

] - Engaged Sims can throw a bachelor(ette) party. Only young adults and older may be invited in the party, and the only available attire is "Dress to Impress". Players can throw this party at a venue. In this party, entertainers will appear depending on the sexual orientation of the host. The host can ask one of the guests to spray nectar or give toast to others. If the host gets a lame bachelor(ette) party, they will get "Groomzilla" or "Bridal Monster" moodlet.
Wedding Party - When two Sims get engaged, they can throw a wedding party to get married. If the couple don't get married, they will get the "Missed the Wedding" moodlet. Parents of the couple who are invited will get a special moodlet as well. In The Sims 3: Generations, wedding arches and wedding cake is also featured to make a better wedding party. Sims can also throw a wedding party in a venue.
Funeral - Players can give a funeral party after a close Sim relative has died.
Campaign Fundraiser - This is only available to Sims with Political careers when they become City Council Members. Guests at these events will give the host campaign funding based on how well they enjoy themselves. However, depending on the host's friendship with the guest, the politician can also ask for Campaign Donations during the party.
Teen House Party[

TS3:G

] - This is only available to a teenager whose household has taken the "Free Vacation" opportunity. Only teens may be invited to this party. They can throw this party from 5 PM to 11 PM. If the party gets noisy or distracts the neighbors, they might call the police and the parents will get home early. Teens can break up the party, but if the party wasn't fun, the guests might say that the party was lame. If all guests clear the lot before the police can arrive, the police will simply ask the teen to keep it down because of a complaint before leaving.
Slumber Party[

TS3:G

] - Children and teenagers can throw a slumber party at home. They can throw this party from 5 PM to 10 PM. Only Sims with the same age can be invited over. The guests will arrive with sleepwear attire, and they will bring along a sleeping bag. Players will be notified at certain time at night, where all guests and the Sim will find a place to sleep in their sleeping bag. If there isn't sufficient space to sleep, they will say that the party is lame and leave.
Feast Party[

TS3:S

] - This party suits in spring. Sims will come over and bring their meals and will have a feast together.
Pool Party[

TS3:S

] - This party suits in summer. Sims can throw this party if they have a swimming pool at their home. Sims will come and swim in the pool and can have a barbecue.
Gift Giving Party[

TS3:S

] - This party suits in winter. When throwing this party, a pile of gifts will appear at home. If there isn't enough space for the pile of gifts, the type of the party will be changed to a regular House Party. Invited guests may or may not bring along friends, and when they arrive, they will bring gift boxes and hand them in to the pile. After a while, Sims can call the guests to open their presents in order, while others watch them open their presents. Sims can receive either good or bad gift. If the party is over before calling the guests to open the present, it will result a lousy party.
Costume Party[

TS3:S

] - This party suits in fall. Sims will wear costumes to the party, similar to Halloween.
Bonfire Party[

TS3:UL

] - This party requires level 4 jock influence in order for Sims to throw one. Occasionally, Sims from other households may throw a bonfire party and invite Sims too. Sims may light up a bonfire on the lot. Rebels may add herbs, or throw a test tube. During the party, Sims may receive dare opportunities.
Throwing a party at a venue costs money. While planning a venue party, Sims can choose to make exclusive access to the party. Exclusive access enables only the guests who are invited to appear, while other Sims may not come to the venue. Giving an exclusive access adds an extra 60% to the fee. Below is the table of lot assignments that may be rented for a party.

In The Sims 3: Seasons, pregnant Sims will not change into a costume for a costume party. Instead, they will say their 'costume' will last for the number of hours until birth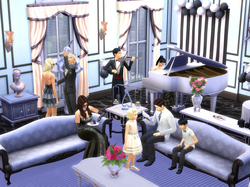 Parties are featured in The Sims 4 and are referred to as a social event. There are a variety of party types, ranging from house parties to more formal dinner events. Social events can be held at any time of the day by using the phone of the would-be host Sim. Only teens or older will be able to book a social event, although they can do so on behalf of the actual celebrant(s)/host(s) in their household. Unlike previous versions of the game, the household will not get a visit from the police if the noise gets out of control or if the party still goes on late into the night (although in the City Living expansion pack, Sims from neighboring apartments may occasionally complain).
Each party will have a timer with goals specified for the party. The timer starts immediately after the social event is booked on the phone and the player will receive a bronze, silver, or gold medal and exclusive items on how the party succeeded. A party can be ended at any time by clicking on the timer but doing so prematurely will give the host Sim a negative moodlet. Like The Sims 3, Sims may rent a venue and throw a party at a community lot.
Note that all parties timers can be disabled by not checking the party timer box when arranging the social event.
Sims who are currently at school or work at the time the invite was sent will not be able to join. However, an invited Sim whose school or work hours begin in the middle of the social event may be able to stay if they do not belong to the same household as the host Sim. Sims can only invite other Sims they have personally interacted with; this is important if parents want to throw parties for their children or want their child's friends to be invited.
| Name | Description | Cost | EP |
| --- | --- | --- | --- |
| Dinner Party | Host an incredible evening of culinary delights and mouth watering table talk. Hire a renowned caterer or show off your own skills! | §100 | |
| House Party | Be the talk of the town. Make your neighbors jealous with your catered spread and awesome drinks. Maybe even invite a few of them! | §100 | |
| Birthday Party | Birthday parties come but once a year and they are an event that shouldn't be missed! Bring cake, a gift, and a smile. Happy birthday! | §100 | |
| Wedding | A wedding doesn't make a marriage, but it sure can help kick things off the right way. | §1,000 | |
| Black and White Bash | Nothing is ever black and white, except your very own Black & White Bash! Entertain your friends in high style-black tie or white tie, little black dress or lily-white gown, your guests will be dressed to the nines and ready to party. | §500 | |
| Incognito Costume Party | Anyone can throw a party, but a Costume Party-well, that gets people talking. And laughing. And if they're laughing at you, who cares? You're already incognito, remember? | §250 | |
| Weenie Roast | Get together with your camping buddies and enjoy a night of eating and conversation by the fire! | §100 | |
| Spooky Party | Be the proprietor of your own Spooky Party, where costumes are de rigueur in a setting rife with frightful decor. Prepare ghoulish gastronomy to satisfy quests' cravings while they preoccupy themselves with pumpkin carving. Those too terrified to help themselves to the Spooky Candy Bowl can always ask another partygoer for a treat... just don't get tricked! | §250 | |
| Dance Party | Hit the town with your friends! Plan a night of dancing at the local nightclub or remote locations. Create memorable moments and dance the night away! | §20 | |
| Toddler Play Date | Host a big party for tiny tots! Invite all the toddlers your little one knows for fun, play, and general merriment. While the tykes run to and fro, grill up some food and exchange parenting tips with fellow caregivers. | §100 | |
| Charity Benefit Party | Charity Benefit Parties are highfalutin events ripe with hobnobbing, which attract various socialites who wish to make positive public appearances. Of course, it's all about raising simoleons for a good cause. | §500 | |
| Lampoon Party | Lampoon Parties are gatherings of the darker side of society... Criminals, misfits, and ruffians will fit right in at this edgy soiree. Nominate a Guest of Honor, then roast them with vicious jokes and stories of their past. Everyone's sure to have a grand time! | §500 | |
| Fan Meet And Greet | Getting famous means attracting and interacting with fans. Hold a Meet & Greet, giving the perfect opportunity to shmooze with your soon-to-be loyal followers! | §250 | |
| Kava Party | Get a literal taste of island tradition by holding your own Kava Party! Use the special Kava Bowl to mix up your own batch and raise a toast to your friends, old and new. Disclaimer: Excessive consumption of Kava may lead to prolonged and extreme levels of relaxation. EXTREME. RELAXATION. | §100 | |
| Keg Party | Similar to other house parties but with 99% more keg. Memories will be made and shortly be forgotten. Throwing one of these parties is almost guaranteed a bad life decision, but somehow a necessary rite of passage. | §100 | |
| Mountain Climb Excursion | Do you have what it takes to lead an expedition to the peak of Mount Komorebi? Hone those climbing skills, pack some equipment & food, and check mountain conditions. Not everyone makes it to the top. For those that are well prepared and do reach the summit will be rewarded with breathtaking views and bragging rights. | §200 | |
Community content is available under
CC-BY-SA
unless otherwise noted.