Olde Platz

What Olde Platz lacks in greenery it makes up for in charming cobblestone. Live, work and play in the rich, cultural history of the oldest part of Windenburg.
Name
Olde Platz
World
Windenburg
Game
 The Sims 4: Get Together
Not to be confused with Old Town.
Olde Platz is a neighborhood in Windenburg, the world shipped with The Sims 4: Get Together.
The community lots in this neighborhood are a nightclub, a bar, a library and a cafe. It has two houses, owned by the Partihaus household and the Behr family, and two uninhabited residential lots, which are both two stories.
Lots
[
]
Proprietor's Square
[
]
Proprietor's Square is an uninhabited lot overlooking the Old Town District. It has two floors, with the first floor containing some living area and a decent sized kitchen, and the second floor containing an open bedroom with a 3x3 bathroom.
Havisham House
[
]
Havisham House is a small, uninhabited lot on the outskirts of the district. It has two floors and contains a joint kitchen with a closet and a living area in the first floor. The second floor contains an open bedroom with a small bathroom.
Factory One
[
]
Factory One is one of the larger houses in the Old Town District, owned by the Partihaus household. The house has 4 different bedrooms for the Partihaus members (Two downstairs and two upstairs), a huge joint kitchen with a living room containing workout machines, a DJ booth and a large bathroom. Second floor contains a huge arcade machine and a little office section.
Waterlock Redoubt
[
]
Waterlock Redoubt is a house belonging to the Behr family. It has two bedrooms, one bathroom, a large kitchen and a living room with a DJ booth. The bedrooms have a MySims trophy corresponding on which of the sisters live in. Yuki's bedroom also has a motion based gaming console.
Quad Manor
[
]
Quad Manor is the local two-story Windenburg library, full of different kind of books for Sims to read. Books in the bookcases can be added to a Sim's inventory and do not need to be returned. There are also smart tablets, that are scattered around at the tables.
The Narwhal Arms
[
]
The Narwhal Arms is an urban run-down nightclub and home to the members of Partihaus. It features a bar, where Sims can order drinks or practice their Mixology skill. There is of course also a DJ booth, where Sims can dance and practice their DJing skill. There is also two bathrooms on the first and second floor, with the first floor bathroom for men and the second floor bathroom for women.
South Square Coffee
[
]
South Square Coffee is a cozy, old-fashioned cafe and the club hangout of the Avant Gardes. There is bunch of seating inside and outside, perfect for Sims to hangout with their friends.
Old Quarter Inn
[
]
Old Quarter Inn is the local two-story bar in Windenburg's Old Town District. There are tables and a television downstairs, along with a foosball table and a dartboard. Upstairs are the bathrooms. A small and cozy terrace with benches and a fireplace is also located here.
Neighborhood amenities
[
]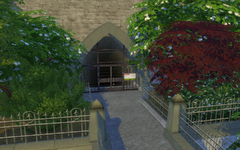 Olde Platz is a very open and big neighborhood with a bunch of greenery. There are lot fishing spots near the river and giant chess sets made out of bushes located around, with actual Sim sized chess tables. Next to the fountain that is in the middle of the library, nightclub, and cafe, there is bunch of seating and an easel.
The entrance to Ancient Ruins is located in this neighborhood and is a huge gate located next to the Proprietor's Square. Just like the entrance to The Bluffs located in The Crumbling Isle, no special adventures are needed to enter it.
Trivia
[
]
"Olde" is Old Dutch for "old" and "Platz" is German for "place". So literally it means old place or old town.