Oasis Springs

An oasis nestled in the austere beauty of the western desert, this haven of eclectic culture is fringed by countless soaring palms, and lent vibrant color through impossibly lush landscaping. Oasis Springs offers relaxing retreats from the sun to any traveler who discovers it.
Name
Oasis Springs
Game
 The Sims 4
Oasis Springs is a world that was shipped with The Sims 4 base game alongside Willow Creek. It is set in the middle of a desert and its appearance is reminiscent of many desert locations in the Southwestern United States.
Overview
[
]
Brontosaurus Bend
Visit your home away from home in the desert suburbs of Brontosaurus Bend
Abandoned Mine
The old forgotten mine near Acquisition Butte is a must-see for any explorer
Mirage Canyon Lookout
Visit Oasis Springs' namesake body of water while passing through Mirage Canyon
Neighborhoods
[
]
Oasis Springs consists of six neighborhoods with one secret lot, separated from other neighborhoods. Four neighborhoods have up to five residential lots each, with the fifth consisting of four community lots, while the sixth neighborhood is a large community park.
Secret lot
[
]
Lots
[
]
There are a total of 16 residential lots and 5 community lots in Oasis Springs.
Residential lots
[
]
Inhabited
[
]
Uninhabited
[
]
Empty lots
[
]
Community lots
[
]
Families
[
]
New families
[
]
§3,950
Johnny Zest has the stage name and the dream, but maybe not the talent... Disowned by the Landgraabs for quitting school, Johnny wants to make his own fame and fortune as a standup comedian.
§14,000
This household seems to have stepped right out of a TV sitcom. What wacky misadventures will the perky Zoe, easygoing Mitchell, uptight ladies' man J. and intellectual Gavin suffer this week? Tune in and find out!
Returning families
[
]
§28,500
It's no longer girls-only now that Caliente matriarch Katrina has moved in her mooching boy toy, Don. With three fiery, attractive ladies in the house, will Don remain faithful or will he get involved with more than one Caliente woman?
§85,000
The Landgraabs seem like the perfect family; wealthy, well-mannered, brilliant. But Nancy and Geoffrey are each hiding something. Will their secrets tear them apart or will they continue to build a wealthy dynasty?
Climate
[
]
With The Sims 4: Seasons installed, Oasis Springs' weather is characterized by heat and very little rain. Spring and Fall tend to be warm or hot and sunny, while Summer is almost exclusively heat wave temperatures and sunny. Winter includes more cloudy weather and cool to warm temperatures, but Oasis Springs does not experience snow without using the Weather Machine.
Trivia
[
]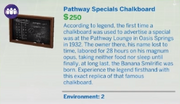 In this world there is no snow during winter if Seasons is installed, just like in Selvadorada, Del Sol Valley, and Sulani.
It is said in the object description of "Pathway Specials Chalkboard" from The Sims 4: Get Together that a chalkboard was used to advertise a special at the Pathway Lounge of Oasis Springs in 1932.
Gallery
[
]
External links
[
]
References
[
]