Fire Emblem Warriors: Three Hopes - The Loop
Play Sound

Not to be confused with Club.
Nightclub is a lot assignment in The Sims 4. Nightclubs, as their name suggests, are more active at night. They differ from the bar and the lounge in that Sims tend to dance more than they drink or chat. There is only one pre-made nightclub in the base game, but more can be created or imported through the Gallery.
If the player owns The Sims 4: Bowling Night Stuff and places a bowling lane on a nightclub, other Sims will come to the nightclub specifically to bowl, in addition to the other behavior on the lot. This also works for Bars and Lounges.
The Nightclub is also a location in The Sims FreePlay where sims can go to DJ, dance, tend the bar, and order drinks.
List of nightclubs in The Sims 4
[
]
The Blue Velvet
[
]
The Blue Velvet is a nightclub in the neighborhood of Crawdad Quarter in Willow Creek. It represents a classical jazz club.
Club Slate
[
]
Club Slate
Lot type
Nightclub
Value
§62,055
Lot size
20x30
Number of floors
3
World
Newcrest
Game
The Sims 4
Club Slate is a nightclub built for Newcrest. It was included in Patch 21. It's a small, modern nightclub.
Discothèque Pan Europa
[
]
Discothèque Pan Europa is a modern nightclub in the neighborhood of Lykke Centre in Windenburg. It's a giant modern building where Sims can order drinks or practice their Mixology skill. There is also a DJ booth, where Sims can dance and practice their DJing skill. It is also the club hangout of the Spin Masters.
The Narwhal Arms
[
]
Narwhal Arms is a traditional nightclub in the neighborhood of Olde Platz in Windenburg. Inside it there is graffiti at the wall. It features a DJ booth and a dancefloor. It is also home to the members of Partihaus club.
The Sims FreePlay
[
]
The Nightclub in The Sims FreePlay is a place where sims can DJ, dance, tend the bar, and order drinks. It was originally purchasable for free if the player had a certain amount of Facebook or GameCenter friends or alternatively purchasable for 20 LP, prior to the addition of SP. It later became instead purchasable for 20 SP.
Upon entering the Nightclub, a sim can either DJ or tend the bar. Once those stations are manned, sims can then dance and order drinks. A drink costs §2,500 and has the same effect (inspiration) as a cupcake, making it a good alternative if the player lacks LP.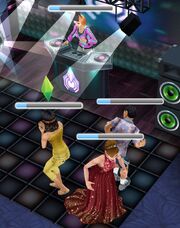 The Nightclub often has Quest NPC's in it that are ready to offer new quests, given that the quest queue is not already full.