Newspaper deliverer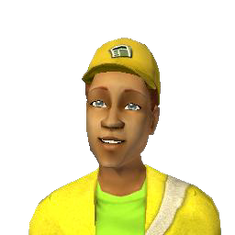 Alon Livingston, a newspaper deliverer in Pleasantview
Newspaper deliverers, often referred to newsies or paperboys/papergirls, are a type of NPC who deliver the newspaper every morning in The Sims series. The newspaper deliverer in The Sims is called Nancy the Paper Girl. The newspaper deliverers are always teenagers in The Sims 2 and children in The Sims 3.
In The Sims: Superstar, Nancy the Paper Girl will also deliver a copy of the Studio Town tabloid, even if no one in the household works in Studio Town. In The Sims 2: FreeTime, they will also deliver any hobby magazines that Sims in the household are subscribed to. The newspaper deliverers will stop delivering newspapers if the household already has too many; Sims will have to dispose of old newspapers before new newspapers will be delivered. In The Sims 3, Sims can unsubscribe from newspaper deliveries over the phone.
List of Newspaper Deliverers
Edit
Community content is available under
CC-BY-SA
unless otherwise noted.