"Crave the outrageous!"
This little spot in the north-east corner of The Urbz: Sims in the City is where the gadget-loving rave crowd hangs out. Don't let all the flashing lights, the metallic clank of falling pachinko balls, and neo-Tokyo architecture throw you. Don your day-glo vibrating jumpsuits and take a stroll through the neon-torii lined sidewalks and just take it all in. If you're hungry stop in for a bite at Mazuiko's Sushi Bar. The Rave scene doesn't kick into full gear until night falls, and that's when Neon East really gets buzzing.
As you walk up the stairs from the dark underground subway, give your eyes a minute to adjust to the bright pulsating lights. You'll find Sara Tonin's Garb Grab clothing shop dead-ahead on your right. Make a left and pass under the first bright red glowing arch and you're on the main drag of Neon East where most of the action is. The sushi bar, on your right, is famous for its cheap, tasty eats. Mazuiko is always looking for some extra help too. Learn how to make sushi and earn some simoleans at the same time. Check out the arcade across the street with those Japanese up-right pinball machines and the adjacent tapioca drink bar. Notice the big guy guarding the door? He's the bouncer for the Pulse, the hottest dance scene in the city. Get well known and wear some LOUD clothes and you might be raving the night away.
Are you're just dying for a pink cat-eared cap and goggles like Mazuiko? Or maybe the pink pig-tails are more your speed? Have you been searching the city for a candy-colored plastic heart necklace? Search no longer. Sara's Garb Grab has it all. All your funky, neon-bright crazed clothing choices can be satisfied here, as long as you've got the cash.
It's no coincidence that Neon East is located off in a corner of town far from it's neighbors. The lights and sounds that these Urbz thrive on have bothered neighbors elsewhere. Some of the well-to-do folks in Diamond Heights say that on a clear night they can see the glow of Neon East all the way from their lofty high-rise balconies. But have no fear, Neon East is just a quick subway ride away.
If you find yourself in a back alley, don't worry. Just keep walking until you find one of the lit-up arches that mark the main drag. And, if you need to find the facilities, just look for the purple, pink, and green tiled public restrooms.
The bright lights of Neon East are waiting for you.
Getting a reputation here will get one noticed by the residents of Cozmo Street.
You'll meet Mazuiko Jackson is both the Queen of the rave scene in town as well as Sovereign of Sushi. Get in with her and you'll go far. Sara Tonin, the local fashionista runs the clothing shop, and is pals with Professor Chewy, the dude with the wacky antennae hair-do. This fun loving bunch likes things bright, electronic, and loud. Whip out your hot new PDA or challenge them to the latest holo-video game and you'll be friends before you know it.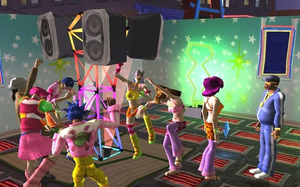 Preferred Moves
Buzz
Game On
HoloXam
Hyper Shock
Techno
Taught Moves
Game On (unlocked by befriending Professor Chewy)
HoloXam (unlocked by befriending Venus Moonflower)
Hug (unlocked by completing level one of the local job)
Striptease (unlocked by completing level two of the local job)
Slap (unlocked by completing level three of the local job)
Upon entering the VIP area around midnight, the player urb will recieve a Strobe social from Darius, which can be used to stop the villain Harry Snivel.
Like all other districts, Neon East urbz will have relationships with other urbz based on which district they come from.
Liked
Neon East urbz will use Greet, Act Friendly, or Act Romantic social moves with urbz from these districts.
Neutral
Neon East urbz will use random social moves with urbz from these districts.
Disliked
Neon East urbz will use Act Mean social moves with urbz from these districts.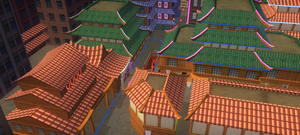 Sara's Garb Grab (Clothing Shop)
Mazuiko's Sushi Bar (Local Job)
The Pulse (VIP Area)
Japanese Arcade
Tapioca Bar
Authored by Dave Crosland.
Neon East is inspired by Tokyo's somewhat underground clubbing and rave scene.
Community content is available under
CC-BY-SA
unless otherwise noted.