Morgan family

Description
It would appear that David and Donna's marriage is perfect, but in reality it's filled with many cracks. Donna can't bring herself to admit to seeing David and Samantha Cassat's flirty exchanges so instead she occupies herself with her loving children. Can Donna and David keep their family together?
Name
Morgan family
Members
David Morgan, Donna Morgan, Joseph Morgan, Carolyn Morgan, Evelyn Morgan
Number of generations
2 generations
Family connections
Cassat family
Lot
51 Sunburst Street
Funds
§55,000
Difficulty level
Other information
Game
The Sims 3 Store
Playability
Playable
World
Roaring Heights
The Morgan family are from the downloadable neighborhood of Roaring Heights, available from The Sims 3 Store. The family consists of the married couple David and Donna Morgan, and their three children. Joseph, Carolyn and Evelyn.
On the surface, David and Donna's marriage appears to be perfect, but in fact it's filled with many cracks. David had an affair with Samantha Cassat which left her pregnant and Donna is unaware of this. She knows they've been flirting, but has been occupying herself to care for her children instead of admitting seeing them flirt.
Family tree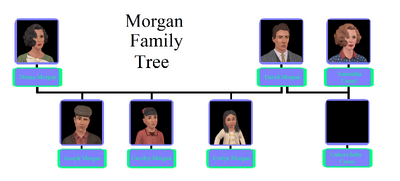 Members
Community content is available under
CC-BY-SA
unless otherwise noted.