McDermott family

Description
The McDermotts have a way with plants. They've been growing their own food for generations, but they do try to keep up with the times. Their two young sons spend hours at the river catching fish. Will they carry on the family traditions?
Name
McDermott family
Members
Luke McDermott, Ginny McDermott, Maximus McDermott, Travis McDermott
Number of generations
3 generations
Lot
180 Bounty Drive
Difficulty level
Other information
Game
The Sims 3 Store
Playability
Playable
World
Riverview
The McDermott family is a pre-made family living in Riverview. The family consists of Luke, Ginny, Maximus, and Travis McDermott. Their name may be a reference to "Old MacDonald", the farm song.
The McDermott family is mentioned in one of the object descriptions from The Sims 4: Movie Hangout Stuff.
Onomatology
Luke: Bringer of light, in french meaning laidback
Ginny: In Latin meaning chaste or maiden
Maximus: Meaning in latin, the greatest
Travis: In french, crossing
Family tree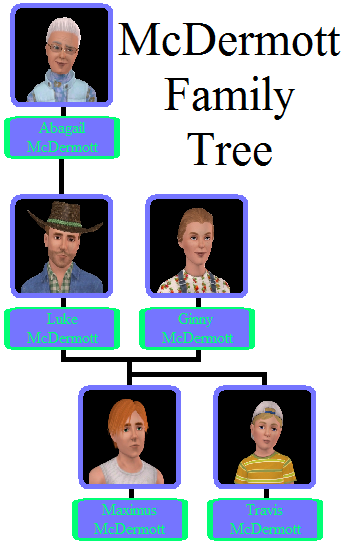 Members
Community content is available under
CC-BY-SA
unless otherwise noted.