This article contains audio and/or video files.
If you are having difficulty playing these files, see
media help
.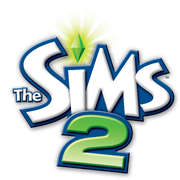 This is a
list of songs from the console version of The Sims 2
. Music was created for the game by real-life artists; including Dix Bruce, Darol Anger, McHale Barone, Eric Valladares, John Cobbett, J Greco,
The F*cking Champs
,
The Humble Brothers
,
Matmos
, Jacen Touchstone, Walt Szalva, Carla Kihlstedt, Sharky Laguana, Jeffery Stott and Jacen Touchstone.
The Sims 2 features nine radio stations with entirely unique music, but reuses music from The Sims 2: Nightlife as background music for the different modes of the game. Many of the songs were originally recorded for The Urbz: Sims in the City and were held over to be used in The Urbz 2, which was ultimately refactored into The Sims 2.
Several real-life songs were rerecorded into Simlish, and can be played individually on a stereo, much like selecting a radio station. These artists are Fischerspooner, MxPx, Paramore, Reggie & the Full Effect, and Trivium.
The nine radio stations available in the game are:
Alternative Rock
Ambient Dub
Bluegrass
Industrial
Lounge Music

Nu-Metal
Pop
Punk Pop
Trance Dance
In-game music
Edit
Title
Artist
Filename
Mode
Preview
The Sims 2 Nightlife Theme
Junkie XL
music_48_title_track
Title Track

Arch of the Sim
Lemon Jelly
music_24_bbcas1
Build/Buy/CAS

Stop and Sim
General Midi
music_24_bbcas2

Sim Time
Hyper
music_24_bbcas3
Radio station music
Edit
Title
Artist
Filename
Station
Preview
The Sims 2 Theme
Timo Maas
music_24_djbooth_fast
DJ booth

First Volley
General Midi
music_24_djbooth_generalmidi

Busy
Adam Freeland
music_24_djbooth_med

music_24_djbooth_slow
Sims Emo
Jacen Touchstone
stereo_altrock1
Alternative Rock
Vanadu
The F*cking Champs
stereo_altrock2
Bells
Walt Szalva
stereo_altrock3
Echaydio
McHale Barone
stereo_altrock4
Suddenly
Ryan Ferguson
stereo_ryan
Aegean Dub
Jef Stott
stereo_amdub1
Ambient Dub
stereo_amdub2
stereo_amdub3
Saracen
Jef Stott
stereo_amdub4
Don't Let The Deal Go Down[1]
Dix Bruce
stereo_blue1
Bluegrass

Handyman Blues
Dix Bruce
stereo_blue2
Lonepine[2]
Dix Bruce
stereo_blue3

Monroe Stomp[3]
Dix Bruce
stereo_blue4
Old Folks[4]
Dix Bruce
stereo_blue5

stereo_dance1
Trance Dance
stereo_dance2
Trance
Jacen Touchstone
stereo_dance3
Just Let Go (Tommie Sunshine Brooklyn Fire Retouch Instrumental)
Fischerspooner
stereo_fischer
Gheffahschomp
John Cobbett
stereo_goth1
Industrial
Deepswell
The Humble Brothers
stereo_goth2
Mah Shoo Moe #2
John Cobbett
stereo_goth3
stereo_goth4
stereo_lounge1
Lounge Music
stereo_lounge2
stereo_lounge3
stereo_lounge4
Swunk
J Greco
stereo_lounge5
Kremlsche
Eric Valladares / John Cobbett
stereo_numetal1
Nu-Metal
Static
The Humble Brothers
stereo_numetal2
Dias Pei
The F*cking Champs
stereo_numetal3
Like Light To The Flies
Trivium
stereo_trivium
Chameleon
The Humble Brothers
stereo_pop1
Pop
Upside
The Humble Brothers
stereo_pop2
Take Me Home, Please
Reggie and the Full Effect
stereo_reggie
Another World
Kitty Shack (Eric Pressly)
stereo_kittyshack
Clearblue
The Humble Brothers
stereo_punkpop1
Punk Pop
Strada
The F*cking Champs
stereo_punkpop2
Pressure
Paramore
stereo_paramore
Late Again
MxPx
stereo_mxpx
"Jacen Touchstone" is incorrectly credited as "Jacen Touchestone" in the game's credits.
The music on the Bluegrass station was originally intended to be included on a country-themed station in the PC game, but was cut before release. One of the songs can be heard in a pre-release montage of music from the game, despite not appearing in the final release. Some of the songs were eventually included in the Seasons and Bon Voyage expansion packs.
Nivek Ogre (Skinny Puppy) sings on Deepswell, as revealed here.
Community content is available under
CC-BY-SA
unless otherwise noted.