Langerak family

Description
Kaylynn Langerak cleans up after her brother and stay-at-home dad while her mother works all day. Now Kaylynn's Aunt Zelda has arrived with a jungle of half-dead plants in tow and things are messier than ever!
Name
Langerak family
Members
Dustin Langerak, Iliana Langerak, Parker Langerak, Kaylynn Langerak, Zelda Mae
Number of generations
2 generations
Family connections
Mae family
Lot
14 Sierra Tango Street
Funds
§3,400
Difficulty level
Other information
Game
The Sims 3
Playability
Playable
World
Sunset Valley
The Langerak (

Listen) family is a pre-made family appearing in both The Sims 2 and The Sims 3. In The Sims 2 only Kaylynn Langerak appeared in-game, and she has no members in her family tree. However, in The Sims 3, she has a father named Dustin Langerak, a mother named Iliana Langerak, a brother named Parker Langerak, and her aunt named Zelda Mae who recently moved in. They live as the neighbors and good friends of the Bunch family.
In Lunar Lakes, Arthur Langerak, a descendant of the Langerak family, makes an appearance. He is engaged to Gloria Goode and has been trying to provide her with a good life.
Onomatology
Langerak: a Dutch name.
Dustin: "Thor's stone"
Iliana: "Bright"
Zelda: "Woman warrior"
Parker: "Park Keeper"
Kaylynn: "Slender"

Family tree
Members
Gallery
The Langerak home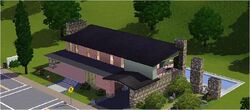 Tilelicious (4br,3ba)
"Modern and roomy with a warm interior. Sun-baked tile lines the entire ground floor, inside and out. Four bedrooms including an in-law unit downstairs and a master suite with a private balcony upstairs. Long back patio with pool."
Size - 30x40
Address - 14 Sierra Tango Street.
Community content is available under
CC-BY-SA
unless otherwise noted.