Koffi family

Description
Gobias Koffi is a well-meaning single Sim who just hasn't met the right woman. Is this because he actually prefers the company of his male friends?
Name
Koffi family
Members
Gobias Koffi
Number of generations
2 generations
Lot
433 Sunnyside Boulevard
Funds
§3,500
Difficulty level
Other information
Game
The Sims 3
Playability
Playable
World
Sunset Valley
The Koffi Household lives in Sunset Valley. It consists of only Gobias Koffi , but Gobias has a deceased father named Gaylord Koffi residing in the town cemetery.
Gobias lives alone, and is fairly isolated from any kind of neighbor: the house next door is empty, cul-de-sac street in front of his house is deserted, the Wolff family and Working Friends household live a driving distance down the road on both sides, while the Frio brothers are a running/driving distance up the block.
Onomatology
Koffi: Variant of a masculine Akan/Western African name "Kofi" meaning "born on Friday" in Akan.
Gaylord: From an English surname which was derived from Old French gaillard "high-spirited, boistrous". This name was rarely used after the mid-20th century, when the word gay acquired the slang meaning "homosexual".
Gobias: Not a real name, but very similar to the name "Tobias". Gobias Koffi's name is a reference to the actor David Cross' character, Tobias, on the cancelled FOX show Arrested Development. In season 1 of the series, Tobias and his brother-in-law, Gob, decide to start a business, and come up with the name "Gobias... as in 'go buy us a cup of coffee'", hence Gobias Koffi. Tobias's homosexual tendencies and verbal double-entendres cause his sexuality to be called into question throughout the series. Gobias' sexual orientation is unknown. Gobias also shares Tobias' Never-Nude trait (a term coined by the show's writers to describe Tobias's fear of nudity) and he bears a physical resemblance to David Cross, the actor who portrays Tobias in the series.
Family tree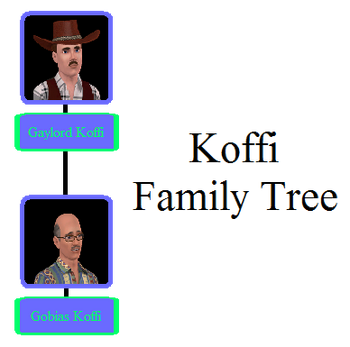 Members
Gallery
The Koffi home
Sur La Plage (1br, 1.5ba) 433 Sunnyside Blvd.
"Modern living at the beach, this unique home with its indoor/outdoor pool, extensive exterior living space, and dramatic octagonal bedroom is a must have for the single Sim with too much disposable income."
There is a Flame Fruit bush in the center of the side garden.
The house name "Sur La Plage" means "on the beach" in French.
Community content is available under
CC-BY-SA
unless otherwise noted.