watch 03:19
Wiki Targeted (Games)
Play Sound

Knowledge is an Aspiration in The Sims 2. Knowledge Sims are full of curiosity and always want to learn more and more. This frequently shows up in wants to learn skills, but they also want to learn things that allow them to do things such as discover secret vacation lots[TS2:BV].
Knowledge Sims' curiosity makes them relatively fearless. While other Sims fear things such as seeing ghosts, becoming a creature, and being abducted by aliens, Knowledge Sims often want these experiences. They may even want to get struck by lightning[TS2:S][1] They also like to encounter near-death experiences, such as defeating the Grim Reaper or being saved from death. Teenage Sims are eager to have good grades at school, and young adult Sims always want to be serious in their studies at college[TS2:U].
Version comparison
In the Windows and Mac OS X versions, the Sim will fear losing their creature status. Mac OS X has the same Wants and Fears as Windows with the exception of Wants and Fears introduced in FreeTime and Apartment Life since those 2 EPs were only released for Windows.
The Sims Stories has the same Wants as The Sims 2 except that Fears are not included.
Unlike their Windows/Mac counterparts, Knowledge Sims in The Sims 2 console versions don't fear losing their creature status, but the wants and fears are similar.
In The Sims 2 for PlayStation Portable, having the Knowledge aspiration gives Sims Knowledge-only Perks and Knowledge Goals.
Aspiration Monikers
| Level | Teen | Adult | Elder |
| --- | --- | --- | --- |
| Platinum | Young Genius | Savant Supreme | Senior Sage |
| Gold | Whiz Kid | Impressive Intellect | Wizened Wise One |
| High Green | Smarty Pants | Free Thinker | Mature Mastermind |
| Low Green | Solid Student | Brainstretcher | Well-Read Whitehair |
| Low Red | Addled Adolescent | Silly Goose | Decaying Dullard |
| Deep Red | Dense Dunce | Incredible Ignoramus | Senile Simpleton |
Wants & Fears
Wants
Get A+ on report card
Get into private school
Go to college[TS2:U]
Get scholarship[TS2:U]
Make Dean's List[TS2:U]
Graduate with honors[TS2:U]
Do assignment[TS2:U]
Go to class[TS2:U]
Write term paper[TS2:U]
Buy telescope
Buy a bookcase
Buy a telescope costing at least §2,000
Buy a bookcase costing...
Get abducted by aliens
Fears
Don't go to college[TS2:U]
Get rejected from private school
Get D on report card
Miss the school bus
Lifetime Wants
Aspiration Desperation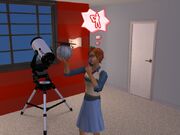 When in aspiration desperation, a Sim will pull out a volleyball with a crudely drawn face and mortarboard on it, pretending to learn from "Professor von Ball".
FreeTime Aspiration Benefits
Level 1 - Slower Social and Fun Motive Decay
Level 2 - Impart Knowledge
Level 3 - Eureka!
Level 4 - Summon Aliens
Career Paths
Premade Sims With Aspiration
For a complete list, see Category:Knowledge Sims.
Tips & Tricks
Knowledge Sims make good love matches for Family Sims, as they will usually want to get married and have at least one child.
Knowledge Sims often make good companions for Fortune Sims, as they are both ambitious and their wants don't usually clash. However this will not affect Chemistry.
Knowledge Sims tend to get on pretty badly with Romance or Pleasure Sims, as they don't have much in common.
Knowledge Sims are also the only Sims who do not fear becoming a special being (Vampire, Werewolf, etc). In fact, it can be used to boost their aspiration, curing it when it is no longer a fear to be cured. The want to become a special being is probably due to the fact that they want to know more about them, and what better way to learn about them than by being one?
Townies and NPCs with the zodiac sign of Virgo, Sagittarius, or Pisces generally have this aspiration.
The only lifetime want that isn't related to maxing out a career is maxing out all the skills.
If a Sim has Knowledge as a Secondary aspiration, they will still get positive Memories from encountering near Death experiences.
Notes
↑ With FreeTime, Sims who have Knowledge as a secondary aspiration may still fear these things, and may even want and fear them at the same time.
Community content is available under
CC-BY-SA
unless otherwise noted.