Jones-Brown family

Description
There's been better times for the Jones-Brown-Smith-William family... but who's to say bad times aren't just an opportunity for things to get much better? Despite her young age and her parent's constant bickering, Jenni is excited to be a mother! How will her pregnancy go and will the child's father be there to support her?
Name
Jones-Brown family
Members
Jenni Jones-Brown, Renee William-Brown, Lenny Smith-Jones
Number of generations
2 generations
Family connections
Bull family, Goode and Bad household
Difficulty level
Other information
Game
The Sims 3: Ambitions
World
Twinbrook
The Jones-Brown family resides in Twinbrook at 4 Poker Flats Drive. It consists of adults Lenny Smith-Jones and his recently divorced wife, Renee William-Brown, as well as their daughter, Jenni Jones-Brown, who is a young adult. Their storyline suggests that Renee or Lenny is going to leave the house to live somewhere else in the neighborhood, considering that they can't stand each other. There will be a new resident, soon, as Jenni seems to have gotten pregnant by her lover, Goodwin Goode. Her biography implies that she is worried that her parents may be blamed for this, and as of yet, her parents are unaware of her pregnancy.
Will they be able to cope, seeing as they have been through a lot recently?
Family tree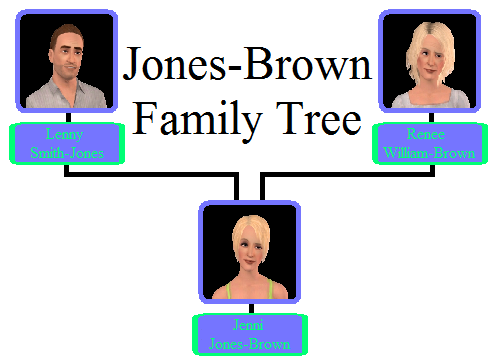 Members
Community content is available under
CC-BY-SA
unless otherwise noted.