Jared Frio

Biography
''Jared Frio isn't sure what he wants to do with his life. He knows he's good at cooking, but he just doesn't have the drive or ambition to become a great chef. He knows he's good at charming people, but he just doesn't have the desire to do more than scratch the surface of relationships. What will it take to aim him in the right direction?''
Name
Jared Frio
Gender
Male
Age
Young Adult
Life state
Sim
Lifetime wish

| | |
| --- | --- |
| | Celebrated 5-Star Chef |
Favorites
 Electronica

 Grilled Salmon

 Green
Appearance
Hair color
 Red
Eye color
 Green
Skin color
 Light
Body shape
 Fit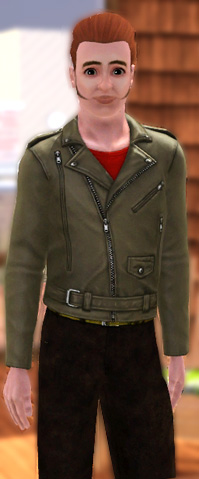 Jared Frio lives in Sunset Valley with his brother Connor Frio. Jared was formerly the boyfriend of Claire Ursine and he is the father of her unborn child. He is known for befriending people and then betraying them, with Claire Ursine as a perfect example. Due to his Inappropriate and Mean Spirited traits, he enjoys insulting and teasing others, even the ones who are his friends. He is unsure of what to do with is life, he wants to be a chef but he doesn't have the motivation. He is friends with Madison VanWatson and is a Spice Runner in the Culinary Career. In the earlier patches, when you first play him, he talks to Monika Morris on the computer and usually they become girlfriend and boyfriend and the same Claire process starts all over again. In the later versions of the game, him and Claire often reconcile, and eventually marry, and have another child together.
Jared is a young adult and is 11 days away from becoming an adult.
Community content is available under
CC-BY-SA
unless otherwise noted.