Invention Constructor
What can you create with this wonderful machine of pure imagination? It's up to you to find out!
Game
The Sims 4: Get to Work
Buyability
Build mode
Price in game
§3,000
Object type(s)
Electronics
Crafting
Size
4x5
The Invention Constructor is an object introduced in The Sims 4: Get to Work. The Invention Constructor is similar to the workbench from previous games, but can only be used in the science lab. The Invention Constructor can be used to create unique inventions, which function as decoration, weapons, or machines.
Artificial intelligence
Edit
The Invention Constructor is equipped with an artificial intelligence (AI) robot hooked to the constructor. The AI has a spherical head with high-tech construction tools and a crane attached to it. The AI is used for 3D printing.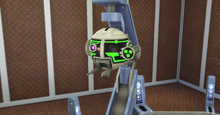 Sims can communicate with the AI in order to create new inventions. When a new object is invented, the AI will 3D print pieces of the object before assembling the pieces into a finished product. The AI can also help upgrade items, such as the SimRay to modify objects and Sims, or the Electroflux Wormhole Generator to travel to Sixam.
Types of objects
Edit
There are a few unique items that can be created with the Invention Constructor.
Community content is available under
CC-BY-SA
unless otherwise noted.