The Hemlock family is a vampire family residing in Bridgeport. They start out with 4,000 Simoleons. The family consists of Belisama, the Evil toddler who has learned to walk and talk, but hasn't been potty trained. She is the daughter of Wogan and Morrigan Hemlock who are also vampires. Wogan has a townie sister called Brigit, whom he is enemies with. While Belisama and her mother have a feud with Jessica Talon, Wogan is best friends with her. Wogan and Belisama have a feud with William Fangmann, but Morrigan is his best friend. Morrigan and Wogan have opposite relationships with the other vampires of Bridgeport. Wogan and Morrigan work in the criminal career, however, Morrigan is one level higher than Wogan.
Family tree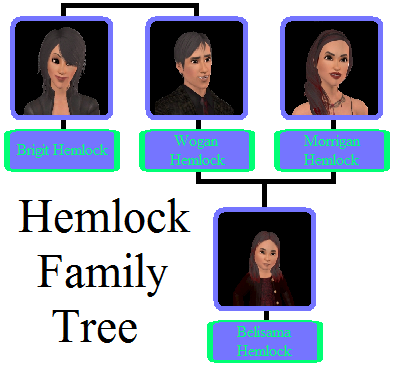 Members
Community content is available under
CC-BY-SA
unless otherwise noted.