Helgason family

Description
Lief Helgason loves his 3 children more than he can say. So much so that he fought for custody in all three of his nasty divorces. People might think him strange for having each of his children from different wives, but this old-fashioned man falls in love hard and quick. Can this single dad take care of his children alone or is wife number 4 on the horizon?
Name
Helgason family
Members
Lief Helgason, Karen Helgason, Karl Helgason, Kristin Helgason
Number of generations
2 generations
Family connections
Apple family, Hallur family, Vinter family
Lot
3 Rock Ridge Road
Funds
§10,000
Difficulty level
Other information
Game
The Sims 3 Store
Playability
Playable
World
Aurora Skies
The Helgason family are from the downloadable neighborhood of Aurora Skies. It consists of single father, Lief Helgason, and his three children, Karen, Karl and Kristin, all of whom he had with different women.
The mothers of Lief's kids (and his ex-wives), in chronological order, are:
Family tree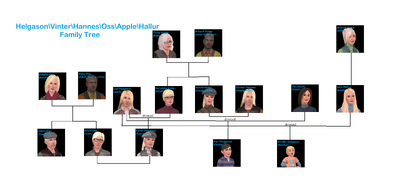 Members
Community content is available under
CC-BY-SA
unless otherwise noted.