Hart family

Description
Bebe Hart has a hard time as the only responsible person in the entire Hart lineage. It's no secret in the neighborhood that both of her parents are slightly insane, so Bebe feels that the neighbor's eyes have been scrutinizing her for ages, just waiting to see if she'll crack too.
Name
Hart family
Members
Gus Hart, Dorie Hart, Bebe Hart
Number of generations
2 generations
Lot
303 Skyborough Boulevard
Funds
§2,400
Difficulty level
Other information
Game
The Sims 3
Playability
Playable
World
Sunset Valley
The Hart family consists of Dorie, Gus and their daughter Bebe. Both parents have the insane and the childish traits, pressuring Bebe to either conform to her parents' ridiculous lifestyles or to help them act normal. The family lives on 303 Skyborough Blvd in Primrose, a 2br, 2ba, 30x40 lot. It is described as a "Remodeled two-story Victorian house with an accessible layout and open kitchen/breakfast nook area."
There are several other Sims with the surname "Hart" throughout The Sims series, including Randy Hart from SimValley, Sam Hart from Belladonna Cove, and Matthew Hart from La Fiesta Tech. They may also be ancestors of Simon Hart from Lunar Lakes. However, the relationship between them are unknown.
Onomatology
Hart: some meanings include "heart", "intellect", "memory", "male deer"
Bebe Hart: some meanings include "Butterfly", "infant/baby"
Family tree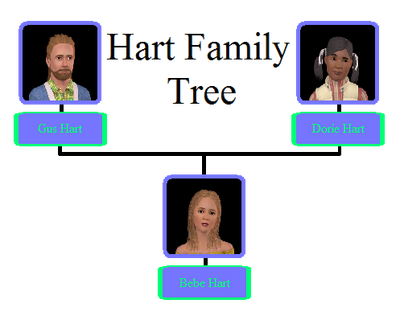 Members
Gallery
The Hart Home
Primrose (2br,2ba)
Community content is available under
CC-BY-SA
unless otherwise noted.