Geoffrey Landgraab

Biography
''A down-to-earth surgeon, Geoffrey fell into a pile of Simoleons when he fell in love with Nancy Landgraab and married into her ridiculously wealthy family.''
Name
Geoffrey Landgraab
Gender
Male
Age
Adult
Life state
Sim
Lifetime wish

| | |
| --- | --- |
| | Illustrious Author |
Favorites

 Custom

 Ratatouille

 Red
Appearance
Hair color
 Blonde
Eye color
 Brown
Skin color
 Light
Geoffrey Landgraab is a premade adult Sim, who lives with his wife and son in Sunset Valley. He fell into a heap of simoleons when he married into Nancy's wealthy family. Geoffrey is much more down to earth than his wife, who is always grooming their son to be ready to take over the family's money. It would also seem that he doesn't have that much power regarding the family. He is a couple of days younger than Nancy.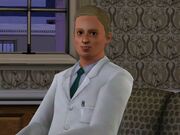 Geoffrey Landgraab is enemies with Nick Alto and Vita Alto, but his autonomous interactions with them are almost always friendly.
Interestingly, Geoffrey is a Landgraab by marriage, not by blood. It states in the family bio that since Nancy's family pretty much founded the town, it wasn't surprising that he took her last name, instead of the other way around. Judging by the family tree, Geoffrey doesn't have any other family, living or deceased.
Community content is available under
CC-BY-SA
unless otherwise noted.