"Bad Girls and Tough Guys!"
See you at the duct...the aqueduct, that is. Gasoline Row is perched on the edge of an aqueduct that runs along the warehouse district in The Urbz: Sims in the City's edge. Surrounding G-Row are bunkers of the warehouse district, with armies of cargo trucks and speeding supply trains constantly flooding the area. G-Row is filled with highway travelers and bikers stopping for a bite, and during the day, you can buy sausages and bike parts. At night, the rowdy party-going crowds take over for late-night drink-offs and illegal drag races on the east side of the district. There's always some action in the back room if you have the rep and the cash to get in. Test your strength at the muscle-busting arm-wrestling robo machine!
The bar is the nerve center of Gasoline Row; serving strong beverages and exotic local concoctions. The bike parts in the back aren't exactly shrink-wrapped off an assembly line. Instead, the high-profit, low-price success of this place is due in part to the acquisition of parts from...dubious sources. Let's just say don't leave your motorcycle unattended here for too long (at least not until you're a regular). The back room sports great challenge devices for money-making and testing your muscles against the brawny patrons. Be sure to sneak out back for a quick sprint on the latest sports bikes (but wager cautiously)!
G-Row's unique environment and location afford you furnishings unlike any other place. Where else can you find customized chrome chairs made of exhaust pipes and leather upholstered car seats as dining chairs? Fashion sense is localized to the culture--steel shaft boots, thick leather chaps, bike manufacturers' bandanas with logos, and hats and shades.
Head east out of town toward the aqueduct. When you cross the bridge you'll see a shantytown of buildings surrounded by trucks, warehouses, and cargo trains. That's Gasoline Row. Preferably, first time visitors should take the subway, which is a short trip and certainly limits the "risks" of leaving your car or bike parked out front.
Don't dismiss this area thinking it's all gas pumps and mini-marts. It's a haven for certain elements, but the excellent location on the highway makes it an eclectic meeting place and a great place to go when you're looking for a good time. It's all about attitude.
Getting a reputation here will get you noticed by the residents of Central Station.
Duke runs the chop shop/sausage grill that's infamous throughout the city. He has spent several hard years on the road and is fiercely loyal, and his philosophy is "Live, and let the rest figure it out themselves." On any given night you'll bump into Sharky Splitz--a beauty and a beast who's a cool contrast of love and leather. Pork Chop, as his friends call him, is the oddest of the mix. No one really knows his history or age, or even cares to. He certainly has the most colorful stories--real or fictional! Other regulars you can find here include Jet, on his latest street racer (no doubt customized just beyond legal limits), and Suzie Mack, who knows all the right moves since she used to be a career counselor at the city university before switching to life on a grand touring bike. As she says, "You learn more when you see more."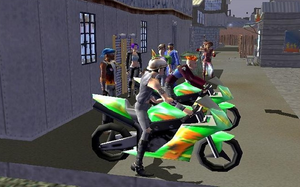 Preferred Moves
Back Slap
Blow Flame
Body Bonk
Body Slam
Suck Face
Taught Moves
Body Bonk (unlocked by befriending Pork Chop)
Blow Flame (unlocked by befriending Suzie Mack)
Head Butt (unlocked by completing level one of the local job)
Tuck 'n' Hug 360 (unlocked by completing level two of the local job)
Mock (unlocked by completing level three of the local job)
Upon entering the VIP area around midnight, the player urb will recieve a Chug A Lug social from Darius, which can be used to stop the villain Harry Snivel.
Like all other districts, Gasoline Row urbz will have relationships with other urbz based on which district they come from.
Liked
Gasoline Row urbz will use Greet, Act Friendly, or Act Romantic social moves with urbz from these districts.
Neutral
Gasoline Row urbz will use random social moves with urbz from these districts.
Disliked
Gasoline Row urbz will use Act Mean social moves with urbz from these districts.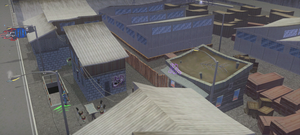 Splitz Leather Emporium (Clothing Shop)
Duke's Chop Shop (Local Job)
Back Room (VIP Area)
Biker Bar
Community Sausages
Authored by Peter Bagge.
Inspiration for Gasoline Row and it's residents is likely pulled from the Hells Angels.
Community content is available under
CC-BY-SA
unless otherwise noted.