Garden gnome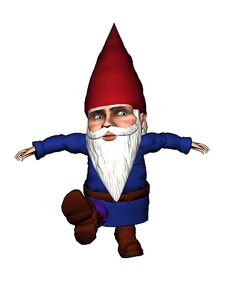 An enchanted gnome from The Sims: Makin' Magic.
Not to be confused with Gardening Gnome or Mysterious Mr. Gnome.

Garden gnomes exist in The Sims: Livin' Large, The Sims 2, The Sims 3 and The Sims 4.
In The Sims: Livin' Large, gnomes can be crafted at the KraftMatic Woodworking Table. One of the spells in The Sims: Makin' Magic can temporarily bring a garden gnome to life as a gardening gnome, which will take care of plants.
Gnomes can be purchased as lawn decorations in The Sims 2.
In Nightlife, a guest may attempt to steal a gnome from the lawn, though not when the game camera is focused on them. If the gnome is stolen successfully, any Sim in the household can retrieve it, and it will appear in his/her inventory. Sims in the household where the gnome is being stolen from will yell at the thief if they witness the theft, although they do not appear to be able to stop it.
In The Sims 2 Castaway and The Sims 2: Pets, there is a gnome called "Shifty Sam the garden gnome". In reference to his name, Shifty Sam will appear in different places on the lot when kicked over and left alone long enough, similar to the Mysterious Gnomes of The Sims 3.
Garden gnomes can be purchased through buy mode. Sims may also find Sleeping Gnome McMulty, an inactive, immobile version of Mysterious Mr. Gnome.
In The Sims 3: Pets, there are garden gnomes in buy mode which can summon animals to a lot. There is a gnome for cats, dogs, and wild animals.
Gnome costume


A sim dressed as a gnome for a Holiday in an official trailer for The Sims 4: Seasons.
In The Sims 4: Seasons, the Harvestfest holiday includes an activity called "Holiday Gnomes". During this activity, gnomes will appear around the lot. Sims need to praise them by giving them the right gift. If the player chooses the wrong gift, or if they kick the gnome, they will wreak havoc around the lot. If a Sim attempts to beg for an apology, there is a chance they will be struck by lightning.
When all gnomes in the lot are praised, they will start dropping Seasonal Seeds.
| Image | Name | Description | Praised with |
| --- | --- | --- | --- |
| | Upside Down Gnome Decor | I think if gnomes were real and the intention was to create the greatest amount of discomfort for them within their "I hang out in a garden" career path, placing them eternally on their head in service of the tray on their feet definitely falls within the top twenty. But not number one. | N/E |
| | Happy Gnomiversary! | Cake? Check. Noise maker? Check. Party hat? Check. Llama's not waking, bunnies freezing, roses budding, and splines reticulating? Check. Doesn't take much more than that to get the party started! >Happy fifteen! | Coffee |
| | Guardian of the Gnomelaxy | Not to be mistaken for an inhabitant of R'lyeh. This gnome has traveled far and wide to live in peace amongst the other gnomes in your garden. He will try to fit in, to make friends, guard your lot from evil... or rise up and rule over all Sims ensuing: chaos and cast aside all concepts of normalcy. | Future Cube |
| | Bearly Gnome | The Bearly Gnome's natural environment is outdoors, so he'll enjoy being placed on the front lawn to greet (or annoy) the neighbors. | Pie |
| | There's No Place Like Gnome | Add a little whimsy and protection to your garden with this charming fellow. A veritable sentinel for birds and squirrels, he takes his duties seriously. | Coffee |
| | Happy Gnome Garden Pal | This spritely fellow is sure to make you smile. And with special all-season paint. you can spread cheer all year! | Coffee |
| | Gnome Matter What, I'm Still Your Baby | He may have the classic gnome beard, but this cute little guy will always be your darling. Look at him reaching for your indulgent face, as if to say "Up! Carry Mel" But you know he's better off right in your garden, where he can warm your heart forever. | Coffee |
| | Don't Fear the Reagnomper | Once known as Sleve, the Reagnomper, has taken it upon himself to wander the land, searching for the unwanted, the broken, and the discarded gnomes of the lawn'verse. Those he finds he takes back to his home, where he grinds them up, allowing them to find a new recycled existence as a toilet, shower, or potting soil. | Pie |
| | Mr. Floppy the Gnome | Hailing originally from the Cave of Caerbannog, there is more to this gnome than meets the eye. Succumb to its cuteness, stare into its childlike innocent eyes that can look into your soul...and potentially own it! | Salad |
| | High-Rider Gnome | It's probably best not to ponder too much how the fellow got up there. Let's just say that gnomes move in mysterious ways. | N/E |
| | The Ghastly Ghostly Gnome | This clever gnome has traveled to the great beyond and back to bring a fright to your lawn. He's the perfect decoration for a newly haunted home. | Fruitcake |
| | Poolside Gnome | She may not help keep your pool clean, but gnomebody dresses up your poolside like this bathing beauty. | Pie |
| | Strictly Business Gnome | While other gnomes laze around your garden or relax poolside, the Strictly Business Gnome has no time for any of that nonsense. He's got places to go, calls to make, and meetings to attend. | Coffee |
| | Bare Essentials Gnome | Stripped of all modern trappings and shorn of any responsibility, the Bare Essentials Gnome is a titillating effigy of the squat Sim form at its most diminutive state. Encased in a grid of decent propriety and ensconced in one's shame, this gnome enters your home as one enters the world - naked. | Toy |
Community content is available under
CC-BY-SA
unless otherwise noted.