Fuzzy-Logic Picnic Basket
This article needs a picture to illustrate what it is about. Find an image or upload one and add it.
Everybody loves a good picnic, but don't you always hate having to put up with flimsy plates, cheap glassware, and plastic sporks? With this device, you won't have to! With the latest in nanotechnology, it absorbs molecular materials from the surrounding environment and creates a four-star restaurant setting in any locale From beach to hill to mountainside, picnic in style with the Fuzzy-Logic Picnic Basket!
Game
The Sims 3
Buyability
Buy mode
Price in game
§150
Object type(s)
Hunger
Size
1x1
The Fuzzy-Logic Picnic Basket is a portable group activity object in The Sims 3. It has a hunger rating of 4.
In The Sims 3 it is in the big park, unless you have the sims 3 seasons installed. (In seasons they have seasonal vendors instead)
You can only eat the picnic basket if the basket is open, the lid is ajar and a checkered blanket is underneath.
This is not a portable item, it is placed on the home lot or community lot.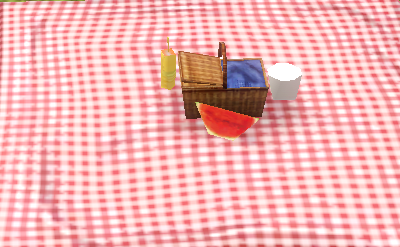 Community content is available under
CC-BY-SA
unless otherwise noted.