New Release
This article or section is about the recently released
The Sims 4
and may contain outdated or inaccurate information. We are working on editing and adding new content as it is discovered. You can help
The Sims Wiki
by
updating this page
. A game is considered a new release for up to a month after release.
Foundry Cove is a neighborhood located in Willow Creek, consisting of five small lots. New households to Willow Creek usually settle here first because the homes are less expensive here than in the other neighborhoods.
Lots
Bargain Bend
Bargain Bend



Type:
Residential
Value:
§2,000
Size:
30x20
Bargain Bend
is the only empty lot in this neighborhood. It is on the corner of the court beside Streamlet Single and backs up to a canal with a fishing spot nearby. This is a good spot for players starting out because it is already cleared and ready for construction.
Streamlet Single
Streamlet Single



Type:
Residential
Value:
§15,965
Size:
20x15
Number of floors:
1
Number of bedrooms:
1
Number of bathrooms:
1
Streamlet Single
is located between Bargain Bend and Crick Cabana. Though this house only has one bedroom, it does have a decent size living room and an entrance hallway.
This home backs up to a canal with a fishing spot nearby. For a small lot, it offers a larger square of yard in the front corner—big enough to construct a rocketship or a telescope.
Crick Cabana
Crick Cabana



Type:
Residential
Value:
§13,663
Size:
20x15
Number of floors:
1
Number of bedrooms:
2
Number of bathrooms:
1
Crick Cabana
is a small lot is at the end of the court and backs up to a canal. Though the home is small, it has two bedrooms, making it perfect for a couple roommates or a small family just getting started.
The lot doesn't have much room for gardening or other outdoor activities. However, this neighborhood provides some areas to explore, such as the community garden and the Sylvan tree.
Daisy Hovel
Daisy Hovel



Type:
Residential
Value:
§16,421
Size:
30x20
Number of floors:
1
Number of bedrooms:
1
Number of bathrooms:
1
Daisy Hovel
is nestled between Crick Cabana and Garden Essence. While the house is small, the size of the lot allows for Sims to add on rooms and make the home larger. It also provides a lot of space for gardening and outdoor objects.
Garden Essence
Garden Essence



Type:
Residential
Value:
§64,634
Size:
40x30
Number of floors:
1
Occupants:
BFF household
Number of bedrooms:
3
Number of bathrooms:
1
Garden Essence
is nestled between Daisy Hovel and the neighborhood's community garden. It is home to
Travis Scott
,
Liberty Lee
, and
Summer Holiday
.
This is the largest house in the neighborhood and comes with a fenced-in back yard complete with a deck and a garden. With three bedrooms, this is great for medium sized households, though with only one bathroom, the Sims need to learn to share. This lot has plenty of space for adding on to the house if you want to.
Neighborhood amenities
Foundry Cove is bordered on two sides by a canal with three fishing spots. In addition, there are several places where Sims can go to look for frogs or dig up rocks.
A community garden behind the Garden Essence lot already has plants and trees growing. This is a good spot for Sims to learn and develop the Gardening skill if they do not have room in their own yards to do so.
Sylvan tree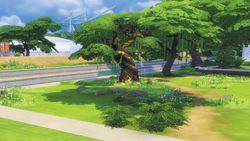 A very interesting feature in Foundry Cove is the Sylvan tree. It is located in the open space between the Crick Cabana and Daisy Hovel lots. This large and unique looking tree is magical. Players can send a Sim to this tree to talk to it. After the conversation, an opening will appear in the side of the tree and the tree will become available for exploring as an action.
There are several choices to make as the player enters the tree. Depending on their choices, the player may either come out of the tree where they entered or find themselves in Sylvan Glade, a hidden lot.
Gallery
Community content is available under
CC-BY-SA
unless otherwise noted.