Fintan Mithrilen is a pre-made Sim from the downloadable neighborhood of Dragon Valley, available from The Sims 3 Store. He is married to Aine Mithrilen and has one son with her, Riordan. His wife is pregnant with their second child, though the pregnancy is not yet visible. Fintan works in the Military career track as a Fighter Pilot. He has 4 points in the Logic skill, 6 in the Athletic and 5 in the Handiness skill. He's a 2-star celebrity.
Strangely, despite being Mean Spirited, Fintan's Lifetime Wish is to become Leader of the Free World, which is normally associated with the conflicting Friendly trait. The lifetime wish to become an Astronaut, which meshes with his current career, is also available because he has the Brave Trait.
Fintan Mithrilen is mentioned in one of the object descriptions from The Sims 4: Movie Hangout Stuff.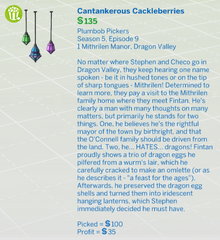 Community content is available under
CC-BY-SA
unless otherwise noted.