Fanon article ownership
This fanon page was created and is owned by
Glynn Tarrant
(
talk
). Unless the edit is constructive and/or minor (such as fixing a template), please do
not
edit this page unless given permission from the author.
Walter Vice

Biography
Head of the Sunset Valley Assassins and Mentor. Walter lives a life of secrecy, only his students and close relatives know of his true line of work.
Name
Walter Vice
Gender
Male
Age
Adult
Life state
Sim
Vice
Parents
Christine Vice (Mother), Stiles McGraw (Father)
Sibling(s)
none
Romances
Catherine Vice 
Child(ren)
Rosa Vice
Zodiac sign
 Pisces
Lifetime wish

| | |
| --- | --- |
| | International Super Spy |
Favorites

 Custom

 Grilled Cheese
 Black
Appearance
Hair color
 Black
Eye color
 Red
Skin color
 Medium
Body shape
 Muscular
Walter Vice was an International Super Spy and Master Assassin. He later quit his job to devote himself fully to the Sunset Valley Assassin Order. He lived a life a luxury and hardly knew what it was like to be short on cash.
Biography
Edit
Childhood
Edit

Walter Vice was born to Christine Vice in Sunset Valley. As an infant and toddler, he received great care and attention from his mother. During his childhood, He attended school like any other child. He seemed to like painting just like his mother and was a natural born genius. Walter noticed that his mother had painted pictures of his father, Stiles Vice. Walter never truly knew his father, though he was aware that he was dead. He mourned his father's death at least twice a week.

His mother was a busy woman, and often worked late. She was a Five Star Chef, and often had to cook Walter meals days in advance for when she would have to work. Even though His mother's schedule was inconvenient, her job paid enough money for Walter to live comfortably.
Walter had a very strong relationship with his mother. She tutored him in Logic, Painting, and Cooking to help him in the future.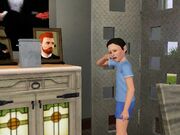 Walter read about the phenomenon of ghosts in school. He did not believe in such things. He later discovered that the science lab conducted experiments that brought the ghosts of Sims out of their graves. He missed this opportunity, but began to believe that his father would one day return.
His wish eventually came true. One Saturday night, Walter was studying late and he heard ghostly sounds. He walked into the living room to see the ghost of his father floating around. He looked at Walter and smiled with tears in his eyes. Walter shared a huge hug with his father. He spent time laughing and playing with his father for hours. Walter eventually fell asleep, only to wake up and find his father gone the next morning.
---
Adolescence
Edit
As a teenager, Walter found himself far more independent. He continued his studies at school and decided that he wanted to be a spy. In preparation, Walter trained his body to reach the peak of physical fitness. He eventually ended up in a romantic relationship with Layla Larue, but it did not last long.
---
Young Adulthood
Edit
On his 18th birthday, Walter was attacked by a strange man. He managed to get a hold of the police before anything worse happened. Christine decided that it was time for Walter to know of his strange lineage. Sims in the Vice bloodline have a strange mutation that causes them to have pointed ears and red eyes. This grants them enhanced vision and hearing. Not only that, but the Vice family is a part of the Bridgeport Assassin Order. Upon hearing this, Walter decided that he should take up his family's tradition and joined the Sunset Valley branch.

While a part of the Assassin Order, Walter joined the law enforcement career and quickly ascended to the top. His high athletic skill made him a very good Assassin, easily becoming the best Sunset Valley could offer. Eventually Walter became head of Sunset Valley branch and gained the Rank of Master Assassin and Mentor. This caused some Assassins to respect him greatly...while some others became jealous.
Later in his career, Walter met a woman named Catherine Salazar. The two fell in love and when on numerous dates. He later proposed to and married her.
As the leader of the order, Walter hunted down many corrupt and dangerous individuals, saving Sunset Valley from danger. Since he still held his rank as an International Super Spy, Walter had access to information that many others did not. This is also a reason why he became the Mentor. After about a year of his leadership in the Order, Walter left the Law Enforcement career.
Since Walter had more time to devote to the order, he began training and recruiting more Sims into the Sunset Valley branch. He had about 20 skilled assassins under his command. A small, yet efficient, group.
---
Adulthood
Edit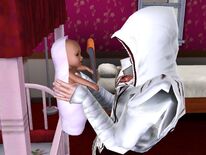 Walter and Catherine eventually had a daughter together. Her name was Rosa, and she too was born with the Vice Mutation. Walter had hoped that this did not happen. He wanted Rosa to live a normal life, but with this appearance, it would be hard for her to hide her lineage. He then decided that he would prepare her when she was old enough to join the Order, and take his place as leader.
Conspiracy
Edit
Walter later found out that his father was actually murdered. He decided to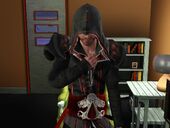 investigate to see who killed him and for what reason. He searched for months to find out why they did this. Eventually, Walter found out that there where three conspirators who killed his father. After tracking one down, he discovered from them that his father was a part of the Assassin Order as well and was on the verge of becoming the leader of the Sunset Valley Assassins. Walter killed the conspirator and searched for the other two.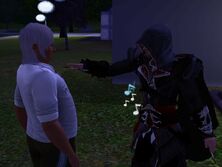 He spent days searching the town, but no leads. He realized that once he took down the first conspirator, the other two would go into hiding. Walter decided to lay low and do research from the comfort of his home. Luckily, few people actually knew that Walter was the head of the Sunset Valley Assassin Order and those who did were a part of the order themselves. Even they knew nothing of Walter's personal life.
Training Rosa
Edit
Rosa was finally a teenager and still had little to do with her father's business. Walter, with the permission of his wife, began to teach Rosa in the ways of the Assassin. He trained her privately to avoid anyone from knowing. He did not teach her much, just the basics of self-defense and the usage of a knife. He did not have the time to teach her everything, for he had found another lead. He ventured across town and found his next target. He eliminated them without drawing too much attention to himself by not wearing his assassin robes.
He returned home and decided to put Rosa's training on hold until he found the last conspirator and ensured his family's safety.
Final Mission
Edit
As time passed, Walter continued his search to avenge his father. Unknown to him, Rosa had followed him on this mission. Walter had finally found the conspirator, but to his surprise it was an Assassin of his order. Franco, Second in command of the Sunset Valley branch was the one who killed Stiles. Walter fought Franco with all of his strength. Franco later pulled a gun on Walter and shot him in the chest. Franco made his escape, leaving Walter to die.
Walter used the rest of his strength to crawl back to his home to warn his family. Rosa and Catherine found Walter near death in front of their house. He told Rosa that Franco was the one out to get their family, and that they should go into hiding. He kissed his wife and hugged his daughter one last time before taking his final breath.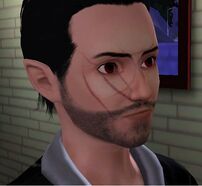 Community content is available under
CC-BY-SA
unless otherwise noted.