Fanon article ownership
This fanon page was created and is owned by
88ZombieCarlLarceibmoz88
(
talk
). Unless the edit is constructive and/or minor (such as fixing a template), please do
not
edit this page unless given permission from the author.
Tyrone Racket-Castor

Biography
'Poor Tyrone. His mother cheated on her husband with his father and had him. Because Beverly cheated to have him, she abandoned him to save her marriage. His father, Bill, tried to raise him for awhile, but when Tyrone turned 15, he left the house and started to live on his own. He is trying to make a steady income by working at the bookstore but he is practically alone. He even needs to mooch off his neighbors for extra money. Tyrone is afraid of not being able to complete his lifetime wish, will he be able to complete it?'
Name
Tyrone Racket-Castor
Gender
Male
Age
Teen
Life state
Sim
Education and Employment
Grade
A
Career
Bookstore Clerk
Zodiac sign
 Sagittarius
Lifetime wish

| | |
| --- | --- |
| | Become a Superstar Athlete |
Favorites

 Pop

 Hot Dogs

 Lime
Appearance
Hair color
 Light Black-Brown
Eye color
 Brown
Skin color
 Light
Body shape
 Fit
Social Standing
Celebrity status
Tyrone Racket-Castor is a teenage Sim living in Twinbrook. His mother, Beverly Castor, had an affair with Bill Racket and got pregnant by him. When Tyrone was born, his mother abandoned him to save her marriage and his father took him in. Tyrone did not like living with his father, but it was better than nothing. When Tyrone turned 15, he moved out of his dad's house and bought his own house at 39 Sweetwater Loop. The house wasn't cheap but he knew the owner and they gave him a deal, knowing of his tough situation. Tyrone slowly became a frugal mooch because he was so tight on money. He decided to get a job at "Always Studious Bookstore" which he worked hard at and quickly got promotions. When he finally decided it was time to find a date and make some new friends, he stumbled across the gorgeous Jade Greenwood who lived down the road. The duo clicked and soon started dating. Prom was coming around the corner and Tyrone was prepared in advance. At the prom, Tyrone became the prom king! Tyrone then noticed he was not making enough profit so he used his old guitar and took up the guitar skill. He usually played at the Twinbrook Plaza until curfew, after his homework and job were completed. Tyrone's playing got so much attention that he became a 3-star celebrity! He still lives in his little house however, not letting the fame go to his head.
Tyrone is a teenager living alone.
Tyrone is an A student.
Tyrone is afraid of not being able to become a sports superstar when he is older.
Tyrone has:

10 points in the Athletic Skill
1 point in the Cooking Skill
9 points in the Guitar Skill
8 points in the Handiness Skill and the Logic Skill

Tyrone did hate his mother, Beverly, because she abandoned him, but recently he has tried to be nicer with her.
Tyrone does get along with his half-brother, Jeffrey, though.
Jeffrey is not aware of Tyrone being his half-brother.
Tyrone got most of his facial features from his mother, while he got his hair color from his father.
Tyrone lives down the street from his mother, but his father lives across town.
Tyrone's prized possession is guitar that was given to him by his grandfather.
Tyrone's Toddler skills (Walking, talking, and potty training) were taught to him by his grandmother.
Even though Tyrone sometimes is out playing his guitar after curfew, he has never been escorted home by the police.
Robert is aware of Tyrone's existence, but he forgave his wife.
Tyrone is a popular student at school and usually has a few friends over, when he's not working of course.
Jeffrey once invited Tyrone to his house, so Beverly had to act like they just met around her children.
Bill did not know that Beverly was married when she was with him. He saw her as a girlfriend, while she thought of him as just a way to get away from her husband.
Tyrone was forced to learn the Handiness Skill so he would be able to fix broken objects around the house.
Even though Tyrone has had a bad life, his ambition has made him a smart and dedicated student, as well as an athlete.
Tyrone is enemies with Robert.
Tyrone lives across the street from Kat Hunter and Buck Green.
He mooches off the couple quite often.
Tyrone's only two relationships that are in the negative are with Beverly and Robert.
Tyrone's house only has four rooms. A bedroom, laundry room, bathroom, and a kitchen/dining/office/living room.
Tyrone learned how to drive from Holly Greenwood.
Tyrone owns a Big Lemon car.
Tyrone is very good friends with his uncle, Dudley Racket.
Racket-Castor Family Tree
Edit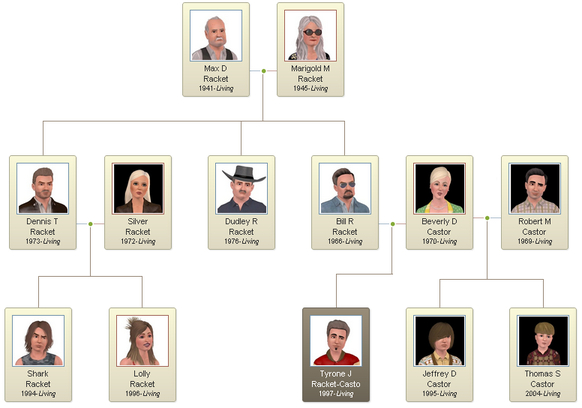 Community content is available under
CC-BY-SA
unless otherwise noted.