Fanon article ownership
This fanon page was created and is owned by
PCHS-NJROTC
(
talk
). Unless the edit is constructive and/or minor (such as fixing a template), please do
not
edit this page unless given permission from the author.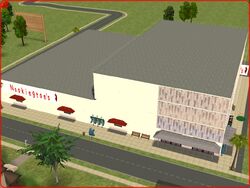 Tom Nook's Shops, Incorporated (sometimes known as TNS) is the largest corporation in the world, operating a large scale retail chain, manufacturing facilities, a food service distribution company, a private security firm, a large university, and a state of the art hospital. Tom Nook, the richest man in the world, is the founder and CEO of the company. The company actively operates four retail concepts: Mega Nookington's, Nookington's, NookWay, and Nook n' Go. Most Tom Nook's Shops employees are represented by collective bargaining agreements (union employees) 75% of TNS employees are represented by the Service Employees International Union. Tom Nook's Shops, Inc. is a parody of Tom Nook's Shop in Nintendo's Animal Crossing.
Early Years
Edit
In 1945, a businessman and former Sears Roebuck employee, Thomas Nook, purchased a small general store in Capital City, and renamed it Nook's Cranny. Tom Nook focused on selling products at lower prices to get higher-volume sales at a lower profit margin, portraying it as a crusade for the consumer. He experienced setbacks, because the lease price and branch purchase were unusually high, but he was able to find lower-cost suppliers, including The Able Sisters which was operated by personal friends Sable (who would later go on to become his wife) and Mable Taylor. His business model was very successful, and in his first year of ownership the store made $105,000 (equivalent to $1.38 million in 2015) in revenue. Within the fifth year, the store was generating $250,000 (equivalent to $2.49 million in 2015) in revenue. When the lease for the location expired, Walton was unable to reach an agreement for renewal, so he opened a new store at 105 N. Main Street in Capital City, naming it Nook n' Go.
Rise to power
Edit
The company was incoporated as Tom Nook's Shops, Incorporated October 31, 1969. In 1970, it opened its home office and first distribution center in Capital City. It had 38 stores operating with 1,500 employees and sales of $44.2 million. It began trading stock as a publicly held company on October 1, 1970, and was soon listed on the Capital City Stock Exchange. The first stock split occurred in May 1971 at a price of $47 (equivalent to $275.00 in 2015). By this time, Nook's company was operating five states within the USI, including SimNation. In 1974, Nook's company purchased one of its suppliers, The Able Sisters, and renamed it Able Sisters Manufacturing. In 1975, the company acquired the for-profit Farway University and renamed it Nook University.
In the 1980s, Tom Nook's Shops continued to grow rapidly, and by its 25th anniversary in 1987, there were 1,198 stores with sales of $15.9 billion (equivalent to $33.1 billion in 2015) and 200,000 associates. This year also marked the completion of the company's satellite network, a $24 million (equivalent to $50 million in 2015) investment linking all operating units with the Bentonville office via two-way voice and data transmission and one-way video communication. At the time, it was the largest private satellite network, allowing the corporate office to track inventory and sales and to instantly communicate to stores. The first Nookington's store opened in 1988 in Capital City. In 1990, TNS purchased a major convenience store chain and renamed its stores Nook n' Go.
By 1988, Tom Nook's Shops were more profitable than rival stores, and was the dominant retailer in much of the USI. By 1992, TNS had stores in every state of the USI and had begun to branch out to other nations. By 1996, Tom Nook's Shops, Inc. had climbed to the top of the Fortune 100.
Retail operations
Edit
Nookington's
Edit
Nookington's is a three story department store concept. The first floor is home to the grocery department as well as CrossRoads Restaurant, a coffee shop, the Shampoodle Salon, and the Nook's Asset Protection office. Furniture, electronics, toys, and clothing are sold on the second floor. The third floor is closed to consumers, housing the manager's office, employee break room, and orientation classroom.
Mega Nookington's
Edit
Mega Nookington's is a multistory supercenter. It has available for sale every salable item in the game.
Nookway is a neighborhood market concept. It sells grocery items and has a small selection of general merchandise items. It is a two story building with offices upstairs.
Nook n' Go
Edit
The original Nook n' Go was a five and dime concept store, selling general merchandise. Present day Nook n' Go' stores are convenience stores, selling groceries and magazines.
Able Sisters
Edit
Able Sisters Manufacturing is the production arm of Tom Nook's Shops, Inc. Able Sisters started as a small tailor shop in Capital City run by Sable and Mable Taylor. The sisters, friends of Tom Nook, entered an agreement to produce clothing and crafts for Nook's Cranny not long after he opened up his shop. The sisters business grew as Nook's business grew, growing from a small tailor shop run by the sisters to a network of massive factories, producing clothing, teddy bears, quilts, flower arrangements, toys, electronics, pottery, and other merchandise.
Nook's Asset Protection
Edit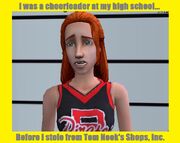 Nook's Asset Protection, also known as NAP, is a private security firm operated by Tom Nook's Shops. NAP started as an anti-theft/security force in the company's stores and started providing services outside of TNS with an acquisition of Merryweather Security
[2]
in 2014. NAP serves as the university police department at Nook University. NAP notoriously uses excessive force and tests the limits of the law in its brutal, mafia-like torturing of shoplifters. NAP is required to press charges to the fullest extent of the law in all theft, fraud, and vandalism cases, except in cases of food theft or baby supply theft, in which case prosecution is at the discretion of the NAP agent. All NAP agents are armed, and will use deadly force if confronted by an armed aggressor. The agency's logo is an eagle with a newspaper-wrapped fish in its beak and concrete shoes on its feet, and the agency's motto is "Protect and serve the bottom line." The agency uses anti-theft posters featuring
Angela Pleasant
, who was arrested as a teenager for robbing a Nookington's store with then boyfriend
Dustin Broke
. The youngest NAP agent is
Regina Downing
, a teenaged cheerleader, which is somewhat ironic because she wears the same uniform Angela Pleasant wore when she was arrested.
References
Edit
↑ Tom Nook's Shops, Inc. parodies Wal-Mart and Target, and some of the content in the history section was copied from https://en.wikipedia.org/wiki/Walmart, which is created by Wikipedia contributors and is licensed for reuse under the GFDL.
↑

from the Grand Theft Auto universe
Community content is available under
CC-BY-SA
unless otherwise noted.