Fanon article ownership
This fanon page was created and is owned by
Mathetesalexandrou
(
talk
). Unless the edit is constructive and/or minor (such as fixing a template), please do
not
edit this page unless given permission from the author.
Theophylaktos Kostopoulos

Biography
'The younger of the Kostopouloi children, Theophylaktos is Athanasia's child. Theophylaktos does have traits that please Athanasia: he likes work and Athanasia is all too glad that Theophylaktos can be counted on not to slack once he assumes control. Given that, Athanasia is eager to train him to become the heir as Athanasia deems Kyriake unfit due to the narrow interest established by Kyriake's savant syndrome. However, Theophylaktos is also a partier and a kisser: Athanasia only wishes that Kyriake had some of his interest in the opposite gender...'
Name
Theophylaktos Kostopoulos
Gender
Male
Age
Teen
Life state
Normal
Education and Employment
School
High School
Career
Unemployed
| | |
| --- | --- |
| Zodiac sign |  Libra |
Favorites
 Hip Hop

 French Toast

 Orange
Appearance
Hair color
 Blonde
Eye color
 Blue
Skin color
 Light
Body shape
 Muscular
Other Information
Game
Supernatural
Playability
Playable
Neighborhood
Fanon:Hekatonschoinos
Theophylaktos Kostopoulos (Gk. Θεοφύλακτος Κωστόπουλος), born October 10, 2015 at Patras, is the younger of the Kostopouloi children. Theophylaktos is perhaps the most like the typical Greek, preferring socialization and having some leisure. Sure, Theophylaktos likes work, but he is by no ways a zealous worker with no love of other things. Theophylaktos is as much a partier as he is a determined one, whether it be in athletics or it be school work.
Theophylaktos is very unlike his older cousin: most important element would be that Theophylaktos has some reputation within the female segment of the school population for being a good socializer, where as Kyriake simply doesn't give a darn in her days given the effects of the Savant syndrome. Theophylaktos is also a hard partier on top of his good school performance, a thing considered generally positive by his mother Athanasia as Athanasia believes that making good connections is a key element. However, Athanasia is rather disappointed at how it was set up: although Theophylaktos' social aptitude and interest in opposite gender is considered good, Athanasia had hoped that Kyriake was much more so given that Kyriake was considered a better negotiation tool involving business-oriented marriage. Nonetheless, Theophylaktos is treasured as the probable heir to the Kostopouloi firm.
Fanon Story
Edit
Like most of the Fanon Characters, this story will not be reflected on in the start of a game on the said neighborhood (which is to be updated)
Theophylaktos was Athanasia's favorite, and his school histories always involved his popularity. Although Athanasia wanted Theophylaktos to enroll in the entrepreneurial school, Theophylaktos chose to join the Military school given his preference for physical fitness. Thankfully for Theophylaktos, Athanasia was knowledgeable in part of the Sun Tzu's Art of War which was a core text of the military school, and Athanasia decided not to protest Theophylaktos' decision. He would also sign up to become a cadet, which was an attempt at appeasing Athanasia by having him exercise his brains in wargames as well.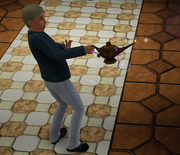 Despite his tendency to be the center of attention, the Papal State had been separated from the school paradigm normally associated with stereotypical school social castes: Kallisto always has been a big one in pressuring the educators to discourage the formation of cliques as well as celebrity status, and Theophylaktos would be suppressed in such conditions. Nor did it help that many of his classmates were not interested popularity stuff: Erio, Eun Jin, Eirene, et al. were none at all the groupie stereotypes necessary for Theophylaktos to shine socially. However, Theophylaktos would acquire something new as he goes on a class trip to the Mausoleion. However, Theophylaktos has been conservative about using his new acquisition, and Athanasia is not aware of his acquisition as of the moment. He would then later help out his mother once Athanasia had become enthusiastic about Kyriake's productions, taking the task of harvesting the crops produced by Kyriake's garden.
Community content is available under
CC-BY-SA
unless otherwise noted.