Fanon article ownership
This fanon page was created and is owned by
Plumbbobparadise
(
talk
). Unless the edit is constructive and/or minor (such as fixing a template), please do
not
edit this page unless given permission from the author.
The Plumbs
are a family of artistically-inclined Sims originating in
Sunset Valley
. The patriarch of the family,
Nigel Plumb
, was said to have been an immigrant from
Riverview
by way of Yorkshire, England. The family symbol, the white rose flanking the plumbob, reflects their place of origin, and several family members have this symbol as a tattoo. The unlikely matriarch of the family was
Jamie Jolina
, who passed on her musical traits to several of her descendants, including, most notably, her son,
Nathan Jolina-Plumb
, a renowned musician and composer. Her grandson,
Sebastian Plumb
, is an actor and musician. Her granddaughter,
Savannah Plumb
, is an author and adventurer who is now a part-time professor of history and paranormal studies at
Sims University
. A great-granddaughter,
Skylar Cheesman
, appears ready to pick up the family's musical torch.
The Plumbs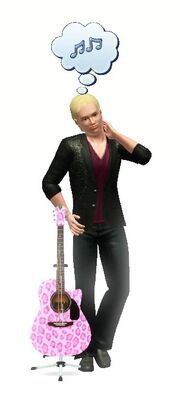 made their name and fortune in the entertainment business.
Margaret Plumb
was a noted novelist of mostly speculative fiction, most famous for the six Moon Colony science-fiction books. She spent her childhood in Riverview, but moved to Sunset Valley as a teenager and found literary fame.  She never married and didn't have children.
The current Plumbs are all descended from Margaret's half-brother, Nathan, Nigel's son with Jamie Jolina. Nathan was known professionally as Nathan Jolina-Plumb, the young man electing to carry his mother's name. Nathan and his longtime partner, Shandra Bellingham Plumb, the mother of two of his children, was a hit movie composer. Before marrying Shandra, however, Nathan dated all around Sunset Valley, having children with such luminaries as Holly Alto and the Ursine daughter, named Sharon. His half-sister took issue with his seemingly aimless life.  When he met Shandra, however, things started to change for him, and he began to funnel his considerable talent into his music.  The multi-talented Shandra herself became the first female conductor of the Sunset Valley orchestra, wrote, and painted.
Savannah, daughter of Nathan and Shandra, is the family's current most famous member.  She has had a multi-faceted career as an author and adventurer, and currently is a Will Wright professor of history and paranormal studies at Sims University.  She was the beneficiary of a privileged upbringing and an excellent education in Sunset Valley's Summer Hill Court - an education she received despite never attending college.  She surprised many observers by marrying her former high school classmate after a fling with a French nectar historian and photographer. 
Her younger brother, Bridgeport-based Sebastian, is accomplished in his own right.  He won both a Simmy and a Sim's Choice Award for his acting, one of only a few actors to nab both statues.  However, it was his checkered love life that captured the most attention.
The Plumbs, blessed with high intelligence and artistic talent, also have a history of self-destructive behavior. Nathan Plumb dropped out of high school the summer after his freshman year, devoting himself wholly to his music. His breathtaking talent caught the attention of the
Grim Reaper
when he was harvesting Jamie Jolina's ghost.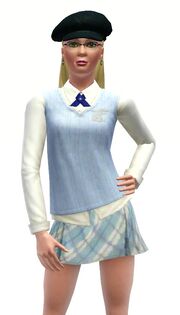 His son, Noah, eloped with his girlfriend, Sadie Alvi, when both were teenagers, and his grandson, Neil, even lived with him for a time after his issues with anxiety became known. His daughter, Savannah, was also wildly out of control, and three of her children (one adopted and two biological) have been remanded to Fort Starch Military Academy for this same behavior. One of those,
Sierra
, has an extensive record which includes arrests for breaking and entering, malicious destruction of property, curfew violations, truancy, vandalism, and assault.
After Savannah's sons, AJ and Imsety, threw a wild party at which paparazzi were present, Savannah's husband, Andrew, moved his wife and children to Hidden Springs to escape the fallout. 
Intelligent, feisty, haughty, and fiercely independent, Savannah was determined to carve her own path in life. Though the daughter of two musicians, Nathan and his longtime partner and wife, Shandra, Savannah had decided very early in life that she wanted nothing to do with the family business. She was a wild child to the core and on a first-name basis with the police. Instead, the strong-willed girl followed the example of her aunt Maggie and became a successful writer in her own right. But instead of writing science fiction, Savannah chose to chronicle her own travels in the Sim world and her forays into the paranormal.
Soon after Savannah became a teenager, her younger brother Sebastian was born. The two could not have been more different temperamentally. While Savannah was intense and serious, Sebastian was laid back and something of a cutup. Despite the two's obvious differences, they were close growing up. Soon after high school, Sebastian left Sunset Valley to make a movie career in Bridgeport, and he was successful with that - until his love life made more headlines than his films.
The boy who eventually became Savannah's husband, Andy, had lusted after her ever since he and his adoptive mother moved into the Landgraab mansion next door to the Plumb estate after her brief marriage to Malcolm Landgraab. On paper their union seemed like a big mismatch - he, an adoptee and she, an heiress by the time she reached her teens. The relationship started out inauspiciously, with her being assigned as his tutor and them referring to each other with insulting names. But, eventually, when Savannah went missing in Egypt, Andy realized he loved her. They eventually wed, and the rest, is history.
The wedding shocked Sunset Valley. Savannah, who had been known as a wild child, had gotten married. And the couple wasn't done, either. Their first son, Andrew, Jr. (AJ) was born in short order after the wedding and their subsequent move to a cabin on Pinochle Pond in Sunset Valley. Following him were Sage, Sierra, Skylar and Sawyer. As the family expanded, so did their needs, and eventually they left Sunset Valley for Hidden Springs, which was the birthplace of the youngest two children. The family has since returned to Sunset Valley, but maintain their property in Hidden Springs and Moonlight Falls.
Meanwhile, after a string of failed relationships, Sebastian met Madison Avenue (née Madison Westley) while on vacation in Hidden Springs. They fell madly in love. Sebastian sold his Bridgeport penthouse and moved to Starlight Shores to be with her.
The two had a tumultuous relationship, which resulted in their daughter, Kaydence. Madison's burgeoning success took a toll on their relationship, and their breakup was painful, resulting in a bitter and drawn-out court battle. After Sebastian won custody of Kaydence and lost a significant part of his personal fortune, he returned to his native Sunset Valley with her, while Madison returned to Starlight Shores, never to be a significant part of her daughter's life again.
Kaydence is also showing signs of being ready to take up the family's creative torch. Already the teen has penned a novel and is doing some acting, as well. She was accepted for early admission into college despite being a teen, showing that she's also inherited the family's intellectual abilities.
Also appearing ready to take up the family's creative torch is Savannah's youngest son, Sawyer. He is a gifted pianist and has also written a comic book.
The Plumbs full family tree is here:  http://www.familyecho.com/?p=START&c=p2btv6kmbp&f=312639035637886168
Community content is available under
CC-BY-SA
unless otherwise noted.