Fanon article ownership
This fanon page was created and is owned by
Icemandeaf
(
talk
). Unless the edit is constructive and/or minor (such as fixing a template), please do
not
edit this page unless given permission from the author.
The Genesis Project



Name:
The Genesis Project
Created by:
Icemandeaf (talk)

---

Production
Original run:
February 24, 2014
Status:
In Production

---
Welcome to The Genesis Project. After years of abductions and experiments on the citizens of SimNation, we have finally found a way to create a species of single gender Sims. The process of altering the make up code of a Sim is very extensive and difficult. We have found that the least number of Sims required to make a self-sustaining population while still keeping it genetically diverse is eight. So eight male Sims have been abducted, altered, and had their memories wiped clean before placing them on a vacant world. They have been programmed to ensure that they keep the population going. Since this world is truly vacant of any other Sims, there are no Townies or NPCs (expect for the few the game generates, but they will not play any part until a few generations later when the population would allow for such Sims.)
In the beginning, Sims could only make money from their home business. Since this was they only way to purchase items, Sims could only buy what others were selling. Then once there was enough to create a real estate agency and buy other community lots, other Sims were able to own community lot businesses. When a community lot of a specific type was created, the career track of that same type (i.e. a restaurant for the Culinary Career) could then be joined by other Sims. Being employed at another business is always an option, but only if the business can afford it.
The Original 8
Edit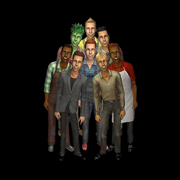 As of Chapter 16

Population: 63 Sims
Family Wealth: §17,140
Family Members: Lee Wizard, Sebastian Wizard and Bill Wizard
Businesses owned: None
Harper Family: 437 Middle Row - The Harper family was started by Tyler Harper and is responsible to do all the artwork as well as all the record and financial keeping for the community. It is unclear how or why it occurred, but they are the wealthiest family of the entire project.
Family Wealth: §368,942
Family Members: David Harper, Jim Harper, Chad Harper, Franklin Harper, Randall Harper, Ron Harper and Raymond Harper
Businesses owned: Real Estate, Jim's Music, Tyler's Art, Cemetery, School, 409 W Main St and 6 empty lots
Carpenter Family: 738 S Main St - The Carpenter family was started by Sean Carpenter and is responsible to do all the carpentry work and the fitness aspect for the community. It is obvious due to their name that they were programmed to be carpenters, but for whatever reason they also became focused on the fitness well-being of the community as well.
Family Wealth: §218,386
Family Members: Alex Carpenter, Drew Carpenter, George Carpenter, Caleb Carpenter, Jeffery Carpenter and Russ Carpenter
Businesses owned: Rec Center, Carpentry, Beds & Beyond and Sean's Fitness
Family Wealth: §95,134
Family Members: Nick Fisher, Andrew Fisher, Thomas Fisher, Ed Fisher, Billy Fisher and Randy Fisher
Businesses owned: Meat Market and Chris' Fishes
Baker Family: 709 S Main St and 409 W Main St #2 - The Baker family was started by Matt Baker and is responsible for all the cooking in the community. The Sims of the project have greatly appropriated the skill that this family has provided so they can focus on other tasks.
Family Wealth: §159,253
Family Members: Connor Baker, Zack Baker, Anthony Baker, Lawrence Baker, Brad Baker, Ivan Baker, Timmy Baker, Derek Baker, Gary Baker and Ruben Baker
Businesses owned: Restaurant, Matt's Bakery and Kitchen Supplies
Potter Family: 737 S Main St - The Potter family was started by Kyle Potter and is responsible to make all the pottery for the community. It is because of this family that there are items to beautify the community besides the paintings from the Harper family and quilts and curtains from the Taylor family. This family has also built up the Town Hall to be a central place for town affairs.
Family Wealth: §188,808
Family Members: Martin Potter, Jason Potter, Kevin Potter, Nicholas Potter, Adrian Potter and Danny Potter
Businesses owned: Ceramic Store, Town Hall and Kyle's Pottery
Family Wealth: §185,882
Family Members: Eric Gardener, Patrick Gardener, Corbin Gardener, Joel Gardener, Tracy Gardener and Rob Gardener
Businesses owned: Outdoor Plants, Nursery and Mike's Garden
Taylor Family: 563 Middle Row and 409 W Main St #3 - The Taylor family was started by Luke Taylor and is responsible to do all of the sewing for the community. Without this family, there wouldn't be any bears for the children to play with as well as any clothes to keep warm during the cold and protection from the sun during the heat.
Family Wealth: §152,173
Family Members: Lance Taylor, Timothy Taylor, Joe Taylor, Jesse Taylor, Jacob Taylor, Floyd Taylor, Ronald Taylor and Arnold Taylor
Businesses owned: Designer Fashion, Fabrics Shop and Luke's Taylor
Plummer Family: 605 Middle Row - The Plummer family was started by Dan Plummer and is responsible to do all the plumbing for the community. This is probably the smallest family in the entire project, but they are still important because there would be some really embarrassing moments if it weren't for their plumbing.
Family Wealth: §149,882
Family Members: Jared Plummer, Dustin Plummer, Noah Plummer, John Plummer, Oliver Plummer and Clinton Plummer
Businesses owned: Dan's Plumbing, Showers and More and Tubs and More
Family Wealth: §21,690
Family Members: Adam Warlock, Ace Warlock, Dennis Warlock, Sam Warlock and Clark Warlock
Businesses owned: None
Note About Dates
Edit
For the purpose of the Genesis Project, dates will be written as an in game style. The format will be "the season's number"/"how many days left in that season"/"what is the current cycle of seasons, ie year". Since the progression of seasons is Spring-Summer-Fall-Winter, the first day of the Genesis Project is 2/1/1 (which reads as followed: Summer with 1 day left, of the first year). Also, a calendar can be found here.
Peer Review
This fanon article has been reviewed by the
Fanon Peer Review Team (FPRT)
, and has been given a rating of
Good
. The author can request a re-rating of this article by leaving a re-rate request
here
.
---
Reasons for rating: The lead section was written very well, which introduces new readers to your fanon series. This entire article (not the entire series) scores approx. 28.24 on the Flesch Kincaid Grade level scale. I would suggest that you write a bit more about your families on this page, since right now they are merely presented in list-format, and would be better off in prose.

Team member issuing rating:
--I am
k6ka
Talk to me!
See what I have done
13:36, July 18, 2015 (UTC)
Community content is available under
CC-BY-SA
unless otherwise noted.