The Swords are kind and generous, famous yet notorious, sometimes obedient but mainly rebellious people.
This is the family where being an odd man out counts as being normal. Neither of them are the same, they have their own story.
The family with full of weirdos, full of drama, joy and misery, love and hate, beauties and beasts.
The family which never fails to amuse and is always up to something...
The Beginning
Edit
Everything has started with an interview. Between a young journalist and a famous band member.
The journalist's real name is unknown, everyone has known him by his online computer alias, Cycl0n3 Sw0rd. Not only his name but his whole previous life is a mystery. Even for him!
The band member's case is different. Corvia was surrounded by a loving family from the very beginning. Her mother comes from a noble French dynasty, while her father is a wealthy plantation owner's son.
These two fell in love and the rest is history. The young man changed his name to Cyclone Sword – practically he just took the numbers out (but it is still unclear if this was his real name or not). His wife became a Sword as well when they got married.
The Sword Brothers
Edit
Corvia and Cyclone were living in a small house far away from the city center, but when their first son, Gavin arrived they had to move to a bit bigger place. Gavin was an angel, so they decided to have a second child. Corvia and Cyclone were hoping for a girl, but Gavin wanted a lil' brother. Gavin's wish came true, soon baby Richie joined the family. Richie was the opposite of his brother: loud, messy, disobedient. Still he had a great heart and his parents loved him as much as they loved their first-born. But they agreed that two kids are perfectly enough.
They got to move to an even bigger house and this time it was a real beauty. Years passed, Gavin got married, meanwhile Richie dumped his 10th girlfriend. Corvia was in her late 40's back then. And she was pregnant! It wasn't planned (at all) but she was over the moon. The third Sword brother got the name Cedric.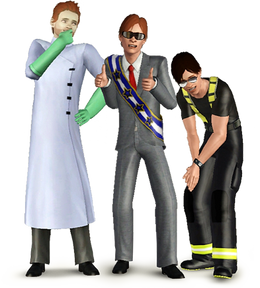 The three brothers were not only devilishly handsome but extremely successful. Gavin is a brilliant surgeon, Richie was a politician, the mayor of Moonlight Falls and Cedric became a highly appreciated fire fighter. Of course every women tried to get (at least) one of them. But they were all faithful to their loved ones (that's right, even Richie).
Gavin and Sonia had two gorgeous kids, Gale and Sunday.
Richie and Magdalena probably tried to have their own football team, but they "only" had seven "members": Madeleine, Marleen, Reira, Moira, Ryan, Anne-Marie, Nickie.
After the tragic death of his two-year-old, Cedric never had more children.
Description

'Although Marleen can't stand Moira – and the feeling is mutual – they can't imagine their life without each other. The two Sword sisters have been living in the Old Haunted House for decades (with one or two relatives occasionally) and they look as young as 40 years ago. What could be their secret?'

Members
Marleen Thobanob, Moira Sword, Marleante Morganthe, Nayr Goodfellow, Kyle Shalom
Funds
§290,610
Difficulty level
Description

When Nickie and Zack met for the first time they knew a new chapter was about to begin for them. They are now living in that cute fairy cottage in Moonlight Falls with their two "enchanting" kids, Ambrosia and Zephyr.

Members
Nickie Durwood, Zack Durwood, Ambrosia Durwood, Zephyr Durwood
Lot
404 Huckleberry Lane
Funds
§28,029
Difficulty level
Description
Three vampires and a werewolf under the same roof?! Why not. It's Moonlight Falls. Everything can happen.
Members
Reira Sword, Maia Sword-Van Gould, Tristan Van Gould, Kendall MacDuff
Lot
230 Valley View Drive
Funds
§111,462
Difficulty level
Description

"There was an old haunted house in town with mystery. An ancient creature was waiting for it's recovery…"

Members
Anne-Marie Sword, Aali Malik
Funds
§51,456
Difficulty level
Description

Nymphea was shy and never talked to anyone at school, maybe that's why she fell in love with her imaginary friend. Thanks to her aunt Moira's amazing skills Lycopersicon became a flesh-and-blood sim. Now they have two kids but only their second-born, Zorlack is living with them.

Members
Nymphea Sword, Lycopersicon, Zorlack Sword
Funds
§48,610
Difficulty level
Description

After the boys and Seraphiela moved out Gale decided to focus on his nectar making skill, Leticia became a chef, Lucie started her own Daycare, Uriela is now a famous author and Mihaela is still the funniest from the bunch. Oh, and they adopted a cat, Sulphur.

Members
Gale Goth, Leticia Goth, Lucie Goth, Mihaela Goth, Uriela Goth, Sulphur Goth
Funds
§60,000
Difficulty level
Other Information
Game
The Sims 3
Neighborhood
Monte Vista
Sword HouseholdEdit
aka The Psychic, the Witch, the Mermaid, the Fairy and the Ex-Husband
Marleen: 'Marleen is dreaming of becoming rich and famous. The weird family and the ghosts of her exes might make it a bit difficult to happen though. Maybe the stars will tell her what to do...'
Moira: 'Moira always considered Alchemy and witchcraft as if they were some sort of ancient sciences. She loves to experiment, do researches – especially on living organisms. (…) Her main research area is to change DNA - without any side effects.'
Marleante: 'A vampire father and a psychic mother equals a mermaid daughter? Well, if there is a crazy aunt in her life then the answer is obviously yes.'
Nayr: '(…) Luckily Nayr sometimes has a chance to spend time with his aunt. He had a few accidents (some potion fell on him, broke everything he touched etc) but he was still insisting on helping – although Moira was not really satisfied with her new helper.'
Kyle: Although the name 'Shalom' means 'peace' in Hebrew, his appearance caused the most trouble in the two Sword sisters' life.
Durwood-Sword HouseholdEdit
aka The Fairy Mother, the Werewolf Father and Their Two Kids
Nickie is a fairy but not by birth. But then who is responsible for her transformation? Non other than her scientist-witch sister, Moira - of course.
There is something mysterious about the connection between fairies and werewolves. But how deep this relationship could be? Well, Nickie fell in love with one, so pretty much indeed. It is still unknown how did Zack turn into a vicious creature, but you know what? It doesn't matter, he loves how his life turned out after the incident. And now the only thing he has to worry about is the full moon.
Ambrosia is a very sweet and cute and adorable child, but she is mischievous just like any other fairy, but "sadly" her tricks often turn against her.
Zephyr is dreaming of becoming the Alpha, but it is going to be a long road for our little youngling werewolf, that's for sure.
Sword-Van Gould HouseholdEdit
aka The Three Vampires and the Werewolf
Reira: After she became a werewolf her parents kicked her out. Then she started dating a vampire. Then they got married. Then they had a vampire-werewolf hybrid daughter. Then… that's it.
Maia: 'These modern vampires know nothing about being a vampire, they just 'vamp' around. I miss the old times, when aristocracy beat the tasteless vulgar, when people feared, but admired us, when we were the lords of the Carpathian Mountains. Those were the days.' – Said by the second youngest vampire in Moonlight Falls.
Tristan: Species: Vampire. Height: 6' 1" Strenght: Handsomeness Weakness: Brunette girls with puppy eyes. Personal quote: I'm hot and cold at the same time.
Kendall: Since Maia turned him into a vampire he is more attached to her than before. Now she is not only the love of his life but his maker too. If this is not a strong bond then what is?
Sword-Malik HouseholdEdit
aka The Ghost Hunter and the Genie
Anne-Marie: A ghost hunter who captured 99 ghosties – a 100 if we count her boyfriend, Aali, the genie.
Aali: A few thousand year old genie who fell in love with a human. Not the weirdest I have ever heard of.
Sword Household IIEdit
aka The Alien Mother, Her Imaginary Friend and Their Son
Nymphea's only wish is to find her distant relatives - in space.
"Lycopersicon was a genus in the flowering plant family Solanaceae (…). It contains 13 confirmed species in the tomato group of" [1] – Wait. What? As it turned out Nymphea named his imaginary friend Tomato. Then they got married and had two kids. Two tomato-aliens or something like that.
Zorlack and his girlfriend are thinking of moving together, having a bunch of cute and evil kids and they want to destroy the planet together as well. How romantic.
Sekemoto-Goth HouseholdEdit
ie Swords in Monte Vista
Gale is a true Sword but he is also proud to be a Goth.
Leticia: A lovely mother and housewife in the morning, a sous chef in the afternoon, and a black-belted sim-fu master at night.
Lucie: After attending Smuggsworth Prep School she realized the life of the upper class is undeniably not her piece of cake. No one tells Lucie what to wear or eat or say. And then she opened her own nursery. To tell the little ones what to wear or eat or say…?
Mihaela: "You should be a model, Miha, or an actress" – said by everyone Mihaela has ever known. Even though she always has this severe look on her face - therefore she seems super scary all the time - she is a real comedian and has a bright and bubbly personality – but shows it only to her closest friends.
Uriela is an introvert, who never talks to anyone, simply because she hates people - except her twin sister and some family members. However she is also a super famous novelist, best known as the author of the Ariel in Space science-fiction series.
Other SwordsEdit
ie Swords, Goths and Montys
Sunday Sword: A real nature lover, friend of the environment. Even in her rebellious, dark era she cared about animal rights. Nowadays she is working as a freelance animal rescuer and – for her roommate's/boyfriend's "delight" – she loves to keep the saved animals (mostly birds and snakes) in the house.
Gabriel Goth: A professional photographer whose #1 favourite subject will always be his first love, the magical Egypt with its pyramids.
Raphael Goth became this ultimate bad guy after his one true love chose his brother instead of him. Now he is with her sister, Bianca but a third woman is expecting his child. Drama, drama, drama.
Seraphiela Goth: A vegan couch potato who often contemplates the meaning of life while listening to classical music and eating veggi rolls. She is dreaming of becoming the CEO of a Mega-Corporation but right now she is working as an Investigator. She is with this Arthur Bianchi guy and her favourite colour is green.
Nipudus Sword "is a really sweet young man, who loves his family, his friends, his neighbours, butterflies, unicorns, marshmallows... basically the whole world. Except his brother, Zorlack."
Christiano Monty-Goth: The youngest member in the Sword family. He looks like his paternal grandfather, Gale – at least their hair colours match. He is a bit clumsy and (just like his father, Gabriel) he hates the outdoors.
Who Were Born in Sunset Valley
Edit
Who Were Born in Moonlight Falls
Edit
Who Were Born in Monte Vista
Edit
Seraphiela Goth
Christiano Monty-Goth

Corvia was supposed to be Dave Ramsey's wife but I accidentally deleted him somehow and then saved the game without noticing it.
The Insane trait is a common trait in the family, but only Richie's descendants have it. And the reason he has it is because I thought Cycl0n3 had the trait too, but as it turned out I confused it with the Inappropriate trait.
Richie is the only one out of the 3 Sword Brothers who has the Rocker hidden trait.
While Richie looks exactly like his father, Cedric is the spitting image of his mother.
Cedric's two-year-old daughter, Fume is still alive.
'Madeleine' and 'Marleen' are the most commonly given names to twin girls in my stories (I had like 5 different Madeleine-Marleens in TS2).
Moira has a son, named Rodney Valentine in another game saving. She had a visit in her past with the Time Machine and he just appeared in the lot a few moments later. He only inherited her mother's genes and had no father marked on his family tree.
Marleen drank two bottles of Fountain of Youth Elixir so she is still a young adult, while her twin sister, Madeleine died of old age and Moira is an adult (who is originally 4 years younger than Marleen).
It was actually Marleen who set the genie free, not Anne-Marie. And his name was not Aali, but Joshua.
Richie's wife, Magdalena was a "basic face" townie and all of their children looked like her, except Marleen.
Family Tree
Edit
References
Edit
Community content is available under
CC-BY-SA
unless otherwise noted.