m

Line 15:
Line 15:
 

|genre = Scientific Conspiracy, Psychological Drama

 

|genre = Scientific Conspiracy, Psychological Drama

 

|creator = [[User:AldoHyde|AldoHyde]]

 

|creator = [[User:AldoHyde|AldoHyde]]

−

|numberofchapters = 23

+

|numberofchapters = 23

 

|originalrun = 12/20/2010

 

|originalrun = 12/20/2010

−

|status = In Progress: ''Refer to''<br />'''''Production Notice (#)'''''

+

|status = In Progress: ''''' (#)'''''

 

}}

 

}}

 
 
---
Revision as of 15:43, 5 December 2016
StrangeTown Monty (STM)
StrangeTown Monty


Name:
StrangeTown Monty
Genre:
Scientific Conspiracy, Psychological Drama
Created by:
AldoHyde
Number of chapters:
23+ : Refer to
Production Notice (#)

---

Production
Original run:
12/20/2010
Status:
In Progress: See (#)

---
StrangeTown Monty (STM) is a Sims 2 Machinima Series by AldoHyde, based off Sims 2 default neighborhoods Strangetown and Veronaville. It has Simlish voiceovers with English subtitles. Sims 3 footage is occasionally used, especially for flashbacks. The show features mainly premade characters, with some of the author's own mythology.
Main Plot
Many Veronaville residents mysteriously die in the Veronaville Disaster, leaving Monty siblings Antonio & Bianca the only adult survivors to unravel the conspiracy. Antonio's task requires him to remain in Veronaville, while Bianca heads to Strangetown. This decision becomes easier for Bianca after discovering that her long-time crush, Kent Capp, was among the fatalities.
Bianca is intelligent, friendly and trusting, which gives her a positive attitude when meeting most of the Strangetown residents. But what will the more shady figures in Strangetown want from her? Will she discover the true cause of the Disaster that killed off most of the Montys and Capps?
Prominent Sub-Plots
Bella Goth Case: Two Strangetown residents help a missing sim who ends up in Strangetown.
Influences & Approach
STM is a scientific conspiracy and psychological drama. It is loosely based off concepts from Fringe (Fox Science Fiction TV Series), adapted for the Sims Universe. STM is a gray world, shaded with Fringe Green and Hyde Blue. So STM is more like "Strangetown Fringe Hyde" than "Strangetown Strangetown".
The story does not focus equally on all Strangetown and Veronaville households / characters. Instead, the ones who inspire the author will be in the main story arcs, and the rest will be in the background. There are also a small number of CAS sims, but they are mainly minor recurring characters.
This show does not feature conventionally attractive (or "pretty") sims. Instead, it thrives on a strong script and thought-provoking dialogue. Expect unconventional portrayals of situations and characters, as well as experimental storytelling methods.
The "Watcher"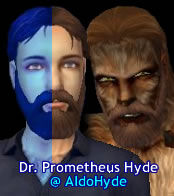 Most of the characters are pre-made from Strangetown and Veronaville. The most obvious exception is the Watcher, Dr. Prometheus Hyde, CEO of Hyde Dynamic, a science facility. The author inserts his sim-self to prevent others from copying his show, and to portray a "Watcher-Sim Dynamic", where characters are being played by a Sim "god".
Note: The two main premade characters who best fit the author's demographic are Antonio Monty and Kent Capp.
Production Notices
New episodes of StrangeTown Monty appear on AldoHyde's YouTube Channel approximately every 2-6 months, depending on the author's personal schedule.
The show is NOT cancelled unless the author explicitly says so on AldoHyde.com, his Main Blog, where production updates (%) are also posted.
(#) Future episodes of STM - anything AFTER 2.07(A) - will be announced EXCLUSIVELY on OTHER channels of the author's choice, most notably his blogs and YouTube Channel.
Fans may also take the STM Quiz, which contains material up to and including STM 2.06(B).
Aired Episodes
Season 1
Season 2
1.00: Veronaville Disaster
"18 Ways to Kill a Sim"
1.01: Aftermath
1.02: Arrival
1.03: Dear Antonio
1.04: Apparition
1.05: Abducted
1.06: Order
1.07: Darkness
1.08: Mediator
1.09: Saved
1.10: Hyde Dynamic 1
1.11: Hyde Dynamic 2

2.01: Son of Capp
2.02: Nursery
2.03: Fragments
2.04: Friends in High Places
2.05(A): Grimm Prospects (Part 1)
2.05(B): Grimm Prospects (Part 2)
2.06(A): The Patriarch (Part 1)
2.06(B): The Patriarch (Part 2)
2.06(C): The Patriarch (Part 3)
2.06(D-AU): Ophelia's Alternative*
2.07(A): Breaking Point (Part 1)

See further episodes on YouTube.
(*) Alternate Universe screenshot story chapters, full text on the STM Blog.
More Alternate STM Universes
- PVCS vs STM Football 2015 & 2035 - Where the Veronaville Disaster did NOT happen.
Community content is available under
CC-BY-SA
unless otherwise noted.