Fanon article ownership
This fanon page was created and is owned by
Orangeguy99
(
talk
). Unless the edit is constructive and/or minor (such as fixing a template), please do
not
edit this page unless given permission from the author.
Description
Founder Rodney Straight didn't exactly do justice to his family's image. His daughters left for a new town and a clean start. It's up to them, and the future generations, to give their family a good name.
Number of generations
4 generations
Other Information
Neighborhood
Riverview
How it all started
It all started with a man named Rodney Straight, who just moved to Sunset Valley. While he quickly gained a reputation for his womanizing ways, he soon married a woman by the name of Morgana, who had his daughter June. Their marriage quickly fell apart, and Morgana fled with June.
After a couple flings, he met the most beautiful woman he'd ever laid eyes on, Eileen Gunderson. The two fell deeply in love, and married in a small ceremony on the beach. In time, Kirsten was born, followed by Dani, and finally Nadine. Not all was perfect though. Neither planned on having kids, and weren't model parents. But they tried their best. Until tragedy struck. Rodney died a sudden and shocking death, and Eileen drowned in the sorrows following her husband's death. Neither Rodney nor Eileen having a brother or sister, the kids were now left in the care of June. Taking a chance on love and wanting a clean slate, June took the kids and left with her girlfriend for Riverview.
Members
Indent denotes spouse with the family name. Unmarried partners, ex-partners and/or ex-spouses, or spouses who kept their birth name are not included.
Generation 1
Generation 2
Generation 3
Generation 4
Family Tree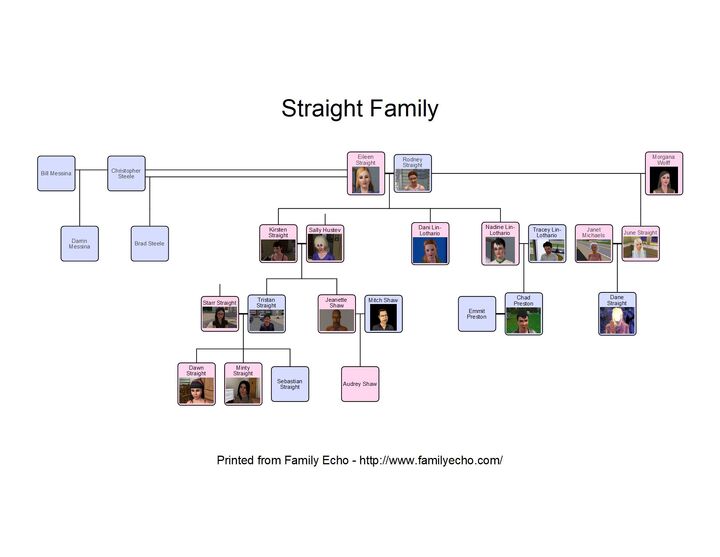 Community content is available under
CC-BY-SA
unless otherwise noted.