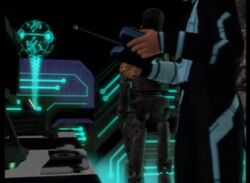 The sonic screwdriver is a fictional tool in the British science fiction television series Doctor Who and its spinoffs. It is a multifunctional tool used by The Doctor. Its most common function is that of a lock pick, but can be used to perform other operations such as performing medical scans, remotely controlling other devices and tracking alien life. It can, with the exception of a deadlock seal or wooden lock, open any type of lock and operate many computers, whether their origin is alien or human. The Sonic Screwdriver is first seen in the Doctor Who: the Sims 3 series in The Destruction of the TARDIS where it takes the shape of a remote control like device. This is it's only appearance, however in future episode it is heard being used, but not seen.
Appearances
Edit
Community content is available under
CC-BY-SA
unless otherwise noted.