Fanon article ownership
This fanon page was created and is owned by
Plumbbobparadise
(
talk
). Unless the edit is constructive and/or minor (such as fixing a template), please do
not
edit this page unless given permission from the author.
Sierra Cheesman

Biography
Sierra inherited her mother's blond hair and her father's athletic genes. She thinks being the middle child is so unfair.
Name
Sierra Cheesman
Gender
Female
Age
Young Adult
Life state
Normal
Education and Employment
Alma Mater
Alpine Community School
Grade
A
Major
20px physical education
Plumb family
Parents
Andrew Cheesman, Savannah Plumb
Sibling(s)
Imsety Amin Plumb, Satis Amin Plumb (adopted), Andrew Cheesman Jr., Sage Cheesman, Skylar Cheesman, Sawyer Cheesman
Marital status
Single
Zodiac sign
 Sagittarius
Lifetime wish

| | |
| --- | --- |
| | Become a Superstar Athlete |
Favorites

 Kids

 Cheesesteak

 Violet
Appearance
Hair color
 Blonde
Eye color
 Blue
Skin color
 Tan
Body shape
 Normal
Build size
Fit Fit
Social Standing
Celebrity status
Sierramyst Jolina Plumb Cheesman, better known as Sierra, is currently a student at Fort Starch Military Academy. She was born in Sunset Valley to Andrew Cheesman, a professional soccer player, and Savannah Plumb, an author, adventurer, and archaeologist. The third child and second daughter born to the couple, she was given the middle name of Jolina to honor Savannah's paternal grandmother, Jamie Jolina. She sometimes signs her full name SierraMyst, but like her similarly named older sister Sageblossom, she seldom uses it. The only person to call Sierra by her full name is her mother.  She is of English, Irish, French, German, and Native Simerican descent.
Sierra Cheesman grew up in Sunset Valley and Hidden Springs as a child of privilege. As the daughter of a professional athlete and a famous author and adventurer, she had the best of everything. But there were things that were unusual about this child. A tomboy, she enjoyed sports and loved to go outside with her father and brothers and toss the football around. Even the family's butler, Max, often played with her. It was said that already at this young age she possessed a mean fastball and was capable of throwing a perfect spiral -- a ball that is thrown in such a fashion that it rotates in mid-air. (That kind of ball is considered important for a quarterback in football.) In addition, like her father she enjoyed fishing, so much so that she asked to join the Hidden Springs chapter of the Scouts as the only girl, and her parents allowed it. She hated dolls and dresses and liked to pretend she was an astronaut or a dragon. Sierra's mother, Savannah, has admitted to being partial to her because of their very similar ways as children and their kindred spirits.
She began missing the school bus as a child. After a certain point, her older sister began to suspect she'd been doing it on purpose, and tried to alert their parents. Then, while cleaning the frog cages for science class, she and her friend, Cammie, let them out, turning them loose through the whole school. The girls were suspended for the caper.
While the family was living in Moonlight Falls due to Savannah's job as the curator for the Museum of Antiquity there, Sierra was abducted by aliens. She had come from the Summer Festival, and after playing soccer against her friend Jules MacDuff (and beating him), she had decided to go home to rest. While sitting outside alone, she heard a noise. Looking up, she spotted the alien spaceship. Since she was the only household member awake at the time (a fact confirmed by Savannah in her blog), Sierra was taken aboard the ship. She is one of the only teenagers ever documented to have been abducted.
After the abduction, Sierra's personality changed dramatically. She began dying her hair lots of different colors. She experimented in the occult, dabbling in alchemy and regularly seeing a psychic. She dressed as a burglar for Halloween. She began talking about space and wanting to become an astronaut. Like her mother she explored the catacombs of the local cemetery at night, and even found a genie lamp there - but made her sister swear not to tell anyone. There were other things too. She was skipping school, staying out all night, getting into trouble at school, and getting into fights with other kids. Sierra even bragged about having a rap sheet 'as long as her leg' to university students while she was taking her placement test. And indeed, Sierra's record is extensive, with arrests for truancy, curfew violations, malicious destruction of property, and assault, among other things. It is unclear if these changes occurred as a result of the abduction, but it seems likely that they did.
Her lack of empathy showed up when her older brother was rushed to the hospital after collapsing during an argument.  She didn't visit him in the hospital until his last day there, and only because her parents made her come. While at the hospital she argued with her entire family.
Sierra's teachers believe she is exceptionally bright but unmotivated, and Savannah suspects that like herself and Sierra's older brother before her, she has yet to be properly challenged at school. This is also confirmed by Sierra's older sister, Sage, who even surmises that when the time comes, Sierra would 'blow her test score away.'
Sierra attended the prom at Alpine Community School in Hidden Springs, accompanied by Lily Richards, a neighborhood girl.  After a campaign which included begging everyone to vote for her, Sierra was voted Prom Queen.  Later on she admitted that she'd done it as a joke.  That night Lily revealed she'd had feelings for her for awhile. Sierra reciprocated those feelings, and the pair started dating. Speculation about Sierra's sexuality had been going on at Alpine for awhile, especially since she'd cut her hair as soon as she turned teen and began wearing mostly boys' clothing. That night she revealed to her family that she'd been in a same-sex relationship first to her father, and then her mother, who both seem to be accepting.  The rest of the family soon followed. However, the couple had to separate when Sierra went to Fort Starch.
After one particular altercation, in which she beat up a boy so badly he had to be hospitalized, and a video of the incident surfaced online, a judge sentenced her to a stint at Fort Starch Military Academy. With her parents, Andrew and Savannah, in the front row, Sierra showed no remorse for the incident and went off to the academy. Later, Sierra justified the beating by saying that the boy called her derogatory names possibly referring to her androgynous appearance and mannerisms.
While at Fort Starch, Sierra posted pictures to her Simbook page of herself making and detonating a homemade bomb in her dorm room.  This led to the revocation of privileges she'd accumulated while there.  However, she was allowed to take the SUAT test, and she tested at a level that would net her a partial scholarship. She also began taking college-level courses and qualified for admission into university a year ahead of schedule.  She received a nickname while at Fort Starch: "Sierra the Terror." 
While at the university taking the SUAT test, Sierra revealed the details of her abduction to her mother.
Sierra began college a full year and a half ahead of her peers due to her completion of a special program at Fort Starch and her high scores on the SUAT aptitude test. Her eccentricities really began to write themselves large at this point. She went on a disastrous date with her physical education classmate, Mugsy Brotoaski, falling asleep in the woods while waiting for him and getting into a bar fight with one of his friends after that.
On several occasions, Sierra had been caught using the men's restroom in her dorm, Henry Hall.
On the night after the third day of classes, Sierra plopped her sleeping bag in front of the movie theater on campus. Other sims passing by pointed, laughed, and took pictures, but her sister shook her head with embarrassment and worry.
The very next night, Sierra was arrested for spraying graffiti on a wall. She was fined a thousand simoleans.
The following morning, Sierra's parents, former footballer Andrew and paranormal novelist Savannah, took a red-eye flight to the university to meet with university president Dr. John Simlius and Sierra's therapist, Dr. Bill McGaw. It was decided that Sierra would remain enrolled in university pending the results of an intensive psychological examination. The examination determined that Sierra "has pretty much no social skills whatsoever...spends most of her time alone...doesn't even like socializing...completely lacks empathy...has an extremely short fuse...has a genius IQ but failed in school...is fascinated with aliens, science fiction, and sports." It had been decided that she would be remanded to a psychiatric facility for intensive treatment. However, the facility in which she would be placed specializes in new-age therapies.
After a two-week stint at the psychiatric ward at Rudolph Vanderburg Memorial Hospital in Hidden Springs, Sierra was released, and she returned to college to resume her studies in physical education, under the watchful eye of her psychiatrist and a life coach hired by her mother. She was also prescribed elixirs to regulate her moods.
Upon her return to the University, Sierra set out to prove that she belonged in the boys' club. As the only female in her physical education classes, she wanted to prove to her skeptical male classmates that she deserved to be there. And to do that, she had to work, and work she did, taxing her body to its ultimate limits. She got sick often, suffering from allergies and colds, and she visited the school infirmary to receive allergy shots.
At the same time, however, she has befriended a fellow 'misfit' dorm mate, Sarah Parker. The two appear to be complete opposites, Sarah being a geeky nerd and Sierra an athletic, jock type, but their bond may be forged by their very disregard for social norms and the entire campus social scene. Sarah seems to worship the ground Sierra walks on. One campus observer called them the "Odd Couple," in reference to both their eccentricities and their dissimilar styles. In the beginning Sarah was fascinated by Sierra's family, but as time has gone on her interest has become less about the family and more about Sierra herself and her record and reputation.
Sierra made the Dean's List every semester she enrolled and graduated with a perfect 4.0 GPA. Her major was physical education.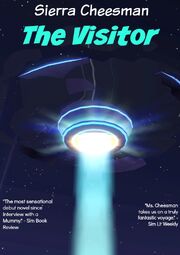 Upon returning from Fort Starch, Sierra was revealed to be the author of a 'bucket list,' a list of things she wanted to do/accomplish before 'kicking the bucket.'  The list was first discovered by Sage and then shown to Savannah.  Some of the items on Sierra's 'bucket list' include making potions, learning to build plumbots, buying a horse and racing with it in competition, getting in a bar fight, writing a science fiction novel, and going to Egypt. Some of the contents of the list stunned her family. In it, Sierra proved that she'd inherited her mother's fascination for and love of all things paranormal, the only one of the children to inherit it to that level.
Sierra began crossing off items from this list as soon as she made her young adult birthday. She built her plumbot and began writing her science fiction novel. Next is a trip to Egypt.
Sierra's novel, The Visitor (about her abduction) was just published. Despite critical acclaim, the book bombed in stores.  Because she never really cared about what people thought, Sierra brushed off this disappointment. After all, she rationalized, she was a professional athlete, not a novelist.
Sierra is named after the Sierra Mist soft drink.
Her name was originally spelled Sierra Myst. The two were recently combined.
She has her mother's features and her father's coloring. She has blue eyes from her maternal grandfather, Nathan Jolina-Plumb.
A glitch in the game left a copy of the teenaged Sierra sim wandering in the college town after she attended the graduation of her older sibling. So I decided to write that she was taking college courses.
Sierra's gal pal, Lily, is a sim belonging to a friend. She had been added to the town as a townie child. Sierra returned from prom with a red heart next to Lily's picture in her relationship panel.
Sierra is six simdays younger than her sister, Sage, and looks identical to her except that Sage has her father's face shape and Sierra has her mother's. Sierra also has her father's more athletic body type while Sage is more willowy like her mother.
I decided to give Sierra short hair in a further effort to differentiate her from her sister.
Community content is available under
CC-BY-SA
unless otherwise noted.