Fanon article ownership
This fanon page was created and is owned by
Plumbbobparadise
(
talk
). Unless the edit is constructive and/or minor (such as fixing a template), please do
not
edit this page unless given permission from the author.
Featured Fanon
This fanon was a
Featured Fanon
in
January 2013
. Its layout and content is an example of excellence in the Fanon Namespace.
Savannah Plumb

Biography
Savannah broke her teeth in exploring the catacombs of Sunset Valley. She is now searching for new pastures.
Name
Savannah Plumb
Gender
Female
Age
Adult
Life state
Sim
Family
Parents
Nathan Jolina-Plumb, Shandra Bellingham Plumb
Sibling(s)
Nicholas Frio (1/2), Noah Plumb (1/2), Nathaniel Ursine (1/2), William Tripp (1/2) Sebastian Plumb
Romances
Andrew Cheesman
Child(ren)
Imsety Amin (adopted), Satis Amin (adopted), AJ Cheesman, Sage Cheesman, Sierra Cheesman, Skylar Cheesman, Sawyer Cheesman
Lifetime wish

| | |
| --- | --- |
| | Illustrious Author |
Favorites

 Classical

 Sushi

 Blue
Appearance
Hair color
 Blond
Eye color
 Green
Skin color
 Light
Body shape
 Thin
Social Standing
Celebrity status
Savannah Rachel Bellingham Plumb Cheesman (ruh-SHELL) is an author, adventurer, and heiress. She was born in Sunset Valley to classical musicians Nathan Jolina-Plumb and his longtime partner, Shandra Bellingham Plumb. She is also the granddaughter of Jamie Jolina and Nigel Plumb. Her birth took place right after her parents moved into their grand estate at Summer Hill Court, so she was born to privilege. Her status as Nathan's favorite child was never in doubt from the beginning; as his only daughter, she curried favor from him that his other children could not get. Her younger brother is actor and musician Sebastian Plumb. She alone of Nathan's children shares his blond hair and pale complexion. She is of English, Irish, French, German, and Native Simerican descent.
Early Years
An urban legend told to this day in Sunset Valley holds that when Savannah's mother, Shandra, was pregnant with her, she spent a lot of time in the local cemetery at night, to fish for deathfish, one of the main ingredients for the ambrosia recipe. Cemeteries often come alive at night with the presence of long-departed souls. Whether true or not, this may well be the source of Savannah's lifelong love affair with specters.
Savannah Rachel Bellingham was born at Sacred Spleen Memorial Hospital in Sunset Valley.  When her parents got married, she was given the Plumb surname.  She was named after Savannah Lane in Twinbrook, her mother's birthplace. Her parents, both classical musicians, valued education.  Her privileged upbringing began in earnest at Summer Hill Court. Her education was begun quickly. In the early years, it was overseen by her aunt, Margaret Plumb, and by her polymath mother, Shandra. They started off normally, by teaching the little girl to walk, talk, and toilet. Then they went with peg and xylophone toys and proceeded to skill books. As a child she was a bit of a tomboy, much to the consternation of her mother. Nearly every day Savannah was coming home with notes from school, saying that she'd been in fights with boys.
But that wasn't the only thing unusual about Savannah. She was a bright and incredibly serious child who almost never smiled. When she was at home, the sober little girl would often be found exploring her aunt's bookcase or painting on her mother's easel. Family friends were shocked by the seriousness of Savannah's demeanor. No one in the family could recall her ever playing with a traditional children's toy. "There was no question that Savannah had inherited her mother's intellectual giftedness," says her biographer, Jill Simms. "It had to take something special to bring that out, though."
Rebellious Teen
Savannah never lacked for self-confidence. It had been drummed in her by her father, who thought the world of her, and who, both willingly and un-wittingly, undermined his wife's efforts to rein her in at every turn. Though Nathan Plumb had other children, Savannah was clearly his favorite. He called her his 'princess.' She took full advantage of this and knew how to manipulate her father into doing (and purchasing) exactly what she wanted. When her aunt Margaret's will was opened and read, there was only one name on it and one name in it -- Savannah's. She had inherited every dime.  However, since she wasn't yet of age, the money was placed in a trust.
Most adolescents engage in some form of rebellion. It is the nature of being an adolescent- a function of breaking away from family and growing up. Savannah Plumb was no exception. The only difference was, since she was the Plumb family princess, her exploits were being recorded for the Sim world to see. There's no question that she was rebellious, but the degree of her rebellion is disputed.
It is true that she was skipping school, and not doing her homework, and getting brought home by the police. But by all accounts, she wasn't drinking -- or smoking -- or doing any of the 'normal' rebellious things teenagers do. Savannah spent her time in the library reading, or at the art gallery, or exploring the catacombs in the cemetery. Hardly the picture of the 'out of control teen' that she has depicted herself as. She was dreaming of a life outside the friendly confines of Sunset Valley.
Meanwhile, at the same time, however, Savannah's relationship with her mother was deteriorating rapidly.  They argued constantly over her behavior and grades and over her refusal to commit to the family business.  Savannah, however, had other ideas about her life and future.
After Savannah came home with poor grades, Shandra took her car away, which angered her. However, Nathan provided her with a backup set of keys and decided to take her along with him to work to watch him. His wife thought he was 'off his rocker.'
Later in her teens, Savannah had begun to change her ways. She met and befriended a Riverview transplant, Ari Moore. She and Ari had a lot in common. Sharing a love of books, the pair spent a lot of time together. When Ari learned the identity of Savannah's aunt, she encouraged her to write. Savannah showed Ari some of her early short stories, and Ari encouraged her to publish them in the school literary magazine. "You are destined to write, girl," Ari told her. As a result of Ari's influence, Savannah's attire changed, too. Gone were her short preppy skirts and high heels, replaced with jeans and hoodies. Because they were so close, there was speculation of a romantic relationship developing between the pair, but this was quickly shot down because of the appearance of another important person in Savannah's life.
Andrew Cheesman had moved to Sunset Valley from somewhere in England when he was a young boy. At the time he met Savannah, he had been living with his adoptive mother, Sonia, and stepfather, Malcolm Landgraab, in the Landgraab mansion next to the Plumbs. Having recently enrolled in the Community School for the Gifted, he had been assigned to be Savannah Plumb's lab partner. The combination of the outdoorsy, down-to-earth orphan and the wealthy, intellectual heiress seemed on paper to be a huge mismatch. As time went on, though, the pair began spending a lot of time together, to the point where Andrew even began sleeping at Savannah's house and helping out Savannah's father at the theater. They never began dating officially until after high school, and when Savannah could not be contacted in Egypt and was considered missing, Andrew realized that he was and had always been in love with her.
An Adventurer's Life
When Savannah graduated from high school -- with honors -- she didn't have anything in mind to do with herself. Then came the advertisement from MorcuCorp, searching for intrepid adventurers to travel the world. She leapt at the opportunity to leave the friendly confines of Sunset Valley and see new places and meet new people.
Savannah made Egypt her first destination, and she positively fell in love with the place. It was there where she found at least some measure of what she apparently was looking for. She found herself forced to take sides in a massive plot to plunder the Egyptian town of Al-Simhara of its ancient riches.
She found herself enjoying the peripatetic, vagabond lifestyle. She enjoyed living from a suitcase, living on the run, spending days combing ancient ruins for treasure and solving the mysteries of the ancients.
It was accentuated by Savannah's own tomboyish ways, which came fully to the fore as she athletically traversed ancient tombs. Like her father she is actually quite athletic and loves physical activity. This lifestyle was, in many ways, a perfect fit for her.  Savannah herself now admits that she went traveling around the world to 'find herself.'
But something happened that complicated matters for her. Something changed her life.
Becoming a Mom
While on her grand quest to uncover the Three Ancient Relics of Al-Simhara, Savannah encountered Satis Amin, a young Egyptian child, in the streets of Al-Simhara. She connected to the little girl like she'd never connected to anyone else in her life -- not her parents, not her schoolmates, not her siblings. They were seen everywhere together, especially the town marketplace. Not long after that, Savannah learned that Satis had a twin brother, Imsety. It took her a lot longer to connect with him than it did with Satis.
According to Savannah's own account of the events, she looked around for the children's parents and she couldn't find them. She would eventually learn their identities -- Samir and Fatima -- the former a powerful mob boss disguising himself as a bookstore owner, the latter having left the family in fear of her husband.
Savannah did find an ally among the Al-Simhara townsfolk -- Layla Lufti. A tall, exotic beauty, Layla was the point person guiding Savannah through her quest for the relics. According to Layla, Savannah initially didn't give her any indication she was planning to adopt the children -- but as time went on, it was becoming clear that, she was forming a bond with them.
Savannah continued her quest for the relics at the same time she was seeking custody of the children. While still in a tomb, Savannah Plumb filed legal papers to adopt Satis and Imsety Amin.
This made headlines on both sides of the Atlantic and on three continents. It also caused outrage in the family. Shandra, Savannah's mother, was so deeply incredulous by this development that she persuaded Nathan to accompany her to Egypt to see what was going on. To them, this was another example of the impulsiveness that had become a Plumb family trademark.  Neither Nathan nor Shandra were able to convince Savannah to abandon her pursuit of adoption. "When Savannah makes up her mind to do something," Nathan said wryly, "she pretty much does it." She adopted the children and returned to Sunset Valley with them and her then-fiancé, Andrew Cheesman.  The couple married soon after.
Savannah's biographer, Jill Simms, added this: "Once Savannah brought Imsety and Satis back to Sunset Valley, and it hit her that she was now the sole caretaker for these two children, she realized that she was ill equipped to raise them. When she decided to marry Andrew Cheesman, when she found someone that she knew and trusted that would help her raise them, that was pretty much it."
Career
Upon her return from Egypt, Savannah began her writing career in earnest, using her proceeds from her books to fund further expeditions abroad. It was as if she'd taken the quill from her aunt and run with it. She rocketed to fame on the strength of her debut novel,
Interview with a Mummy
, which was a runaway best seller and a thinly veiled autobiography. In
Interview with a Mummy
, archaeologist Saffron Palmer, after a troubled adolescence, seeks ancient relics in Egypt. "Saffron," the daughter of aging actors Nick and Sharon Palmer, was bright but rebellious, clearly seeking something more fulfilling than the privileged life she'd been born to. Most Sims reading the novel knew that "Saffron Palmer" was a pseudonym for Savannah Plumb. Still, they gobbled up the book anyway. Critics praised the book, calling Savannah "an extraordinary new talent... This young woman clearly knows how to spin a yarn," and referring to the book as "exceptional." It won the Critics' Choice award and was a finalist for the Simbel prize for literature. A runaway success,
Interview with a Mummy
has been optioned for a movie. As of this writing actresses are being auditioned for the role of Saffron Palmer. However, Savannah has said that she doesn't think anyone can actually play Saffron.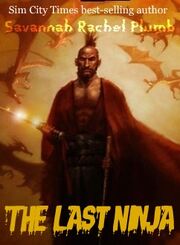 Her follow-up book was almost as successful. Entitled Dances with Ghosts, this novel detailed her paranormal experiences, beginning from a childhood and adolescence exploring the catacombs of Sunset Valley and her conversations with spirits. Her third novel, which was released in October 2012, is called Alys in Wonderland, and details the story of Alys de Montfort, from her medieval origins to her reappearance as a ghost in Sunset Valley. This book came from her ghost hunting experiences.  She no longer hunts ghosts actively.  In addition, two of her daughters have shown signs they, too, plan on doing something with writing.
Savannah won the Vaughan Prize in 2015 for The Lost Dragon Egg, a magical fantasy novel based on the legends of Dragon Valley.  She admits that she wrote the book on a lark, and was surprised when the novel reached the top of the best seller list and was nominated for the prestigious book award.  Critics raved that it was 'genre-defining' and 'the work of a fully realized, mature writer and woman.' Her Vaughan Prize speech was short and to the point.  She dedicated the award to her aunt Margaret, who she credited with teaching her 'everything she knows about telling a story.'  She does plan on writing a sequel.
The Lost Dragon Egg is a simple story about a young girl's search for a black dragon egg.  The main character has red hair, which is probably not coincidental considering her aunt Margaret was a redhead.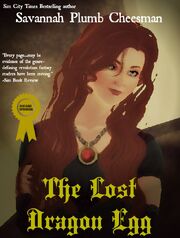 It is an irony that the daughter of the man who performed for the one and only Grim Reaper grew up to write paranormal fiction and worked as an active ghost hunter, that the girl who enjoyed sleeping in cemeteries became Simland's foremost expert on paranormal phenomena. In September 2012 she accepted a position as chief archivist in the Moonlight Falls Vault of Antiquity, which catalogs knowledge about the paranormal.  In March 2013 she accepted a position as Professor of History and Paranormal Studies in the Fine Arts department at Sims University.  She has said that teaching is 'a new challenge' for her that is 'altogether frightening and exhilarating at the same time.' 
In addition, she keeps a family blog, |Just Plumb Nuts.
Personal life
While in France working on a project on the origins of nectar, Savannah engaged in a brief dalliance with Gustave Delven, a French historian and photographer and Champs Les Sims resident.  When that ended, however, she married Andrew Cheesman, a reserve forward for the Sim City Llamas soccer team and a former high school classmate. Andrew had pursued her from afar ever since high school. The wedding shocked Sunset Valley but the couple remains married. Together the two are currently (as of this writing) raising seven children: the aforementioned Imsety and Satis, adopted from Egypt, and five biological children -- Andrew Cheesman Jr. (AJ), a young adult; Sageblossom Margaret (better known as Sage) and Sierra Myst, teenagers; Skylar Róisín, a child; and Sawyer Nathan, a toddler. Sage Margaret was named in honor of Savannah's aunt, the prolific novelist Margaret Plumb, who died when Savannah was a teenager, and Sawyer Nathan was named in honor of her father. Her last two children, Skylar and Sawyer, were born in Hidden Springs, while her older three were born in Sunset Valley. 
Savannah inherited a curious mix of her mother's practicality and her father's impulsiveness.   She seems to have adopted her father's laissez-faire, hands-off approach to parenting, in her words, "allowing her children to be who they're going to be." She has, however, been heavy-handed at times, such as forcing her oldest son to attend college. So far, this approach has yielded mixed results. Her daughter Sage wrote her a three-page letter begging her to spend more time with her and her siblings. This worked -- for a while. A judge in Hidden Springs excoriated her for this approach in regards to her daughter, Sierra's, behavior. A polymath like her mother, Savannah has high expectations for her children; indeed, she has clashed with her husband over their education.  While she wanted to send them to specialized boarding schools dovetailing with their interests, he wanted to educate them in the local public schools. The couple has, however, shown a united front when it comes to their daughter, Sierra's, psychological issues.
The family currently splits its time between Sunset Valley, Hidden Springs, and Moonlight Falls and owns property in all three locations. With the combination of her inheritance from her aunt, her expected inheritance from her father, and her own personal fortune earned from her career, Savannah is estimated to be worth more than the Queen of Hidden Springs, Catarina Vanderburg, who honored her as a 'dame' during a special ceremony in Hidden Springs. Since she is not a full-time citizen of Hidden Springs, she is not entitled to use 'Dame' before her name.
On Mother's Day 2014 Savannah announced via her Facebook page that she was pregnant for the sixth time.  However, she eventually miscarried.  The miscarriage deeply affected her. 
A life story such as that of Savannah Rachel Bellingham Plumb Cheesman would eventually capture the imagination of Simmywood movie makers, and indeed, Mrs. Cheesman has been contacted.  An heiress who turned her back on the cushy life of a socialite, Savannah, driven by an unquenchable thirst for knowledge and adventure, traveled the world and turned her experiences into best-selling books.  She's parlayed that life into a teaching career, as well, her classes at Sims University have a waiting list every semester. Inspired by an aunt who wrote, it was no surprise that Savannah ended up writing herself, and because of her artistic talent that she inherited from her mother, she illustrated many of her books herself. 
Skills
Gallery
Trivia
Savannah was born in game.
Savannah is a level 10 ghost hunter.
Savannah has high skills in logic, writing, guitar, cooking, gardening, painting, and fishing.
Savannah is highly educated despite never attending college.
Savannah is the only member of her family with green eyes. Other family members have blue and brown eyes.
The name "Savannah" comes from a name for grassland, the savanna. It is also the name of a city in Georgia and a street in Twinbrook.
Savannah inherited her mother's features and her father's blond hair and pale skin.
Savannah's husband, Andrew, was a game-generated townie. He had been adopted as a baby by the self-sim of a friend, thus, he has the Cheesman name.
Savannah's daughters mostly have her features. Her son, Andrew, Jr., has his father's.
Savannah's mother, Shandra, is the self-sim of a friend.
Savannah decided to carry her husband's name after moving to Hidden Springs. Before, both she and her children at the time, AJ, Sage, and baby Sierra, were known by her maiden name.
Savannah maxed out writing skill while writing The Lost Dragon Egg.
The Dragon Valley premade sim Morida O'Connell appears on the cover of The Lost Dragon Egg.
Community content is available under
CC-BY-SA
unless otherwise noted.