Fanon article ownership
This fanon page was created and is owned by
Plumbbobparadise
(
talk
). Unless the edit is constructive and/or minor (such as fixing a template), please do
not
edit this page unless given permission from the author.
Sage Heilman

Biography
Sage inherited her mother's blond hair and her father's love of the outdoors and the environment.
Name
Sage Heilman
Gender
Female
Age
Young Adult
Life state
Normal
Education and Employment
Alma Mater
Alpine Community School
Grade
A
Major
Fine Arts
Plumb family
Parents
Andrew Cheesman, Savannah Plumb
Sibling(s)
Imsety Amin Plumb, Satis Amin Plumb (adopted), Andrew Cheesman Jr., Sierra Cheesman, Skylar Cheesman, Sawyer Cheesman
Marital status
Married
Household
Pets
Bitsy, a golden retriever

Eager Traveller, a Hanoverian
Zodiac sign
 Capricorn
Lifetime wish

| | |
| --- | --- |
| | Renaissance Sim |
Favorites

 Chinese

 Autumn Salad

 White
Appearance
Hair color
 Blonde
Eye color
 Blue
Skin color
 Tan
Body shape
 Normal
Build size
Thin Thin
Social Standing
Celebrity status

Social group
Rebel
Nerd
Sageblossom Margaret Plumb Heilman, better known as Sage (née Cheesman)  is currently a scholarship student at Sims University. She was born in Sunset Valley to Andrew Cheesman, a professional soccer player, and Savannah Plumb, an author, adventurer, and archaeologist. The second child and first daughter born to the couple, Sage was conceived in Shang Simla, China, while her parents were on a mission to retrieve Pangu's Axe, and named after flowers Savannah saw there. She was given the middle name of Margaret in honor of Savannah's aunt, Margaret Plumb, who died when she was a teenager. Like her younger sister, Sierra, she seldom uses her full first name, and the only person to refer to her by it is her mother.  She is of English, Irish, French, German, and Native Simerican descent.
Early years
Edit
Sage Heilman grew up in Sunset Valley as a child of privilege. As the daughter of a professional athlete and a famous author and adventurer, she had the best of everything. But there were things that were unusual about this child. For example, when she turned child, she stopped eating meat, and remains a vegetarian to this day, preferring to eat salads instead of sweets. For a science project, she had to collect samples of insects, and she cried for three days because she couldn't find a rare water beetle. She also preferred sleeping outside in the treehouse her father built than in the four-poster bed her parents had bought for her. She took ballet lessons but quit because other girls were teasing her. When her older brothers, AJ and Imsety, were sentenced to a stint at Fort Starch Military Academy due to bad behavior, Sage was affected the most. She couldn't understand why her brothers had to go away.
Adolescence
Edit
After her brothers were sent to Fort Starch, Sage and her family moved to Hidden Springs. She was lonely and lonesome and missed her friends. And there weren't many other children in Hidden Springs her age. To alleviate this, Sage's father, Andrew, bought her a horse, and enrolled her in horseback riding lessons. Sage grew to enjoy her Hanoverian, Eager Traveller, and loved riding through the woods of Hidden Springs, soaking in the sights, sounds, and smells of nature. At the same time, however, her relationship with her mother, Savannah, became strained. Sage wrote a three-page letter to her mother wanting her to spend more time with her and her siblings. As a response to this letter, Savannah took Sage to see a local psychologist, Dr. Bill McGaw, to try to help her work through her problems. Dr. McGaw instead took Savannah to task for her laser focus on her career. Sage's love of animals and the outdoors stood in stark contrast to her adventurous, intellectually-minded mother.  Indeed, Savannah has lovingly said of her oldest biological daughter, "Sage seems to have been born in the wrong decade."
Sage had difficulty fitting in at school due to her bohemian personality. Outdoorsy with an artistic bent, she developed a fascination with and schoolgirl-crush on Azzie the Magnificent, a traveling magician from Starlight Shores, even going as far as saying she might want to become a magician herself. Posters of Azzie littered her bedroom walls, and she wrote letters to him. She was thrilled when he actually responded to one of them.
During a visit to Sunset Valley -- and the Plumb family home -- Sage discovered her mother Savannah's private museum, full of the artifacts she collected during her trips abroad. She piped Savannah with questions about the artifacts and the stories behind them, and the ensuing conversation seemed to be a turning point in their relationship. Mother and daughter came to understand each other better, and their relationship improved dramatically from that point on.
Sage became a decent enough recreational rider to join the Hidden Springs Riding Club, where she learned that riding was a favorite pastime among many of the teens in Hidden Springs. She met Kayleigh Andre, daughter of ranchers who'd emigrated from Appaloosa Plains, who would become her new best friend. Later, she would meet another rider - Alexandra Vanderburg, Princess of Hidden Springs. However, Sage never rode competitively, as Kayleigh and Alexandra do.
She raised some eyebrows when she rode her horse, Eager Traveller, to her senior prom.
Despite all this, though, she did have some similarities with her mother: Sage was editor of the Alpine Community School's student newspaper and participated in its art club. She graduated with the highest average in her class and was voted "Most Likely to Succeed."
College Life
Edit
Sage's score of 1804 on the SUAT test, combined with her high marks in school, led to her being awarded a maximum 2500 simoleans per semester honors scholarship. Dismayed by the lack of a veterinary program at Sims University, Sage chose to pursue two degree programs, in fine arts and science & medicine, as a dual major in art history and environmental biology.
Even though she had the option and the financial means to, she chose not to forego the university's requirement that first-semester freshmen stay in university housing to get the full college experience. Attending college with her older brother, Andrew Jr., and her best friend, Kayleigh, Sage blossomed there, writing for the campus blog and student newspaper, working for the campus radio station, organizing and speaking at environmental protests, and even cultivating her first romantic relationship, with fellow fine arts student Kyle Heilman, who, ironically, Kayleigh met first. But Kyle chose Sage, while Kayleigh's attentions were turned on Sage's older brother, on whom she'd had a crush since she was a teenager.  Cid Serverus harbored a crush on her; however, the pair remain friends.
Sage was a little bit perturbed when her mother accepted a position teaching art history at Sims University, the same school where she is now currently. She has written extensively in her own blog about her mixed feelings on the matter: "I'm happy for my mom, that she gets to do something that she clearly loves to do -- but did she have to do it at my school?" The awkwardness of the situation, however, didn't stop her from spending extensive amounts of time in her rental house, even going as far as moving in this semester. However, she has purposely avoid taking classes that her mother teaches.
Eventually, Sage and Kayleigh were asked to pledge Tri-Fruhm Sorority by her classmate, Samantha Grey, who, ironically, began dating her older brother. Initially they declined, but finally they accepted, and became members.
Sage received her degree in Fine Arts and graduated with an A average. She is currently pursuing a second degree, in science and medicine.
Life after College
Edit
Sage has now moved out of her parents' mansion. She and her boyfriend, Kyle Heilman, have moved in together, along with Sage's two pets, her dog Bitsy and her horse, Eager Traveller. They live in an environmentally enhanced cottage in the woods of Hidden Springs, equipped with everything they need to live a sustainable lifestyle. The pair plan to take a trip to Champs Les Sims, France and there are signs that wedding plans are in the offing.
Sage has begun to show signs of being a polymath like her mother and grandmother before her, and the chances are better than even that younger sister Sierra may also be one. Unlike her mother and grandmother, however, Sage seems to downplay her intellectual abilities, even though they are clearly evident.  She has expressed the desire to write like her mother and seems to enjoy writing; however, the type of literature she seeks to write is unknown at this point. 
Sage had a front-row seat to her younger sister Sierra's scary downward spiral. She was the one who discovered Sierra lying in a sleeping bag in front of the campus movie theater.
And recently, she intervened again in a sibling's crisis.  When her youngest sister, Skylar, had a wild party to commemorate her leaving for Le Fromage Art School, and the police showed up, Sage arrived at the same time.  She prevented the police from arresting Skylar and handled the crisis.
Sage announced her engagement to Kyle Heilman; he is the only boy she has ever dated. She plans to finish her medical studies in order to become a veterinarian.
Sage married her college sweetheart, Kyle Heilman, in the backyard of the family estate on 15 Summer Hill Court.  The home belonged to her maternal grandparents,
Nathan Jolina-Plumb
and Shandra Bellingham Plumb.  After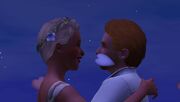 the wedding the couple took a whirlwind honeymoon in Champs Les Sims, France, and planned to later visit Monte Vista.
The wedding was attended by many of her extended family, except for her older brother, Andrew, Jr., who was stationed abroad at the time.  Her younger sister, Skylar, sang at the wedding.
True to their bohemian nature, the couple opted to marry barefoot.
Sage's name was originally spelled Sage-blossom.
Sage blossoms are flowers commonly found in China. They are often lilac in color.
Sage inherited blue eyes from her maternal grandfather, Nathan Jolina-Plumb.
Azzie was a Simport magician belonging to a friend of mine. Sage would often go to his performances and even rolled a want to become one.
Kyle Heilman was persistent. Though he met Sage's friend, Kayleigh, first, his eyes were definitely on Sage.
Sage and her younger sister, Sierra, have the exact same coloring and features. However, Sage has her father's face shape while Sierra has her mother's. Also, Sage is more willowy like her mother while Sierra inherited her father's more athletic build.
Sage, like her brothers and sisters, inherited her father's Loves the Outdoors trait. They also all inherited Savannah's Genius trait and the hidden trait of Can Apprehend Burglars.
Sage has married a man a lot like her father.  Her husband has red hair (but a different shade) and three traits in common with her dad (Loves the Outdoors, Good Sense of Humor, and Angler)
Community content is available under
CC-BY-SA
unless otherwise noted.