Fanon article ownership
This fanon page was created and is owned by
Vl4dimir-g0thik
(
talk
). Unless the edit is constructive and/or minor (such as fixing a template), please do
not
edit this page unless given permission from the author.
Raphael Burb

Biography
Raphael is a popular Sim around Pleasantview. He has lots of friends in Pleasantview High School, and now only wishes to fall in love.
Name
Raphael Burb
Gender
Male
Age
Teen
Life state
Sim
Education and Employment
School
Private School
Grade
A+
| | |
| --- | --- |
| Zodiac sign |  Leo |
| Aspiration |  Popularity |
Chemistry
Turn ons
 Black Hair
 Underwear
Turn off
 Fatness
Appearance
Hair color
 Brown
Eye color
 Brown
Skin color
 Medium

Raphael Burb is a Sim featured in Vl4dimir-g0thik Pleasantview. He lives with his father, his mother, his older sisters.
Raphael birth was the last important event in the Burbs life. John wanted a third child to help him achieving is LTW. Since Jennifer had quite well climbed the professional ladder, she accepted to get pregnant one last time. Raphael was born short before Madison aged up into a child.
Toddlerhood
Edit
Unlike Madison, who was taught all her toddler skills by John because of Jennifer spending lots of time at work, Raphael had the opportunity to be taught how to walk and talk from his mother. Lucy was also quite present for him, being a Family sim, and helped their parents when they were too busy to take care of Raphael.
Childhood
Edit
Madison got an A+ report card the day Raphael aged up into a child. Therefore, he grew up while the headmaster was still present, and when the scenario ended, the young boy was also accepted in private school. Her sister then brought Taylor Goth home, and Raphael quickly socialized with her. He also met Alexander Goth, was often came to the Burbs' house since he was one of Lucy's best friends.
The day Raphael grew up into a child, her sister just went steady with Beau Broke. Meanwhile, Madison learnt that Taylor had feelings toward him. Sadly, Raphael only considered Taylor as his best friend, so she never had the courage to tell him what she felt.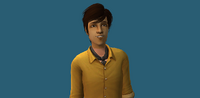 | Image | Interest | Level |
| --- | --- | --- |
| | Environment | |
| | Food | |
| | Weather | |
| | Culture | |
| | Money | |
| | Politics | |
| | Paranormal | |
| | Health | |
| | Fashion | |
| | Travel | |
| | Crime | |
| | Sports | |
| | Entertainment | |
| | Animals | |
| | Work | |
| | School | |
| | Toys | |
| | Sci-Fi | |
Raphael had a weird glitch when he grew up into a teen: only his face was medium-skintoned, the rest of his body was light-skintoned. This was resolved by changing his hairstyle.
Community content is available under
CC-BY-SA
unless otherwise noted.