Fanon article ownership
This fanon page was created and is owned by
WayfinderOwl
(
talk
). Unless the edit is constructive and/or minor (such as fixing a template), please do
not
edit this page unless given permission from the author.
Members
Ida Isaiah, Dexter Garret, Edwin Fuller, Samuel Styles, Farah Newell, Marcella Paxton, Arianna Sawyer, Alice Styles, Conor Gargoyle, Marita Gargoyle.
Funds
§100,000
Difficulty level
The Order of the Gargoyle is a group of young adults, based off the characters the original story Outside, Looking In, written by me, Willow.
No one in Isla Paradiso really knows what their purpose is, and leaves them to it. The Order of the Gargoyle is a secret society, that protects sims who are considered "outsiders" in normal life. Home to some supernaturals.
No member of the household has any kind of friendship with anyone outside their household, unless it is required for their career. Even then, the sim will never hang out with their work colleague.
From the outside, they appear to just be a group of sims who are not biologically related, trying to live a normal life. That is in fact, true. The order know they will never fit in with other sims, but that doesn't stop them from going out into Isla Paradiso, and living their lives exactly how they want to live them.
| Image | Name | Role In Group |
| --- | --- | --- |
| | Ida Isaiah | Leader, and medicine woman of the group. She has also found, and brought three members (Dexter, Samuel and Farah) to the order. |
| | Dexter Garrett | He is a total computer whizz. Often using his abilities to keep a steady cash flow in, and stop people from finding them. |
| | Samuel Styles | Samuel was as good as born in the order. Upon moving to Isla Paradiso, Samuel spends his time in the oceans, diving for treasures. |
| | Farah Newell | Farah's role is uncertain. She may have had one once. Most often, she takes it upon herself to clean the house. |
| | Marcella Paxton | Mother Hen. Marcella cooks for the order, and worries about them. Acting as if they are all her children, even though she isn't a senior member. |
| | Edwin Fuller | Edwin sees himself as the handy man on the boat, and the wheel man. If there is some port to move to, or some place to be, Edwin will steer the boat there. |
| | Arianna Sawyer | Arianna helps out more around the house, mostly taking care of her daughter. She visits the mainland when she can, to collect supplies. |
| | Alice Styles | Samuel and Arianna's daughter. She is far too young to have any role in the order. She may have one in the future. |
| | Conor Gargoyle | Conor is the family horse, even though he sees himself more as the guardian of the order. |
| | Marita Gargoyle | Who Marita is, and what her part in the order is, is completely unknown to everyone except Conor. |
Appaloosa Plains Property
Edit
THE LEXINGTON HOUSE
Somehow, the order came into a lot of money, and moved straight into this house. It has everything they could possibly need.
Bedrooms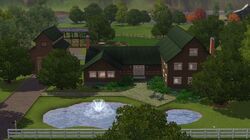 Ida and Dexter's private quarters - front ground floor bedroom.
Girl's bedroom (Arianna, Farah and Marcella's room) - back ground floor bedroom.
Boy's bedroom (Samuel and Edwin's room) - front first floor room.
Conor and Marita's barn - side building, with hay, a trough, salt licks for Conor and Marita to enjoy.
Possessions
The order own no vehicles, because they either choose to walk or ride Conor or Marita, or are picked up by the carpoll for work.
All of their furniture is of high quality, making sure to have the best of everything.
Community
Edit
They have no investments in Isla Paradiso. Those they did have from Appaloosa Plains were sold. They intend to invest again in the future.
Isla Paradiso Property
Edit
The Order Houseboat Upon their move to Isla Paradiso, the order moved into a houseboat. The second floor is the sleeping quarters, except for Alice's room which is on the first floor.
Bedrooms
Ida and Dexter's quarters - back room.
Samuel and Arianna's quarters - front room, to the left.
Farah, Marcella and Edwin's quarters - front room, to the right.
Alice's nursery - back room, to the right.
Possessions
The boat is furnished quite well, with reasonable quality.
They own no vehicles of their own, because they have no need for them.
These sims are basically sim creations of characters I made for a story. Their roles and purpose were changed slightly, to fit in with their surroundings of Isla Paradiso.
In Outside, Looking In, they were a group of supernatural/mortal hybrids, referred to as "shifters." They were too mortal to be supernatural, and too supernatural to be mortal, living in a bunker guarded by a gargoyle named Conor, who protected them from any possible attackers.
They lived together, because the only place they could ever really fit in, is with each other. Living in a haven, that was adapted to help them shift safely and comfortably, but still carve out a life for themselves.
Off Wiki
On Wiki
Community content is available under
CC-BY-SA
unless otherwise noted.