Fanon article ownership
This fanon page was created and is owned by
Plumbbobparadise
(
talk
). Unless the edit is constructive and/or minor (such as fixing a template), please do
not
edit this page unless given permission from the author.
Nigel Plumb

Name
Nigel Plumb
Gender
Male
Age
Elder
Life state
Sim
Family
Romances
Carolyn Finney, Jamie Jolina
Child(ren)
Margaret Plumb, Nathan Jolina-Plumb
Lifetime wish

| | |
| --- | --- |
| | The Perfect Garden |
Favorites

 Latin

 Spice Brown
Appearance
Hair color
 Red
Eye color
 Blue
Skin color
 Light
Body shape
 Lanky
Nigel Joseph Plumb was born in Yorkshire County, England, sometime during the tail end of the Great War.
He was the accidental founder of the Plumb dynasty. While he was still a young man, he emigrated to Riverview, where he started his farm and orchard. At some point, he married Carolyn Finney, who was over twenty simdays his junior and with whom he had very little in common. Carolyn became pregnant, and their daughter Margaret was born.
True to his nature, Nigel was a doting father to little Margaret, while at the same time he was establishing his farm and orchard in Riverview. He was sure to read her all the skill books in order to give her a head start in life. He also spent a lot of time in his garden, particularly because of his Green Thumb trait, that enabled him to max the Gardening skill and become quite a well known farmer.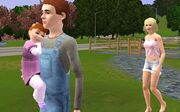 Before Margaret became a teenager, Nigel and Carolyn split, and Nigel moved to Sunset Valley with his daughter.
Soon after his arrival in Sunset Valley, Nigel met Jamie Jolina while volunteering at Sacred Spleen Memorial Hospital. Ms. Jolina was significantly younger than Mr. Plumb, as he was by this time an elder, and she was still young adult. After a one-night stand, Jamie became pregnant, and their son Nathan was born.
He continued his farming ways in Sunset Valley and shared custody of his son Nathan with Jamie Jolina. He was disappointed when his daughter, Margaret, chose not to remain at their farmhouse and instead embarked on a writing career. Nigel died at the age of 101 simdays. Both of his children became famous and wealthy and were noted for their hard work and tendency towards introversion, a trait they inherited from him.
Community content is available under
CC-BY-SA
unless otherwise noted.