Nayr Goodfellow

Biography
Nayr was every kids target in school. Now he has a plan to get his own back on those bullies. Unfortunately his ideas never turn out the way he wants to...
Name
Nayr Goodfellow
Gender
Male
Age
Teen
Life state
Fairy
Education and Employment
School
Public School
Grade
C
| | |
| --- | --- |
| Zodiac sign |  Scorpio |
Favorites

 Chinese

 Crepes

 White
Appearance
Hair color
 Blonde
Eye color
 Black
Skin color
 Medium
Body shape
 Thin
Nayr is the great-grandson of Corvia and Cycl0n3 Sw0rd.
Son of Fawn Goodfellow and Ryan Sword.
After his parents have passed away, he moved to his relatives'.
He is now living with two of his aunts, Marleen and Moira, his cousin, Marleante and a guy named Kyle, who was once Moira's husband and now dating Marleen.
The house was full of drama before Nayr has arrived but he likes to make things even worse. At least he is trying to…
The Bully
Edit
He never belonged to the popular kids. An outcast, every bullies target. His mother dressed him in silly clothes and the pink wings on his back haven't had a positive impact on the other kids at school either.
He decided to get revenge on them one day, on everybody who hurt him. He needed someone who could teach him how to be bad.
He remembered of a story his father told him, about a bully who often humiliated him. Who made him and a lot of other kids cry. Who was an evil witch. Who is still an evil witch. His sister, Moira.
Nayr tried to contact his aunt, but his father didn't let him do it.
Nayr was 17, when his parents died. They were old and knew they have to take care of their son, so they wanted what's best for him.
Ryan included in his will that he wants his sister, Nickie, and her werewolf husband as Nayr's new parents. Or Anne-Marie and his genie boyfriend. Or Reira and her husband, the vampire. Or practically anyone but Moira.
And Nayr knew about all this. He simply had to alter the will. Easy-peasy for a fairy. He is now under the supervision of Moira, who is not thrilled about the fact that she has to take care of another kid. And this one is not even useful…
The Witch's Helper
Edit
Nayr had a plan. He decided to convince her aunt about turning him into a strong, vicious creature so he could get his revenge. But he was just too afraid to ask.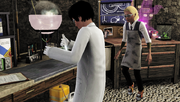 Moira practically lived her life in her laboratory. Nayr had a new idea. He will be her assistant and will get every information he needs to turn himself into something extremely powerful. However there was a problem. And that problem's name was Marleante.
She was Moira's "canvas", used her for scientific researches. Marleante is now a mermaid, who once was a PlantSim and still has some resembling features of her previous state; not to mention her father was a vampire, so she is half-vampire. And this girl was following Moira everywhere.
But luckily Nayr sometimes has a chance to spend time with his aunt. He had a few accidents (some potion fell on him, broke everything he touched etc.) but he was still insisting on helping – although Moira was not really satisfied with her new helper.
He was born a fairy which is quiet strange according to the fact that neither of his parents were fairies/had ascendants who were fairies (Fawn's parents are, but she is adopted).
Community content is available under
CC-BY-SA
unless otherwise noted.