Fanon article ownership
This fanon page was created and is owned by
Plumbbobparadise
(talk). Unless the edit is constructive and/or minor (such as fixing a template), please do
not
edit this page unless given permission from the author.
Nathan Jolina-Plumb

Biography
Nathan Jolina-Plumb as a young man.
Name
Nathan Jolina-Plumb
Gender
Male
Age
Elder
Life state
Sim
Family
Parents
Nigel Plumb, Jamie Jolina
Sibling(s)
Margaret Niamh Plumb (1/2)
Romances
Erin Frio, Holly Alto, Sharon Ursine, Takisha Tripp, Shandra Bellingham Plumb (wife), Dena Hart, Damaris Light, Shanta Hick, Sara Light, Tracey Gonzalez
Child(ren)
Nicholas Frio, Noah Plumb, Nathaniel Ursine, William Tripp, Savannah Plumb, Sebastian Plumb
Lifetime wish

| | |
| --- | --- |
| | Hit Movie Composer |
Favorites

 Pop

 Hamburger

 Violet
Appearance
Hair color
 Blond
Eye color
 Blue
Skin color
 Light
Body shape
 Normal

Nathan James Jolina-Plumb is a renowned musician and composer. He is the son of Nigel Plumb and Jamie Jolina. He was born and raised in Sunset Valley. At the time of his birth, there was some disagreement on his name, but his parents eventually settled on Nathan. He decided as an adult to hyphenate his name, to honor his mother. Therefore, he is known and performs as Nathan Jolina-Plumb.
Origin and early years
Edit
Nathan was the result of a one-night stand between the two, who had met while Nigel was volunteering at the hospital. Jamie was stunned to learn that she was pregnant, and since his father was an elder, she wasn't sure how long he would be around. Nathan's father died just before Nathan became a teenager.  Watching his father pass into the great beyond had a tremendous impact on the sensitive boy.
It became clear very early that Nathan was a musical prodigy. He would play songs on his toy xylophone that had been bought for him by his half-sister Margaret, and he would play them with perfect pitch. It is impossible to overstate the depths of his musical talent. He is said to have composed his first song before he started school, and throughout his lifetime built a catalogue of over three hundred in number. He is also said to have composed at least one song for every important individual in his life, and when he was still a very young man, he performed for the one and only Grim Reaper.
The relationship between Jamie Jolina and her son turned very contentious in his teen years. She was apparently deeply distressed that Nathan had inherited his father's more introverted temperament, with an artistic-creative bent, instead of her more outgoing personality. She was reportedly furious when she learned Nathan had dropped out of school after rearranging the school song.
He had devised his own program for preparing himself for a career in music.  He practiced his guitar until his fingers bled.  He worked out at the local gym, and he visited art galleries and the theater.  He even played for tips at the park, testing out his skill in front of audiences.
Adult Life
Edit
By the time he was a young man, he'd developed a reputation as something of a ladies' man. He'd had three children after barely turning young adult. His most notable conquest was heiress Holly Alto, daughter of the former mayor of Sunset Valley, Vita, and businessman Nick, who, it was said, had plotted the misfortune of nearly everyone they'd met. By the time their daughter had gotten involved with Nathan Plumb, however, both were deceased. Holly, though, was a different sort of person from her parents, notable for her patronage of the arts, and she'd bankrolled much of Nathan's early career. Even so, Nathan's half-sister, Margaret, was furious over the relationship, and it got worse when Holly had Nathan's son, Noah.
Eventually Nathan moved into Villa Alto, the grand palace of the Alto family, and began to attempt to raise Noah. At the time, Holly was an elder and nearing death. The wheels were set in motion for Noah to inherit everything. However, Noah proved to be quite rebellious as a teenager, drinking, staying out late, even getting a girlfriend (who he'd eventually wed).
At the same time, however, Nathan's affections were turning to a co-worker in the orchestra. She was Shandra Summers Bellingham, a classically trained pianist and ambrosial polymath born in Twinbrook. Nathan and Shandra eventually moved in together, and soon afterwards she learned she was pregnant. Three simdays later, their daughter, Savannah, was born. When Savannah became a child, Nathan and Shandra wed in Sunset Valley's Central Park.
While Nathan and Shandra began building their lives together in Sunset Valley's exclusive Summer Hill Court area, their fame and skill as musicians increased. Both eventually became master guitarists and hit movie composers. They had a palatial home built in the same circle as the Landgraab and Alto mansions. Even though Nathan was not born to wealth, he became a very wealthy man, and he never forgot where he came from, writing hundreds of checks to charity. When Savannah was a teen, the couple welcomed a second child, Sebastian. They would eventually renew their vows in Champs Les Sims, France.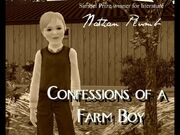 During his career, he didn't record many albums, but the ones he did record were successes. Instead, the bulk of his career was spent composing music for movies and television and performing live with the Sunset Valley Orchestra. His debut album,
I Know Why the Farm Boy Sings
, was a best seller. He recorded several follow-up albums but none matched the success of his first. He admitted later in an interview that he wasn't a big fan of studio work, that he preferred live performances. However, for later generations it was his salacious tell-all autobiography,
Confessions of a Farm Boy
, which put him on the map. In the autobiography, Plumb detailed his complicated love life and his many regrets.
The titles of both his debut album and his autobiography detailed Nathan's conception of himself as a farmer's son, even though his mother had been a doctor. When his mansion at Summer Hill Court was being remodeled, he insisted on a farm-style breakfast nook in honor of the manner in which he grew up.
For his remarkable career, Catarina Vanderburg, Queen of Hidden Springs, designated him an honorary knight. However, since he is not a full-time citizen of the commonwealth, he cannot use the title in front of his name.
Infidelity Scandal
Edit
When Sebastian, Nathan's youngest child, became a young adult, Nathan found himself and his wife with an empty nest. It was revealed that he had at least twelve mistresses, the most important of these was Dena Hart, daughter of Bebe Hart and ironically enough, one of Shandra's dearest friends. Though Shandra remained in the Plumb mansion, it was clear after the revelations of the affairs that their relationship was strained. The gossip magazines had a field day with the scandal, printing sensational headlines that threatened to undermine his legacy as a composer. Savannah, Nathan's daughter, confronted Dena Hart at a birthday party for her eldest son.
The Nathan J. Plumb Community Theater was dedicated in his honor. This was formerly the Wilsonoff Community Theater in Sunset Valley. This theater was also remodeled and enlarged. Also, the Nathan J. and Shandra B. Plumb Center for Performing Arts was built in Sunset Valley in his honor and Nathan himself was present at its dedication, a rare public appearance for this notoriously reclusive man. His catalog of more than three hundred songs stands as an instructional manual for virtually any Sim learning guitar today. His six children carry on the torch that burns bright within.
Nathan was born in the game. His original name was Jamar Jolina but was changed to Nathan.
He was born with the traits "Good" and "Virtuoso."
He maxed guitar and painting and has high skill level in athletic and cooking.
His favorite food is hamburger, but he has quite the sweet tooth and is known to snack on cookies and key lime pie.
His favorite music is pop, yet he chose to become a classical musician. His biographer attributes this to his mother's influence growing up.
Nathan is a 4-star celebrity. He is reported to have never turned down an autograph from a fan.
Community content is available under
CC-BY-SA
unless otherwise noted.