Moira Kennithson

Name
Moira Kennithson
Gender
Female
Age
Adult
Life state
Ghost
Zodiac sign
 Scorpio
Lifetime wish

| | |
| --- | --- |
| | Living in the lap of Luxury |
Favorites
 Pop

 Waffles

 Violet
Appearance
Hair color
 Brown
Eye color
 Blue
Skin color
 Pale
Body shape
 Fat
Moira Kennithson was the insane, morbidly obese matriarch of The Kennithson Family, and mother of Kennith Kennithson.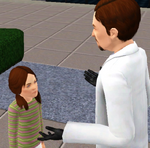 Moira was born in her family's bathroom, in the family's home, in the town of Sunset Valley. Her father was Cuthbert Kennithson, who worked as a Doctor, and her mother was a housewife called Edith. Moira had two older brothers, Phil and Keith. Moira did not do particularly well in school, getting mostly D grades. Despite her father working as a doctor, the family did not have much money, as most went to paying off debts from her father's shady past.
After Moira's graduation, she moved out with her boyfriend, Martin Goode. Shortly before becoming an Adult, Moira revealed to Martin that she was pregnant. When she awoke the next morning, Martin was gone - never to be seen again. Several months later, Moira gave birth to her only child, Kennith. The loss of her boyfriend and mother caused strain on Moira's mind, and, after aging into an adult, became insane. She and her son moved in with her elderly father. After his death, Moira attempted to adopt some cats to keep her occupied. When she was informed by the authorities that she couldn't own a pet due to her insanity, she forced her son to dress up as, and behave like, a cat. Shortly before her son aged into a teenager, Moira drowned in a pool. Her son was put into adoption, but was never adopted.
Community content is available under
CC-BY-SA
unless otherwise noted.