Fanon article ownership
This fanon page was created and is owned by
Orangeguy99
(
talk
). Unless the edit is constructive and/or minor (such as fixing a template), please do
not
edit this page unless given permission from the author.
Fanon of Preexisting Sim
This page is about a preexisting Sim in a fanon setting. This article should not be treated as an canon article. For information about the canon Sim, visit here:
Stuart McGaw
Mitch Shaw

Gender
Male
Age
Adult
Life state
Sim
Education and employment
Alma Mater
La Fiesta Tech
Grade
Dropped Out
Major
Undeclared
Career
Head of Construction Company
Family
Family/Families
Shaw Family
Parents
Mitchell Shaw, Jacqui Rhodes 


Audrey Glass, Benny Glass 

Siblings
Sarah Shaw , Andy Glass 
Marital status
Married
Romances
April Hutchins , Jeanette Straight, Eileen Tinsley , Leah Shaw 
Children
Audrey Shaw , Liam Shaw 
Household
Pets
Jake
Personality
Zodiac sign
Cancer
Aspiration
Family
Lifetime want
Graduate 3 Children From College
Chemistry
Turn-ons
Blond Hair
Creative
Turn-off
Red Hair
Appearance
Hair color
Black
Skin color
Light
Body shape
Fit
Other information
Game
The Sims 2 University
Playability
Playable
Neighborhood
Belladonna Cove
Write a Review!
Mitchell Timothy "Mitch" Shaw Jr. is a sim residing in Belladonna Cove. He is the son of Mitchell Shaw Sr. and Audrey Glass, and the brother of Sarah Shaw. He is best friends with George Go and good friends with his ex-girlfriend Eileen.
He resides in Belladonna Cove with his daughter, Audrey, and girlfriend, Leah. He also has a puppy named Jake.
Life Leading up to The Sims 2

[

edit

|

edit source

]
Mitch was born in Veronaville to his parents, Audrey and Mitchell Shaw Sr, being the younger of the couple's two children. Mitch was described as a typically happy kid, although Mitchell Sr. and Audrey divorced when he entered kindergarten. He got along great with his older sister, Sarah.
When Mitch started middle school, his mom remarried to a man named Benny Glass, giving him and Sarah a new step-brother, Andy. 5 months later, his dad started dating a woman named Jacqui Rhodes. Despite the fact that Mitchell Sr. and Jacqui would never go on to officially marry or have children of their own, they stayed together.
Throughout most of his high school career, Mitch had a steady relationship with his high-school sweetheart, April Hutchins. However, they decided to breakup shortly before graduation, as April didn't want to be committed to a long-distance relationship.
Mitch arrived at La Fiesta Tech with no real vision for the future. College seemed like it was the next step. A few months later, he met Jeanette Shaw, and the two began dating. A year later, he surprised her with a trip to Takemizu Village, during which he proposed. She accepted, and the two were now engaged.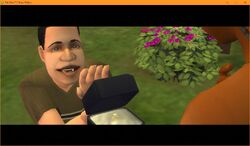 Mitch knew he wanted to be with Jeanette, knew that he wanted kids, but still didn't know why he came to college other than seeing as the next step. Despite an apprehensive Jeanette, he dropped out of college second semester of sophomore year. Jeanette also had other reasons to be cross with him besides his dropping out of college. Mitch became friends with a student named Leah Miguel, who obviously had a crush on Mitch. Despite the fact that he remained faithful, Jeanette resented her and the two soon became sworn enemies. The two would attempt to tolerate each other when they had to see each other.
After dropping out, Mitch moved to an apartment in Belladonna Cove, and became roommates with George Go to help with rent, and the two quickly forged a strong friendship. George's boyfriend (and later fiancé), Justin, moved in soon after to help with rent. Needing work, he took a job as a brick layer. Mitch, George, Justin, and Jeanette all decided to take a vacation to Three Lakes together, to just escape the stress of life. The tension between Mitch and Jeanette seemed to cool off for the time being. After their return, Mitch was soon promoted to the head of the company.
Soon after Jeanette graduated, she moved into the apartment and married Mitch. The two enjoyed a honeymoon in Twikkii Island. Shortly after, the two found their own apartment and Jeanette found work as a nurse. But she soon found out she was pregnant! Mitch was ecstatic; he always wanted a child. However, tensions still loomed between them over his friendship with Leah. But Mitch was happy for her when he found out she was dating Blair Seavey. However, Mitch hit another snag when he was demoted at work for loosing a contract. But he worked harder than he ever had before at that job. With a bit of negotiation, he managed to get his old job back, conincidentally the same day Jeanette went into labor. Later that day, their daughter was born. They named her Audrey, after Mitch's mother.
A few months after Audrey's birth, Mitch and Jeanette got into a fight. Exasperated, Mitch admitted to having feelings for Leah, even though she was still with Blair. This prompted Jeanette to start an affair with their upstairs neighbor, Matthew. Mitch soon found out, and he was furious. Their marriage had been dying for quite some time, and this affair was the final nail in the coffin. The couple made the decision to separate.
A few months later while out shopping, Mitch met college student Eileen Tinsley and the two hit it off. They began dating shortly after. Not long after they began dating, Leah revealed that she and Blair had broken up. Eventually, Eileen and her friend (and ex), Dalton, decided to have a double date. To Mitch's shock, Jeanette was Dalton's girlfriend. This made the relationship tense. His ex-wife was dating his girlfriend's best friend: they were bound to run into each other. A few days later, Mitch and Eileen met up. Both of them agreed it would be a good idea to break up: they both admitted to having feelings for other people (Mitch for Leah and Eileen for Dalton), and they weren't that into each other.
Leah had just graduated and invited Mitch to see her new apartment. He decided to finally make his feelings clear. With Jeanette babysitting Audrey, the two spent the night together. They were finally a couple.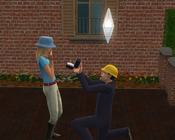 After a year of dating, the two moved in together. Things were going great. As Audrey was on the cusp of childhood, Mitch spontaneously proposed to Leah, who accepted.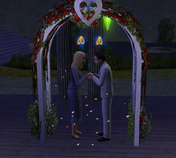 The two married in Central Park and embarked on their honeymoon in Takemizu Village.
Upon return Leah discovered she was pregnant. The birth of the couple's son, Liam, followed 9 months later.
Community content is available under
CC-BY-SA
unless otherwise noted.