Fanon article ownership
This fanon page was created and is owned by multiple users. Unless the edit is constructive and/or minor (such as fixing a template), please do not edit this page unless given permission from one or more of the owners.
Owners: WikiBuilder1147 (talk) · K6ka (talk)
·
OpelSpeedster
(talk)
Miami Hodgson

Name
Miami Hodgson
Gender
Female
Age
Child
Date of birth
3rd October 2138
Life state
Werewolf
Appearance
Hair color
 Red
Eye color
 Blue
Skin color
 Tan
Miami Hodgson is a resident of Bridgeport and is Ben Faulkner's best friend. She is one of the main characters of Revolution.
Biography
Edit
Babyhood and Toddlerhood
Edit
Miami Hodgson was born on 3rd October 2138 to Nathaniel and Tania Hodgson in Bridgeport. Nathaniel was a scientist working for the Federal Scientific and Industrial Research Bureau (FSIRB), and Tania was a teacher at PS 98 in the city of Willow Creek. Because Tania did not follow the strict teaching regulations set by the Government, which included the beating of children if disobedience were displayed, the Government had an active intelligence file on her, which put her and her family at risk. Miami's parents were very protective of her, being their first child. Her parents were to prove a major influence in her life. Tania taught Miami how to talk, while Nathaniel worked on her locomotive skills. By the end of Miami's toddlerhood, she had mastered all of her toddler skills.
Childhood
Edit
---
WARNING: The following section of this article may contain spoilers to a fanon story. Proceed at your own risk.
---
Several months after Miami turned 6, Tania gave birth to her brother, Cedric. Miami loved Cedric very much, and spent a lot of time playing with and reading to him. She was enrolled in PS 67. Through secretive education at home, Miami learnt to resist the teachings of the oppressive Government. Consequently, her rebellious trait developed.
At the age of 7, Miami met Ben Faulkner, quickly becoming friends, then best friends, with him. They were in the same class every year, and she spent a lot of time with him when circumstances allowed.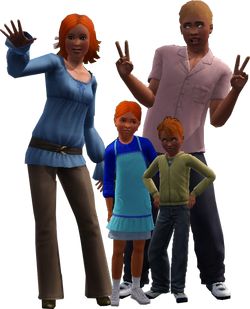 When she was 12, she actively spoke out against her teacher, George Rilkins, and the Government, in class.(AW) As a result, she was arrested by Government officers and sent to Internment Camp Roger-Alpha-9 in Containment Zone A3 in the north-east of the SimNation region. There, she underwent reeducation, which quickly placed her under the grip of the Government.(IN) At the same time, Miami's parents and younger brother were arrested by the Federal Homeland Security Contingent, and executed several days later.(PE) Shortly after the completion of reeducation, Ben Faulkner, along with Alex Townsend and Harry Miller, performed a successful rescue operation.(ES)
Miami, under the influence of reeducation, fled from her rescuers and approached the nearby Camp Victor-Charlie-624, a Government military facility. During her attempt to inform the Government of Ben, Alex and Harry's location, the three attacked the camp, destroying two of the guard towers before recapturing her.(SE) After this, she was informed that her family were killed. The resulting rage allowed her to break free of her reeducation, and she rejoined her comrades.(PE)
---
WARNING: Spoilers end here.
---
| Image | Memory | Type |
| --- | --- | --- |
| | I was potty trained by Dad...whoops! | Positive |
| | I Learned to Walk from Dad...Wooooah! | Positive |
| | I Learned to Talk from Mum...goo! | Positive |
| | I grew up well! Yay! | Positive |
| | First transformation! Awoooooo! | Positive |
| | Cedric was born! I have a baby brother now! Woo! | Positive |
| | I met Ben! Good thing I did, too! | Positive |
| | I became friends with Ben! Yay! | Positive |
| | Got Bad Marks from School...*sigh* Oh well. | Negative |
| | I became best friends with Ben! Woohoo! | Positive |
| | Went truant! YES! | Positive |
| | Cedric grew up well! Hooray! | Positive |
| | I got arrested by the Government...Oh no! | Negative |
| | Ah, my brain...I...can't...control... | Negative |
| | Mum, Dad, and Cedric...Dead?...*Sniff* | Negative |
| | The effects of reeducation broke! Phew! | Positive |
| | I murdered two people while in my werewolf form. I don't feel so good about that... | Negative |
| | I joined the Liberation Army! Down with the Government! | Positive |
Community content is available under
CC-BY-SA
unless otherwise noted.