Maxwell Vandermorgan

Name
Maxwell Vandermorgan
Gender
Male
Age
Elder
Life state
Human
Education and Employment
Career
Athlete
Appearance
Hair color
 Brown
Eye color
 Brown
Skin color
 Dark
Body shape
 Muscular
Other Information
Game
The Sims 4
Playability
Playable
World
Oasis Springs
Maxwell Don Vandermorgan
is a sim living in Oasis Springs.
Biography
Edit
Maxwell was adopted by Ariana as a baby, Maxwell also has an older adoptive sister Danielle, who was adopted before Maxwell. Maxwell and his sister both grew up nicely but fighting each other, and he became interested in fitness. Danielle later becomes pregnant with a married man's baby, and the siblings stop fighting to support Danielle. Maxwell becomes overjoyed after meeting his nephew Jedd. Later, Maxwell marries an alien woman named Xirkzajita, and has a hybrid daughter with her, named Maxzajita. After Ariana's death of old age, Maxwell is left to run Ariana's children's home. Maxwell and Xirkzajita later have a second child, a boy named Xirkwell.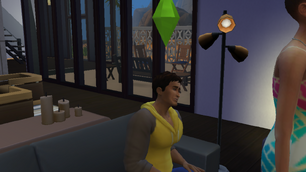 Biologically his family is unknown, but through his adoptive family he has a grandmother named Lyla, a grandfather named Don, and a nephew named Jedd and two nieces named Lisa and Kim. He has two great nephews named Michael and Chance, and a great niece named Miley. He also has a grandson named Zirlitazamakal.
Community content is available under
CC-BY-SA
unless otherwise noted.