Martin Clavell

Biography
"Martin is a skilled statesman, renowned orator and followed in his father's footsteps to become President: But can he choose which love is true?"
Name
Martin Clavell
Gender
Male
Age
Elder
Life state
Normal
Lifetime wish

| | |
| --- | --- |
| | Leader of the Free World |
Appearance
Hair color
 Light Brown
Eye color
 Brown
Skin color
 Light
Body shape
 Thin
Martin Clavell I (followed by 2 more Martins so far) was the patriarch of the Clavell family for only four years, spanning from his mother's death to his own. Like his father and son, Martin became the President. He was especially remembered for being a talented foreign diplomat, but his private life was not as respectable: he was married thrice, to two different women, and had several mistresses, including a French Queen and an exotic dancer.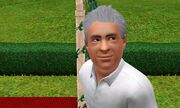 Early Life
Edit
Martin Clavell was the second child of Xander Clavell and his wife Tamara Donner. They had already been married for twenty years when Martin was born. He had an elder sister, Donna Clavell. Donna became a celebrity chef and cookbook writer, and the wife of the renowned Dr. Jasen Strauss.
Martin grew up with great political influence from his parents, who were both President, and their friends and colleagues who were always invited into the family home. Martin entered the political career as soon as he could.
Marriage to Janae Wrotek
Edit
Martin caught glimpse of Janae at the library. She had a great sense of humour and a very jovial personality. Martin fell for her straight away. After getting married, Martin and Janae had two children.
Tamara Clavell, Martin's mother, was getting old and decided she should retire. She retired in favour of her son. Throughout his tenure Martin gave orations at the City Hall and attended conferences at the military base.
The increased stress of the new position of President meant that Martin was beginning to act a little irrationally with other women. He briefly relit an old flame, the newspaper girl Celia Scruggs, who was by then an adult. Then at the bistro, Martin met a French tourist, Amy XIII. Martin and Queen Amy courted for a short period of time until Amy had to return to France for official duties. At his nephew's wedding, Martin met an exotic dancer and had a longtime affair with her. However, when Martin invited her on a date and she turned him town, he never spoke to her again.
In front of the public gym one day, Martin was caught flirting with another woman by Janae's mother, Lillian Wrotek. She told the media and Martin had to go to court to clear his name. Janae, however, did not feel he was cleared. She immediately divorced him on the spot. Within an hour, though, Martin convinced Janae to remarry him. It was a private wedding and the couple never told anyone they were ever divorced.
Second Marriage to Janae Wrotek
Edit
The second marriage was strained and Martin accepted that the relationship might never reach what it was before. However, when he tried being romantic with Janae she rejected him almost every time. Janae took some time away and went to her mother's house. When she was putting on a barbecue, however, Lillian told her she was behaving inappropriately. Janae was shocked and hurt by Lillian and felt she had no where to go. Her mother had sent her away and her husband was cheating on her. Her daughters loved their father more. She had been a housewife and was no where near achieving her dreams of becoming a scientist. She returned home, but remained depressed.
When Janae continued to reject Martin, he decided it was not going to work out. He decided they should take a break. He divorced Janae and bought her a cottage nearby with the intention that they would slowly repair their relationship and eventually get remarried.
Divorced Years
Edit
Martin left Janae for a couple of years. He discovered she had joined the science career and after work he would go around to her house and they would begin by chatting and end with Martin sleeping over. Martin considered getting married to Janae but eventually decided against it. He broke up with her for a final time and was back as a single father.
One morning, Martin was heading off to work when he caught a glimpse of the mailwoman. He fell in love with her. Luckily, the next day the bills were due to be delivered Martin was not expected at work. He waited all morning for the deliverer to arrive. When she did, Martin found out her name was Carly Guy. He briefly chatted with her and they exchanged numbers. Later, Martin rang her up and invited her over. That night he took her to the beach where he proposed.
Marriage to Carly Guy
Edit
After Martin had already purchased and set up the wedding furniture, he and Carly had an argument over his old romantic flames. Martin wanted to be with Carly so he rang up each woman and declared they were just friends. The whole time Carly sat watching.
After Carly witnessed Martin breaking up with each woman, she was sure it would be a happy marriage and the union was complete later that day at the Clavell residence.
Martin never cheated after marrying Carly and they raised two sons. Martin had little input in their childhood as he died when they were children. The last thing he ever did to his son was let him off the hook after he got in to trouble.
Chateau de Clavell
Edit
Martin's mother Tamara Clavell died after 99 years as the matriarch of the family. She was 131 years old and died while fixing the television. Martin was suddenly the head of the family. He decided on their move to Chateau de Clavell, a large castle overlooking Sunset Valley. The move was complete within two years.
Martin's last days were uneventful. They were spent in the castle with his one true love Carly. Martin passed away while talking to his young son, aged 83. He had just held a party in honour of his 40 years as President.
Martin and Janae had two daughters, Lilian and Bessie. They both became actresses and remain living in the present Clavell family home, Miramontes. Lilian is 85 and Bessie is 79. Neither have ever married, although both have partners - Marshall Padilla and Jedidiah Cash respectively.
Martin and Carly had two sons. Both adults, they are:
Martin Clavell II, now President, married to Rachel Rosa with three children, Martin III, Carl, Rosa and Bertha. They reside in Miramontes, Sunset Valley,
Guy Clavell, author. He resides with his wife Latonya Hurt, her father and their children Rowena, Digby, Jacinta, Susanna and Cumberland in a country home in Appaloosa Plains.
He once attempted to poison his mother. He tried to give her (as a gift) a potion made by his brother-in-law. He thought it was poison, but later realised it wasn't. Tamara denied the gift anyway.
He had 4 celebrity stars.
Martin was the one who moved the family out of the home they had lived in since the days of Buster and Bessie Clavell, which was over 100 years.
He lived to 83 years, which in my system is equal to 93 sim days.
After Carly's death, the family moved to Miramontes, a smaller and more manageable home.
Community content is available under
CC-BY-SA
unless otherwise noted.