Fanon article ownership
This fanon page was created and is owned by
Palaeobenologist
(
talk
). Unless the edit is constructive and/or minor (such as fixing a template), please do
not
edit this page unless given permission from the author.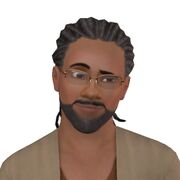 Marley Williams

Name
Marley Williams
Gender
Male
Age
Elder
Life state
Human
Family
Parents
Dennis Williams, Rose Dawson
Romances
Aimee Gardner
Marital status
Married
Child(ren)
Malika Keaton
Lifetime wish

| | |
| --- | --- |
| | Professional Author |
Appearance
Hair color
 Black
Eye color
 Brown
Skin color
 Medium-Dark
Social Standing
Celebrity status
So Marley Williams is an adult at the beginning of Sims 3, living with his wife Aimee and toddler daughter Malika, this story is about the Williams family of which Marley is the Patriarch.
10 Years Later
Edit
So if the beginning of the Sims 3 was Year 0 then 15 yeqars later what will have happened, well Marley is of course 10 years older and his career as a writer has taken off, but due to his need to 'Bring home the bacon' Marley has now gotten a job in Law Enforcement as a Snitch.
25 Years Later
Edit
So another 15 years have passed, Marley has now aged up, and is well on the way to completing his Lifetime Wish, having earned $2500 in Royalties and even reached Lieutenant in his Law Enforcement career, however now he is very old and I doubt that I will have little time left to play him...
Community content is available under
CC-BY-SA
unless otherwise noted.