Marleante Morganthe

Biography
A vampire father and a psychic mother equals a mermaid daughter? Well, if there is a crazy aunt in her life then the answer is obviously yes.
Name
Marleante Morganthe
Gender
Female
Age
Teen
Life state
Mermaid
Education and Employment
School
Public School
Grade
A
| | |
| --- | --- |
| Zodiac sign |  Aries |
Favorites
 Dark Wave

 Aqua
Appearance
Hair color
 Black
Eye color
 Yellow
Skin color
 Light
Body shape
 Thin
Other Information
Game
The Sims 3
Playability
Playable
World
Moonlight Falls
Marleante is the great-granddaughter of Corvia and Cyclone Sword.
Second child of Marleen Thobanob and only child of Dante Morganthe.
Her father died before her birth. Her mother raised her and she was relieved. Marleante could have turned out as a vampire, there was a slight chance since her father was one.
But Marleante became "normal" so everything was perfect.
Until...
The Crazy Aunt
Edit
Marleante's scientist aunt, Moira likes to experiment on living organisms. Especially on her family members – mostly on her youngest niece, Marleante.
Moira's research team came up with an idea which might make it possible to "mix" humans' and plants' DNA. Moira gave this project a shot, she thought of it as a challenge between her and the evolution.
The only thing she needed was a guinea pig. She needed someone pure. Most of her relatives were dead or supernatural or extraterrestrial or… "marleenish". Who is left?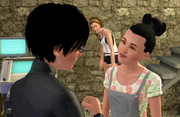 Well, the obvious answer to that question is: Marleante. (Or Anne-Marie, but her boyfriend is a genie and she might be pregnant with genie babies so…) Even though her father was a vampire she didn't have any special vampire abilities.
Needless to say Moira didn't tell anything to her older sister neither did Marleante. She was a huge fan of Moira's work and when she found out she could be a part of it she was over the moon.
Moira's plan succeeded, Marleante became half plant, half sim – a PlantSim. Of course when Marleen realized what happened she was raging.
Marleante loved her new self but her boyfriend, the Bramblerose kid didn't. Ergo...
The Boyfriend
Edit
The Brambleroses are a great dynasty, their story became legendary, they are mysterious with plenty of secrets. Who are they? What are they?
Well, one of them is Marleante's boyfriend. Zygo Bramblerose, first-born son of Emerald Bramblerose.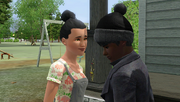 Zygo didn't like the fact that his girlfriend is a "mutant". His family is weird enough. Marleante finally decided to ask Moira to change her back. She was a bit disapponted but she helped her.
Moira was interested in the boy's family history so she didn't want to end his and her niece's relationship. The more she is closer to him the more she discovers.
But Zygo had no idea what Marleante became a few weeks after the plantsim incident.
Happened the day when Marleante tried to make a meal. Being a vegetarian she was making salad. She collected all the ingredients from the kitchen – fresh green lettuce, other veggies, olive oil. She didn't even care the lettuce was sparkling. Later that day she spotted some weird looking skin disorder on her legs. A few hours later they were covered in scales. She became a mermaid.
How is this possible? The lettuce wasn't lettuce after all. It was kelp. Mermadic kelp. She was a PlantSim once but had no idea how lettuce looks like. Fascinating.
But why was the kelp in the kitchen? Not hard to tell. Moira. But she didn't intend to leave it on the counter, she was as shocked as Marleante when she found out. Not to mention Marleen.
The Almost Step-Father
Edit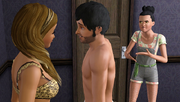 Moira met Kyle Shalom at the University and they got engaged. Marleante was happy for her favourite aunt, but Marleen was jealous. She tried to seduce her soon-to-be brother-in-law and she was really close to tear Moira and Kyle apart.
However Marleante found out about her mother's evil and informed her aunt about it.
Moira and Kyle eventually got married. It seems that Kyle finally figured out who he really wanted. Right?
Her eyes remained yellow despite the fact that she is no longer a PlantSim. Originally she has green eyes.
Her first name is a combination of her parents' names. (Marleen+Dante)
References
Edit
↑ Victoria Appoell was a PlantSim, who gave birth to 10 PlantSim babies and then became a world sensation.
Community content is available under
CC-BY-SA
unless otherwise noted.